Dining
BOOK
Request a Table
Thank you for your interest in Belmond.
Prefer to talk? You can call us on +351 291 71 71 71
Seasoned with Madeira magic
Showcasing local, seasonal cuisine, Belmond Reid's Palace boasts some of the best restaurants in Funchal. Go all out at Michelin-starred William; enjoy a casual moonlit dinner on the terrace of Ristorante Villa Cipriani; or join us for cocktails in our glitzy bar. There's a dining experience to suit every occasion.
William Restaurant
William Restaurant
Scallop carpaccio, fresh langoustines, open lobster ravioli: at Michelin-starred William Restaurant, Madeira's finest seasonal ingredients are brought to life with inventive, contemporary flair.
Dishes can be enjoyed in a sophisticated setting, against a backdrop of spectacular panoramic views.
Opening times:
Open 7:30pm–10pm, Tuesday through Saturday
Reserve
Find out more
Ristorante Villa Cipriani
Ristorante Villa Cipriani
Offering a slice of Italian life on the edge of the Atlantic Ocean...
Whether beneath cobalt blue skies or amid a vivid sunset, our alfresco terrace is the perfect place to settle back with a glass of wine and soak in the view. Choose from a menu that perfectly balances fresh local meats, seafood, herbs and seasoning in delicious Italian dishes.
Open daily from 7pm–10:30pm.
View menu
Pool Terrace
Pool Terrace
Indulge in a buffet breakfast with freshly-squeezed juices and champagne, served daily from 7:30am–10:30am.
Light snacks and drinks are available from 10am–6pm during winter and 7pm during summer; an a la carte menu is served between 12:30–3pm. 
From June through mid-September we are open for dinner. 
Reserve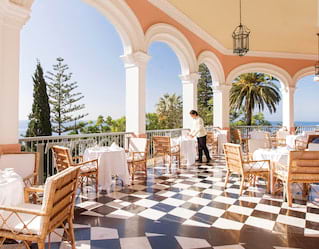 Afternoon Tea
Anticipate a truly timeless affair.
Choose from delicate finger sandwiches, freshly baked scones and homemade pastries, all accompanied by your choice from a selection of 24 teas or an indulgent glass of champagne. This elegant afternoon tradition is something Belmond Reid's Palace is proud to continue.
Available daily from 3pm to 4:30pm.
Please note: The dress code is smart casual dress (no sportswear or shorts)
Book your table
A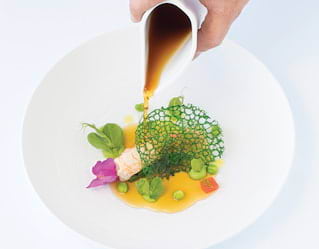 The Art of Flavours Festival
5-7 June 2020: Celebrate gastronomic excellence over three delicious days. Executive Chef Luís Pestana has invited fellow Michelin-star chefs for culinary demonstrations and divine dining events.
Day 1 Sharpen your cooking skills at our Superstar Chef-led workshops.
Day 2 Discover an array of tasty treats at the Food Party with 30 food and wine stalls, followed by a grand spectacle to finish.
Day 3 In the William Restaurant, savour several irresistible courses with the Stars Dinner - a collaborative creation by our guest chefs.
Discover more
T
More to Savour
Peruse our options for every mood and appetite
Cocktail Bar
Take a seat in our glitzy bar for a stylish aperitif, or simply wind down and plan your next adventure. Light meals are served in the evenings, from 7pm to 11pm—perfect for when you want a bite to eat with your evening cocktail. A velvety dark chocolate mousse or rich Madeira wine parfait could be the perfect accompaniment.
Open from 10am–1am
The Dining Room
Take a seat amid grand pillars and crystal chandeliers, in a setting that perfectly captures the history and glamour of the hotel.
For a special treat, our Champagne Gala Buffet provides a medley of small plates celebrating local artisanal fare.
Opening times:
Mid-September–29 December 2019: open on Sundays for Champagne Gala Buffet from 7–9:30pm
Sip a mouth-watering Funchal Tonic or sample sumptuous local wines at the Belmond Reid's Palace Cocktail Bar.
Discover more
Setting the bar high for Madeira restaurants, The Dining Room whisks guests on an unforgettable culinary adventure.
Discover more
Dining Events
Contact us to book
Dining Events
Thank you for your interest in Belmond.
Prefer to talk? You can call us on +351 291 71 71 71