An iconic escape on the edge of the Atlantic
Set in verdant gardens overlooking the Atlantic Ocean, Reid's Palace is the ultimate place to stretch out in the sun and relax.
Over the years this luxury hideaway has honed the art of pampering, earning a reputation as one of the best hotels in Funchal. Whatever your age or interest, there are activities both within the hotel's estate and beyond to keep you on the go, all year round.
At a glance
ACCOMMODATION 126 rooms and suites
DINING 4 restaurants, afternoon tea terrace, cocktail bar
FEATURES Heated outdoor pools, tidal pool and ocean access, children's club, The Spa, sauna and tennis courts
ACTIVITIES Mountain walks and botanical tours
EVENTS 7 venues for events, weddings, celebrations and meetings
LOCATION 24km from airport, 1.8km from Funchal centre
HISTORY
Our hotel has a storied history that begins with one man: William Reid. This canny Scotsman left his family farm for our island's warmer climes. Here, he set up a successful business in the Madeira wine trade. This was the era of the great ocean liners. Spotting an opportunity in hospitality, Reid bought a swathe of land on the rocky promontory where Reid's Palace now stands.
Although William did not live to see his hotel completed, his sons welcomed their first guests in 1891. The Reid's remained at the helm for many years before it passed on to the Blandy family of Madeira winemakers. In 1996, Belmond took the reins.
Over the years, many illustrious guests have passed through our doors. George Bernard Shaw learnt to tango here; Winston Churchill came to write his memoirs and to paint. The suite named in Churchill's honour, with its magnificent garden views, continues to inspire and enchant today.
H
Explore
Every step brings a new discovery
Ristorante Villa Cipriani
Italian Classics
Take a seat on the open-air terrace and browse a menu of traditional Italian dishes. All served with a side of sensational sea views.
William Restaurant
The Star of Funchal
Named after the hotel's founder, Michelin-starred William Restaurant celebrates the island's rich bounty.
Tea Terrace
Steeped in Tradition
A quintessential and timeless experience. Linger over sweet and savoury delicacies, chilled champagne and 24 tea blends on our terrace.
Pool Restaurant
Deeply Delicious
Enjoy a tasty buffet breakfast or sizzling lunch specialities from our grill while relaxing by the pool.
Palm Garden
Shade and Serenity
Planted more than a century ago, our garden is abundant with sub-tropical flora. Admire swaying palms and colourful bird of paradise blooms.
Pools
Endless Blue
Our three luxurious pools are the perfect place to stretch out and unwind. Two are filled with seawater, and two are heated.
Sea Platform
Call of the Waves
Be guided down by the gentle breeze and take an exhilarating dip into the sea from our platform.
The Spa
Botanical Bliss
Located in the gardens, our sensational spa retreat offers an array of massages, body rituals and beauty treatments.
Tennis Courts
Island Ace
Stay active with friends and family at our two courts, perfect for a fun volley or real competition. Expert tuition is available.
Madeira
Different. Better. Special.
Staying with us turns a trip to Madeira into an unforgettably unique escape. Here are just some of the features that make us stand out from the crowd.
Tennis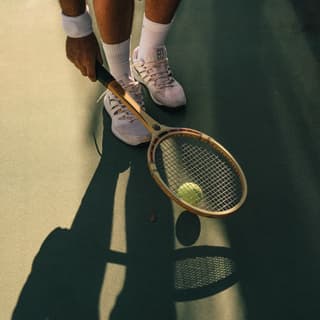 Tennis
Practise your topspin, slice, smash or serve with a set or two on our tennis courts. Whether a fun volley or real competition, it's the perfect way to stay active with friends or family.
Contact us to book
Tennis
Thank you for your interest in Belmond.
Prefer to talk? You can call us on +351 291 71 71 71
Private Lessons with LUX Tennis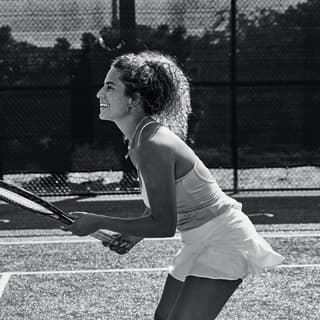 Private Lessons with LUX Tennis
Perfect your game with Patrice Brough, a professional tennis coach with over 15 years of experience with children, adults and national-level athletes.
Lessons can be conducted in English, French or Portuguese. Tennis equipment included.
85€ for a one hour lesson
400€ for five one-hour lessons
20€ for each additional player
Contact us to book
Private Lessons with LUX Tennis
Thank you for your interest in Belmond.
Prefer to talk? You can call us on +351 291 71 71 71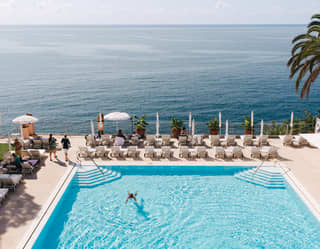 Swimming Pools
Enjoy stunning views of the Atlantic Ocean while basking under the sun in one of our two luxurious, heated swimming pools (one seawater and one freshwater).
We have an exclusive pool terrace, or you can wander down to our sea level platform and jump straight into the azure ocean.
S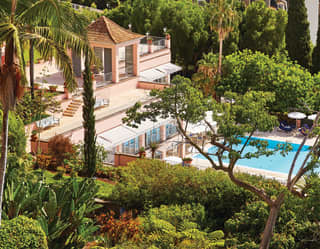 Fitness centre
Whether you're after a total body workout or a light stretch after a day by the pool, our fully refurbished fitness room offers everything you need.
It's equipped with Technogym's state-of-the-art EXCITE® range, which includes innovative cardiovascular, strength and functional training machines.
Open daily from 7am to 7pm
F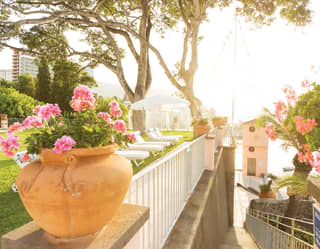 Boutique
Our boutique pays homage to Italian craftsmanship. Browse a beautiful collection of elegant eveningwear, accessories, jewellery and bespoke gifts.
It's the perfect place to pick up those must-have presents and souvenirs.
B