Discover Madeira
REID'S PALACE, A BELMOND HOTEL, MADEIRA

Estrada Monumental 139 9000-098 Funchal, Madeira, Portugal
Sail 450 miles off the west coast of Africa and you could miss the tiny island of Madeira. Thankfully in 1418, sailors Joao Zarco and Tristao Teixiera didn't. Claiming the island for Portuguese prince, Henry the Navigator.

The pearl of the Atlantic blooms like a true subtropical paradise. The climate proving perfect for lush vegetation to thrive. Between the neatly manicured gardens and the wild untouched landscapes, this island glows with an old-world charm. Of all hotels in Funchal, Madeira, Reid's Palace is its treasured Grand Dame.
Reid's Palace
Estrada Monumental 139
9000-098 Funchal, Madeira
Portugal
Reid's Palace is within easy reach. You'll find us...
a 20-minute drive from Madeira International Airport (FNC)
a 10-minute drive from central Funchal
a 2-hour ferry ride from Porto Santo Island
a 40-minute drive from Pico do Arieiro
Open in Google Maps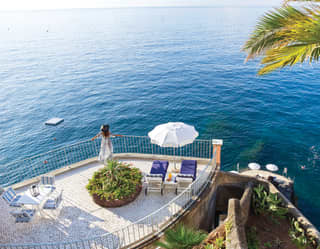 Destination Guide: Unlock Madeira
The floating garden. The island of eternal spring. The garden island. Madeira has many names, each one conferring an almost magical beauty on this little European outpost. Hidden away in the Atlantic, 300 miles from the Moroccan coast, its landscape staggers as it soothes.
D
Concierge Recommendations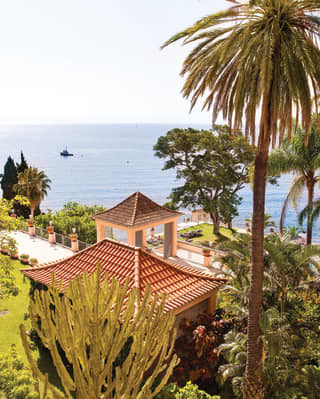 Garden Glory
For botanists and beauty-seekers alike, Madeira's public parks are well worth a visit. But the secluded gardens of Reid's Palace are a special eden, just for our guests. Wander among stunning displays of geraniums and hibiscus, or find a quiet spot to sit and soak-up the sea views.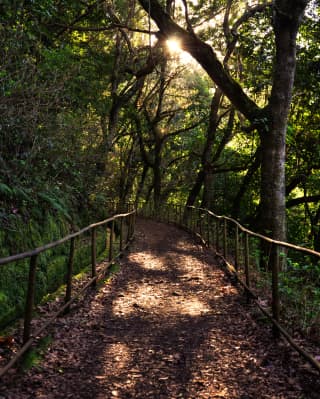 Scenic Levada Walk
Visitors often come for Madeira's celebrated levada walks. By far, the best is from Quinta Grande to Boa Morte. You'll want to tread carefully, it's a tricky route, but two-hours of the island's most enchanting views make the challenge worth every step.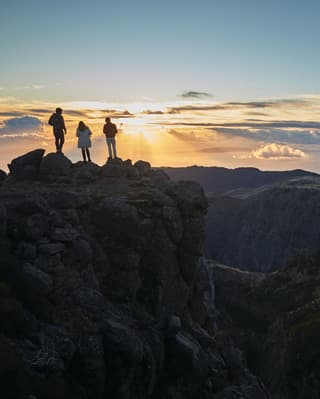 Sunrise Above the Clouds
Head out in quiet moments before dawn for a truly heavenly view. We'll arrange a 4x4 Jeep from Reid's Palace to the wilds of Pico do Arieiro. Here, you'll enjoy a delicious breakfast served by a private butler. Tuck in as you enjoy spectacular views of the sun bursting above the clouds.