Dine on sensational cuisine and dance to the beat of Peru on an enchanting voyage to the Andes
Be swept away by old-world charm as Hiram Bingham journeys through the Peruvian highlands. Gleaming wood-panelled interiors and brass finishes evoke classic 1920's parlour cars, while vibrant colours and nature-inspired motifs reveal a distinctly Peruvian soul.
Savour classic local flavours and gourmet cuisine as the train meanders through the breathtaking Sacred Valley. Celebrate the South American spirit with a lively dance as musicians play in the Bar Car. Marvel at the fertile lands and soaring mountains between Cusco and Machu Picchu. Bring the lost art of the pioneer to life with a thrilling rail adventure through the heart of the Inca Empire on Hiram Bingham.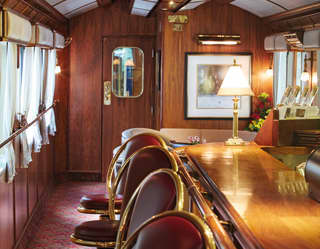 History
Hiram Bingham launched in 2003 to escort guests in lavish style high into the Andes. Named after the American explorer who re-discovered the site of Machu Picchu, the train celebrates the thrill of early exploration, with extra added elegance and a lively ambience. An international effort, the chassis were built in South Africa and the carriages decked out by French company Compagnie Des Internationales Wagons-Lits. Finally, the finished article was ready to take luxury rail travel in Peru by storm.
H
More of Machu Picchu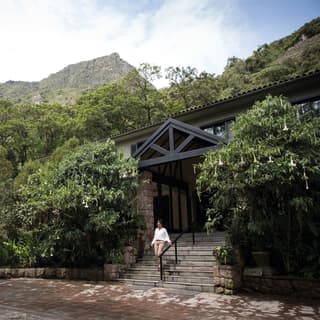 Extend your stay
More of Machu Picchu
Northbound guests of Hiram Bingham arrive at the peak of Machu Picchu, stepping from the train into the Andean air. Perched with unrivalled privilege at the edge of the Inca citadel sits Sanctuary Lodge, a tranquil retreat for weary explorers. Capture the morning sun rising over the rippling mountain range from your private terrace and savour authentic cuisine prepared using fresh, locally grown produce.
Find out more
More of the Sacred Valley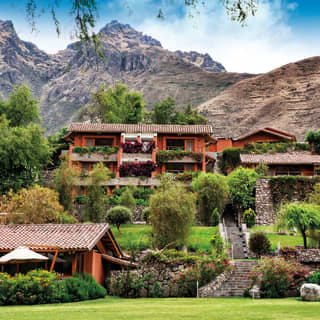 Extend your stay
More of the Sacred Valley
On your return route to Cusco through the heart of Sacred Valley, make base at Rio Sagrado. This luxury hideaway is complete with a soothing spa and wandering alpacas. Light spacious rooms are the perfect place to unwind, and floor to ceiling windows frame the breathtaking landscape. Tucked into the hillside of the Urambamba River, this unique hotel is the ultimate escape from Peru's beaten-track.
Find out more