Article
Peru on a Plate
A huge range of fantastic local produce and traditional dishes combine with culinary influences from across the globe to make Peru one of the world's best food destinations.
"WE PERUANOS LOVE to eat and we like to take our time. Eating is like making love—it shouldn't be rushed," a Peruvian friend told me while dining in Lima. In fact, from Andean superfoods to Amazon superfruits, much of the produce we take for granted, including potatoes, tomatoes, chillies and the Inca staple quinoa, is native to Peru. The country has been blessed with a unique geographical mix of mountains, rivers, coast and jungle and a multitude of microclimates that have given its produce a diversity that few other countries can match.
Add that to the variety of culinary influences from hundreds of years of immigration—from the Spanish conquistadors and African slaves to Chinese and Japanese workers—layered on top of the country's pre-Hispanic cultures, and you have a genuine gastronomic melting pot.
Now a new generation of chefs is sourcing singular local ingredients, reworking some of the country's classic dishes into gourmet fare and turning the country into one of the world's hottest food destinations.
THE CLASSICS
Peru's iconic dish is ceviche, raw fish 'cooked' in the extra-acidic juice of local limes, and every region of Peru has its own variation of the dish. In the Amazon they might use freshwater river catfish, but at Belmond Palacio Nazarenas the chefs will demonstrate how to rustle up an Andean ceviche, marinating trout with lime juice and yellow chilli for no more than five minutes, adding herbs from the hotel's secret garden to the resulting tangy liquid known as tiger's milk.
In Cusco's 17th-century cathedral, an indigenous artist's depiction of the Last Supper has guinea pig, or cuy, on the menu, washed down not with wine but with chicha morada. In the villages along the fertile Sacred Valley the menu has barely changed, with cuy-on-a-stick and homebrewed chicha (a fermented maize drink made from purple corn in the age-old way) still for sale.
In the bucolic setting of Belmond Hotel Rio Sagrado, guests can indulge in a pachamanca—'land pot' in Quechua—or a typical Inca barbecue. "It's more than just a method of cooking, it's a centuries-old celebration of fertility and life," says Patricia Pinillos, General Manager at Belmond Hotel Rio Sagrado.
Large river stones are heated then layered into a hole in the ground with meat wrapped in corn husks—traditionally llama, but nowadays more likely to be chicken or lamb—and potatoes, yucca and fragrant herbs such as muña, or Andean mint. The hole is covered with earth and the food is slow-cooked for hours, emerging succulent and smoky.
The Spanish conquistadors brought vines to Peru in 1553 intending to make wine, first planting them in the Andes and then, with more success, in the fertile soil near the coast of Ica. They stored the wine in local clay jars, inadvertently creating the brandy-like pisco in the process.
Peru's signature spirit has only recently emerged from oblivion to become a favourite of master mixologists the world over. Bartenders and butlers at Belmond Palacio Nazarenas are on hand to mix the perfect Pisco Sour—a cocktail made with lime juice, egg white and a dash of Angostura bitters.
"When people sneeze once, you say 'salud', twice and you say 'Pisco Sour'," said bartender Luis Gonzales.
TO MARKET
Once just a stepping stone for visitors to Cusco and Machu Picchu, Lima has become the country's gastronomic hub. With the Andes and the Amazon both only an hour's flight away and the coast on its doorstep, there's a huge range of produce available and guests at Belmond Miraflores Park can explore the chefs' favourite market, Surquillo, on a gastronomic tour.
Stalls are piled high with gaudy fruit—pitahaya, which purports to cure all ills; creamy, nutty-flavoured lucuma; and chirimoya, a sweet cross between a banana, peach and pineapple—potatoes of every shape and size, and rainbow-hued corn.
Hernán Castañeda, Belmond's Corporate Chef in Peru, says: "This market focuses on suppliers that specialise in fresh, organic produce from the coast, highlands and rainforest, demonstrating the country's enormous biodiversity. Epicureans and food lovers will be amazed by the colours and textures of the fruit and vegetables, and they can even choose their own ingredients and learn how to cook them back at the hotel."
Peru has some of the most abundant fishing grounds in the world, thanks to the icy Humboldt Current that runs along its Pacific coast, which is why seven days a week, starting at 4am, the raucous cries of fishermen fill Lima's Villa Maria market, as they hawk everything from swordfish to sardines, and dexterously fillet the day's catch.
It's also one of the reasons that Japanese chefs—including the legendary Nobu in the early 1970s—were drawn to Peru, creating Nikkei, a Peruvian-Japanese fusion of ingredients and techniques in dishes such as tiraditos, delicate slivers of the just-caught raw fish, like a cross between sashimi and carpaccio.
The Inca economy was based on farming and the fertile, undulating, evergreen Andean valleys still produce the same ingredients: tubers—there's said to be as many as 3,000 varieties of potato—corn, high-altitude grains such as black quinoa and amaranth, tarwi beans (traditionally peeled by donkeys treading on them), trout, llama, alpaca and guinea pigs.
More than just a sacred site, Machu Picchu's agricultural terraces and crop stores have revealed that produce was also central to Peru's spiritual life, while at the less-visited Inca site of Moray, easily explored from Belmond Hotel Rio Sagrado, the Incas carved three enormous amphitheatre-style pits out of the earth. The temperature between the bottom and the top can vary by as much as 20°C and many researchers believe that it was the site of sophisticated agricultural experiments.
In Cusco's colourful San Pedro market, fedora-clad Andean women sell bottled snakes, dragon's blood and gnarled maca root—the Andean answer to ginseng. Nothing goes to waste: platters of pigs' trotters and cows' noses sit next to unidentifiable innards and jars of intestinal juices. Regional specialities include pink salt from the Maras pans—ancient terraces fed by mountain water—and chuño, potatoes that resemble small white pebbles after being freeze-dried in the cold mountain air.
THE CHEFS
Chef Jean Paul Barbier stresses the importance of fresh, local ingredients in every dish at Belmond Miraflores Park's Tragaluz restaurant. The aim was to create a restaurant with a fun, relaxed atmosphere, serving easy yet sophisticated food. The eclectic menu comes with a unique twist, blending local elements with Asian and Mediterranean flavours.
A hearty dish from the Peruvian coast, arroz con mariscos—scallops, shrimp, octopus, clams and squid mixed with creamy grains of rice—is served in a pot straight from the oven, while paiche (an Amazonian river fish) comes with local chorizo and banana and palm heart salad. For meat lovers there's suckling pig confit with aubergine purée and garlic foam, or melt-in-the-mouth barbecued chicken in a barrel with tangy anticuchera sauce and Peruvian tubers.
"Lately we have been trying to revive some of the old traditional recipes from Lima, such as the ponderaciones dessert. The Peruvian curled or rosette fritters are a typical sweet of Lima, created by nuns at cloistered convents during colonial times. The thin, spiral-shaped crusts are fried and served as an accompaniment to ice cream or topped with dulce de leche or jam. It's also part of the menu at El Huerto at Belmond Hotel Rio Sagrado," says Hernán Castañeda.
Gastón Acurio—known as the godfather of Peruvian cuisine—has taken traditional ingredients to another level at Astrid y Gastón, his colourful restaurant in Lima.
He's elevated the humble causa, cold mashed potato layered with avocado and seafood, to an art form; refined ceviche for more sophisticated palates and recreated staples such as mazamorra morada, a purple corn pudding, in gourmet form.
Much of the Amazon's bounty is still untapped but, at his restaurant Ámaz, Pedro Miguel Schiaffino sources as many Amazonian products as possible to use in dishes such as tofu flavoured with chonta (heart of palm), served with a catfish caviar and cecina (dried, salted pork) broth.
You can even get a jungle-style Sour blended with cherry-sized camu-camu, a superfruit that, gram for gram, delivers 30 times as much Vitamin C as an orange.
ON THE STREET
But it's not all about haute cuisine. Until recently, anticuchos were considered nothing more than a cheap, late-night street snack. Now the Peruvian take on kebabs—tender, succulent morsels of beef heart, marinated in vinegar, garlic, cumin and ají panca chilli, then skewered and grilled over charcoal—have made their way onto restaurant menus.
Street food has become a great source of national pride and other favourites are enjoying a revival, such as picarones, ring-shaped doughnut-like fritters made from a pumpkin or sweet potato dough and served with a sugar syrup spiced with a heady blend of cinnamon, anise and orange peel.
In inexpensive, family-run huariques, the compact menus feature hearty traditional dishes, such as caldo de gallina, a rich chicken stew spiced up with the yellow chilli—a popular hangover cure, I'm told—papas a la Huancaína, slices of boiled potato in a spicy, cheesy sauce, and chifa; or Chinese-influenced dishes, such as lomo saltado—wok-fried beef, tomatoes, peppers and onions, served with a double-carb helping of rice and chips.
And there's always a queue at Lima's hole-in-the-wall sandwich mini-chain La Lucha Sanguchería Criolla for its traditional Peruvian doorsteps filled with lechon (suckling pig), carne asada (grilled beef), accompanied by some out-of-the-ordinary chips, made from rich red huayro potatoes.
by Sarah Gilbert
Explore Peru with Belmond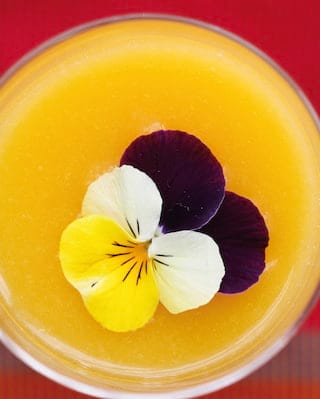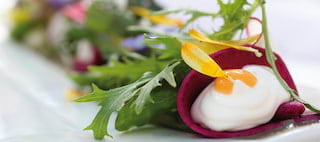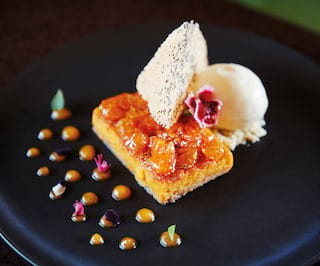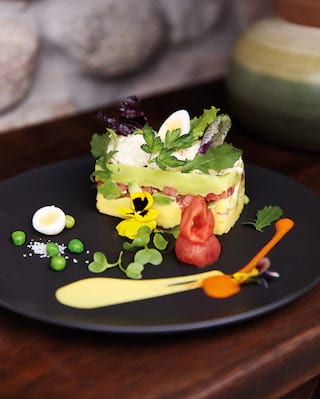 A Gift Like No Other
If you're Inspired by our stories, why not make them a reality for someone special? Belmond gift cards can be used towards unforgettable experiences across our world.