Destination Guide
The Best of Luang Prabang
Luang Prabang was once the royal capital of the Lan Xang Kingdom. Now this tranquil mountain town is a UNESCO World Heritage Site. You'll find it perched 700 metres above sea level and nestled between the Nam Khan and Mekong Rivers. With ancient temples and natural wonders, there's so many things to do in Luang Prabang. Stay at La Résidence Phou Vao and let us show you where to start. 
Read time: 2 min
Let's La Résidence Phou Vao Together
11 nights
Contrasting Cultures
Immerse yourself in fascinating Thailand, Malaysia, Singapore and Laos. Begin your journey in Bangkok aboard the Eastern & Oriental Express and make your way across Southeast Asia. Finally, sink into a world of bliss in Luang Prabang.
Discover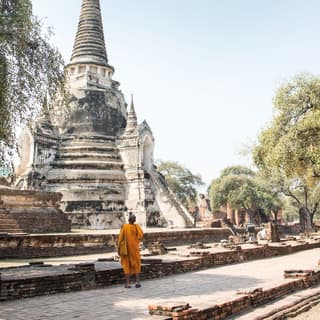 7 or 14 nights
Grand Tour of Southeast Asia
Embark on the ultimate personalised adventure through Southeast Asia, experience your choice of the region's most unique and captivating destinations.
Discover