Article
A Century in Sicily
One hundred years ago, an Englishman and his family built their dream villa on the Bay of Mazzarò. Belmond Villa Sant'Andrea has been an irresistible Sicilian retreat ever since.
Our story began when Cornishman Robert Trewhella came to Sicily in the late 1800s to help build the Circumetnea railway. Trewhella, a civil engineer, had been engaged by the Italian government to work on infrastructures in Italy.
In Sicily, he met and married an English woman and the pair also fell in love with Taormina's breathtaking bay. They began building a lavish beachfront villa as their summer residence. Their son, Alfred Percy, completed it in 1919 and named it after Capo Sant'Andrea, a cape in the Bay of Mazzarò.
Alfred Percy and his wife moved to Catania, where his two daughters, Gwendoline and Vivien, were born. He inherited a number of his father's business interests and became a well-known figure on the island. He was the first to gain a driving licence in Sicily.
The Trewhellas expanded the villa, creating a terraced garden with trees and Mediterranean flora that can still be enjoyed today. They filled the house with antiques and oil paintings and made it a leisurely retreat.
With the arrival of the Second World War, the Trewhellas returned to England and the villa was requisitioned as an officers' mess. It just so happened that Gwendoline's husband, Ivor Manley, was a major in the Intelligence Corps of the British Army. After the Allies invaded the island in 1943, he went straight to the villa and "liberated" it.
Belmond Villa Sant'Andrea in 1936 by Gwendoline Manley, Courtesy of the Manley Family
CREAM OF SOCIETY
The family returnd to Taormina and reopened the villa as a small hotel in 1950. It soon gained popularity among British visitors. In 1965, the villa passed to Percy's grandson, Richard Manley. By now, with a shaded terrace, decadent piano bar and celebrated restaurant Oliviero overlooking the bay, the beach-side hideaway attracted the cream of Sicilian society as well as famous faces from further afield. The Manleys entertained actors visiting Sicily for the Taormina Film Festival, such as Richard Burton, Elizabeth Taylor and Peter O'Toole.
Richard Manley recalls the time the film director Francis Ford Coppola contacted him in 1971. "He wanted to stay in Sicily to film some scenes for The Godfather. For about six weeks we hosted several members of the cast, including Al Pacino, who was unknown at the time. During several dinners, I advised on locations near Taormina where they might film."
So enamoured was Coppola that he returned to film the sequel (with Robert De Niro) and trequel. A waiter at Belmond Villa Sant'Andrea remembers that Al Pacino loved to invite other members of the crew to dine with him. "One night he asked us to construct a kitchen next to his room so he could cook spaghetti al pomodoro for all the other actors!"
HOME FROM HOME
Today, the feeling of stepping into a beautiful private home is what makes Belmond Villa Sant'Andrea so special. Since joining the Belmond family in 2010, it has also seen exciting transformations, from the addition of a serene pool overlooking the bay and luxury cabanas on our private beach to the building of a new wing housing sumptuous seaview suites and junior suites.
Most recently, we launched three new Scented Suites inspired by fragrances that fill the hotel's gardens. Zagara (orange blossom), the Presidential Suite; Neroli (bitter orange flower oil) and Gelsomino (jasmine) boast rich details such as copper bathtubs, Sicilian ceramics and vintage Mimmo Rotella movie posters, as well as exclusive Ortigia lines dedicated to their namesake scents.
For a summer residence by the sea, there's nowhere quite like it.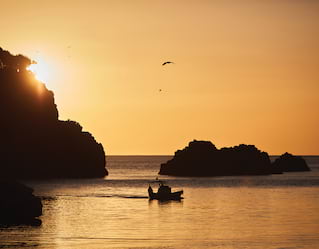 Our Centenary By Sea
Take an exclusive boat tour of the Sicilian coast to celebrate our 100th anniversary. Glide past Isola Bella and Giardini Naxos to reach the charming town of Acitrezza. Here, meet the local Rodolico family—master boat-builders since 1908 and the last in the region. Continue by boat to Catania and take a short stroll through the city centre. Then enjoy a traditional Sicilian lunch with former neighbours of the Trewhella family, who built Belmond Villa Sant'Andrea 100 years ago.
Find out more
O