When we think of British summertime, we picture lush countryside, lawn games, stylish picnics and a chilled glass of Pimms. Whether it's for a special occasion or just because, we're on hand to show you a right royal experience.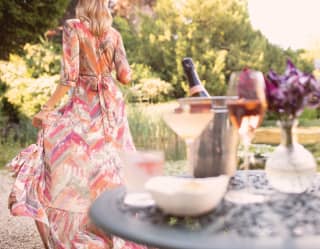 COUNTRYSIDE CONVIVIALITY
Relax and recharge at our stunning Provençal-inspired Oxfordshire haven, Le Manoir aux Quat'Saisons. From the moment you stroll through our lavender pathway and into our postcard-perfect grounds, a sense of calm descends.
Enjoy a slice of privacy in our breath-taking grounds. Amble along the mushroom valley, marvel at the calming Japanese garden and saunter through our orchard. From wine cellar tours to in-room spas, there's something for everyone in your UK getaway.
Gear up for world-class gastronomic flair at our double Michelin-starred restaurant by Raymond Blanc OBE. For that extra special touch, request a private meal and raise a glass of bubbly in sublime seclusion. The choice is yours: opt for a champagne welcome in a secluded walled garden before descending on our private dining room. Or, dine alfresco in the La Belle Époque Conservatory, a dazzling location for a celebratory feast. Whatever your group's preference, we can ensure that the champagne is flowing, the views are jaw-dropping and the food out-of-this-world.
C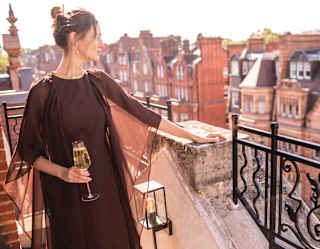 CHELSEA GIRL
After perusing the shops in neighbouring Knightsbridge, recharge at the Cadogan Hotel in stylish Chelsea: the ultimate sanctuary of chic.
Saunter through London's oldest botanic garden, the Chelsea Physic. With private access to the beautiful garden sanctuary, enjoy our award-winning afternoon tea, reimagined as a picnic. From sweeping lawns to tennis courts, enjoy London's great outdoors in exclusive privacy.
Organize a private event in our Royal Suite, the famed spot where Oscar Wilde was arrested in 1895. Our opulent walls have long been a sanctuary for socialites and bohemians, from Wilde to the infamous socialite Lillie Langtry. If walls could talk, ours would have some captivating stories to tell—what will your story be?
C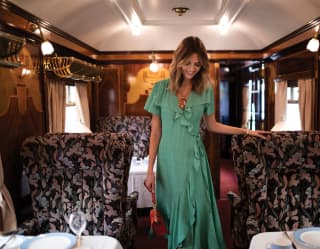 GOLDEN AGE OF TRAVEL
There's no experience more storied and sumptuous than a journey on the Belmond British Pullman. Step foot on our restored 1920s carriages, where the mood is set for an unparalleled adventure—aided by free-flowing champagne, of course. From a fun-filled murder mystery lunch to a Veuve-Clicquot Afternoon Tea, our journeys are designed to suit all tastes.
Clink glasses, share stories and marvel at the stunning landscape as you rumble across the rails. Having sheltered royalty and been a star of the silver screen, the carriages are characters in themselves. Discover 'Audrey', damaged in an air raid in 1940. Marvel at 'Phoenix', an erstwhile favorite of H.M. The Queen Mother. Or visit 'Lucille', built as a First Class parlour car in 1928.
This season, indulge in the train's new 'Golden Age of Travel' five-course summer menu. Created using the best British ingredients, signature dishes include a Smoked Salmon Cheesecake, Braised Scotch Beef and an iconic Pimms Pebble.
G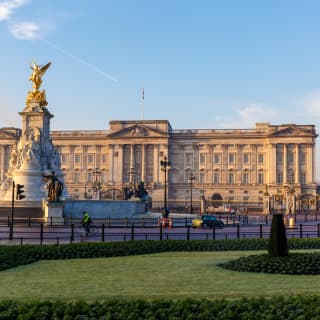 Experience the best of both town and countryside with a stay at both Belmond Cadogan and Belmond Le Manoir aux Quat'Saisons.
View the itinerary