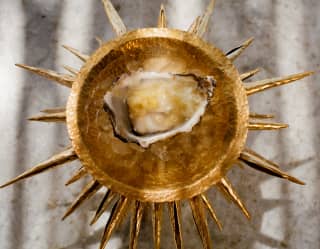 A NEW LIVE FIRE RESTAURANT IN THE RIVIERA MAYA
Centred around exceptional, wood-fired grill cuisine, Woodend by Curtis Stone features seasonal dishes that celebrate the connection between sea and land. Taking inspiration from the farmers and fishermen whose ingredients are the heart and soul of local gastronomy, join us inside Maroma, A Belmond Hotel and feast on stunning plates that pay respect to the Yucatán Peninsula, its history and traditions.
Book your seat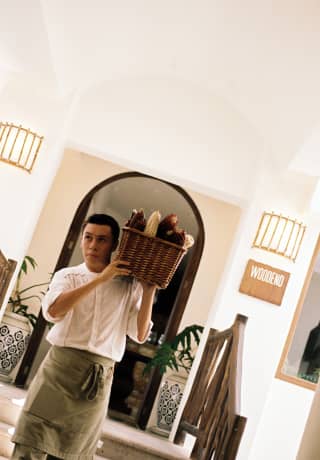 Open daily, 6pm–11pm
Email: woodend@belmond.com
Tel: +52 984 370 0400
Address: Carretera Cancún-Tulum, Km 51, 77710 Riviera Maya, Quintana Roo, México
Open-Fire Alchemy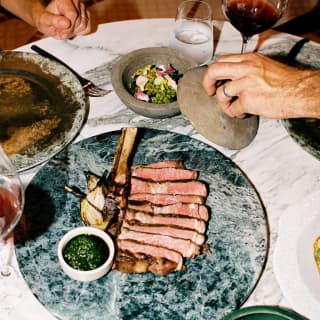 Open-Fire Alchemy
Our menu features freshly caught seafood, paired to perfection with a selection of vibrant Latin marinades, signature sauces, and spice blends. The focus on open-fire grilling adds drama and flavor to sustainable fish and meat, while a variety of plant-based options celebrates produce grown in Mexico.
Feast on signature dishes such as Grilled Blue Shrimp with green mango, apple, daikon, and charred almonds; Oyster Crudo with a pineapple mignonette and lemongrass; Mayan Rice with maitake mushrooms; and a Semifreddo with pistachios and Mayan chocolate.
Meet The Chef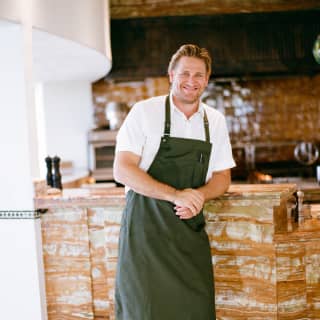 Meet The Chef
Chef Curtis Stone is a Michelin-Star restaurateur whose dishes utilize local ingredients in simple forms, allowing the ingredients to speak for themselves and enhancing Mother Nature's cuisine. He is renowned for his live fire technique, cooking over an open flame for a distinct, vibrant, and incomparable flavor.
Chef Curtis Stone shares a number of principles with Maroma — a commitment to relaxed indulgence, and luxurious simplicity. The name Woodend comes from a place in Australia where the chef's family nurtures a farm; at Maroma, it signifies the place where the wood of the jungle meets with the sea, and the wood that ends up firing the grill in the kitchen.
Breaking Bread with Curtis Stone
Growing up in Melbourne, Chef Curtis Stone learnt traditional culinary techniques – such as cooking over a smoking fire – from his mother and grandmothers. In this first episode of our film series Breaking Bread, where we meet top chefs from across the Belmond collection, the Michelin-starred restaurateur talks us through the birth of his new haute-cuisine-meets-wood-fire-grill restaurant, Woodend. Join Chef Stone as he describes his intimate encounter with Maroma and how his recipes mirror their natural surroundings.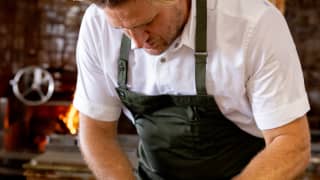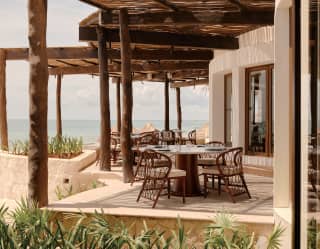 Mayan Design
Designed by the acclaimed Tara Bernerd & Partners, Woodend's main dining room is housed underneath a traditional Palapa roof with a bamboo ceiling, bringing a natural warmth to the space. Gently curved banquette seats and eclectic cane chairs are a central focal point of the space, while you can admire the bustle of the chefs with a glimpse through to the onyx-clad open kitchen.
Stride across the tessellated floor — featuring a mix of glazed Saltillo terracotta mosaic tiles set within a border of dark green, terracotta, and off-white that runs around the perimeter of the room — as you reach your table. Large floor-to-ceiling windows with sheer curtains frame the incomparable sea view, allowing you to witness the ever-changing light, while chandeliers made with shells and inspired by local Mayan Jade jewelry bring a touch of drama.
M
Special occasions, parties, or a simply dinner à deux
WOODEND BY CURTIS STONE
Make a reservation
Special occasions, parties, or a simply dinner à deux
Thank you for your interest in Belmond.
Prefer to talk? You can call us on +52 984 370 0400