Article
THE SUN ALSO RISES
"My future starts when I wake up every morning."
When Miles Davis uttered these words, he perfectly summed up our belief in making the most of each sun-dappled dawn. Discover rich new ways to start the day in Southeast Asia, for every kind of adventurer.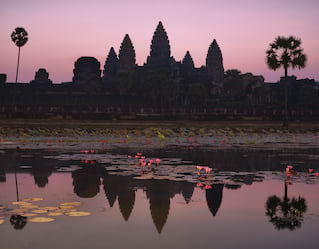 SIEM REAP: SUNRISE OVER ANGKOR WAT
Accompanied by a nature guide, set off early from La Résidence d'Angkor to watch the sun rise over the fabled five towers. Explore the magnificent temple complex before veering into the jungle. Here, you'll be able to spot colorful native birds in startling detail.
S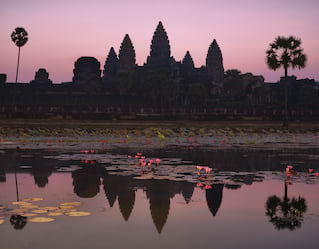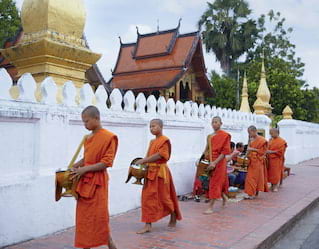 LUANG PRABANG: LAO AWAKENING
Join us from our base at La Résidence Phou Vao on a trip into town for the 'tak bat' ritual. In this authentic experience, you can present offerings to a procession of saffron-clad monks. Further awaken your senses at the vibrant morning market, before boarding a private boat for a sunrise cruise. It's never too early for a champagne breakfast on the Mekong River.
L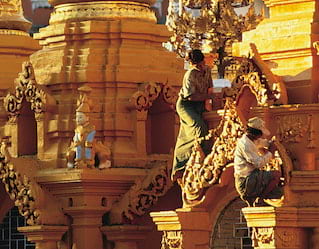 YANGON: DAWN AT SHWEDAGON
Shwedagon Pagoda, Myanmar's iconic landmark, is never more spellbinding than at first light. Escorted by a private guide from Governor's Residence, witness the stillness of the temple at dawn. Join locals making offerings to planetary signs. Adventurous travel sometimes finds beauty in stillness.
Y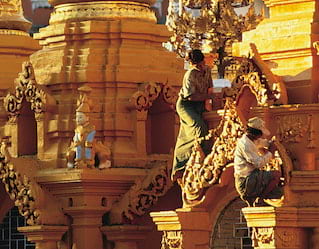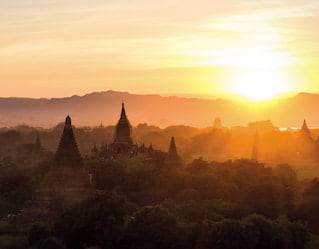 BAGAN: MURAL IDYLL
Aboard the Road to Mandalay river cruiser, every daybreak is different. Alight in Bagan to visit a small, rural temple, surrounded by farmers cultivating their crops. Continue to majestic Sulamani⁠—the Crowning Jewel pagoda. Step inside to marvel at exquisite murals and frescoes created nine centuries ago.
B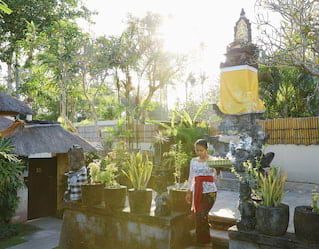 BALI: HOMAGE TO THE GODS
Experience the spiritual early-morning routine of the devout Balinese people. Gather in Jimbaran Puri's fragrant gardens, garbed in traditional island dress, and visit four temples on site. Leave offerings for the gods of the sea, the sun and Vishnu, as well as the temple that guards the hotel.
B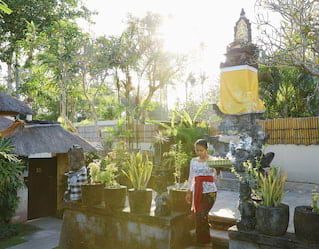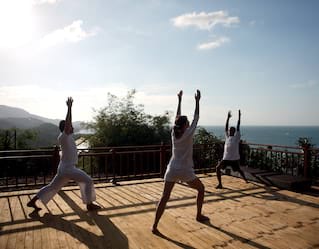 KOH SAMUI: LOOK WITHIN, GAZE WITHOUT
Enhance your wellbeing in spectacular style. Join a sunrise yoga class on Napasai's panoramic Sky Deck. Absorb uplifting views of the Gulf of Thailand as you breathe in the fresh air and hold your pose. Find your inner calm as the island wakes up beneath you.
K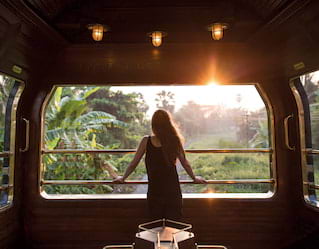 BANGKOK: START OF AN ADVENTURE
Watch the sun begin to peek through the trees, as you glide through the lush landscapes of Thailand aboard the Eastern & Oriental Express. In the Observation Car, raise a toast to both the captivating sunrise and the beginning of a wonderful journey.
B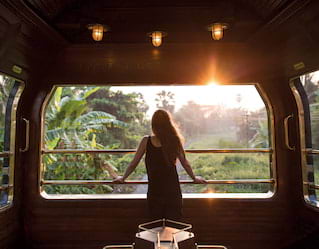 Plan your Eastern adventure
Majestic, mystical and magical: Asia is a treasure trove awaiting discovery. Mouthwatering cuisine, architectural wonder, authentic villages and opulent hideaways await in stunning locations. Our five hotels, enchanting train and pioneering river cruise are filled with exhilarating adventures waiting to be had.
Explore Asia