Meet the stars of the new Paddington Bear movie as Belmond British Pullman thunders into a thrilling steam train chase.
PADDINGTON BEAR and Britain's railways have always had an umbilical link; the lovable character from darkest Peru was found and named at Paddington station after all. So when film director Paul King sought a spectacular set piece finale for Paddington 2 – sequel to the eponymous 2014 hit movie – he naturally turned to trains.
The new film's denouement involves Hugh Grant's vain and villainous actor Phoenix Buchanan, a desperate getaway, a determined bear and a spectacular chase involving two steam trains. One of these historic locomotives is pulling Belmond British Pullman and its vintage carriages.
FROM RESEARCH TO ARRIVAL ON SET
King and co-writer Simon Farnaby made a journey on Belmond British Pullman to ensure the perfect recreation of the scene. The director enthuses: "That was the happiest day of research I've ever had".
The two describe how they set off with all good intentions to take notes and photographs, but ended up being distracted by the delicious lunch and "plied with champagne". But the journey easily persuaded them that the train was the perfect Paddington match.
When filming began one carriage, Zena, was chosen to be taken to Warner Brothers' Studios north of London. She was loaded onto a truck at her south London depot, carried out west beyond the city limits and then hauled all the way back on the opposite bank of the Thames. Why take the long way around? The vintage carriage, with its brass work and wooden panelling, is too heavy to pass over London bridges. Upon arrival it was lowered onto a specially built stretch of track and attached to locomotive No. 60163 Tornado, which could tow her up and down the line whilst Sally Hawkins as Mrs Brown and Sam Joslin as Jonathan Brown chased after Hugh Grant.
"Sally was shovelling the coal and I was doing all sorts of things with the taps and levers," Joslin explains. "It was tiring and tough and the weather was very cold. But it's a fine locomotive and I was very lucky to look after it for a bit. Although now I can confirm I have no ambition to be a train driver."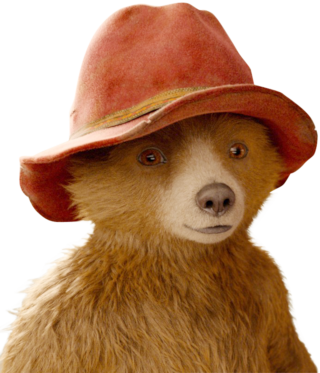 The world could do with a few more Paddingtons, I think we can all agree.
Hugh Bonneville, who plays Paddington's guardian Mr Brown, explain's why the little bear's positive outlook on life is so necessary today.
Paddington 2
MIXING DIGITAL AND REAL
"We couldn't unfortunately film the chase at full speed on live track around England because that would have been too perilous," King explains. "So for exteriors we digitally scanned the trains: the result's a blend of digital and real. When Tom falls into the blancmange, that's real."
King quotes Orson Welles, who once said filmmaking is like getting to play with a giant train set. "In this case it was literally true," he grins. "Not only did we have the full-sized Pullman carriage, but our special effects people built a train on a full-sized remote-control track and we had a train set in our writers' room. Anyone who didn't know what we were doing would have thought we were just a couple of boys playing," Farnaby deadpans. "But no, we were trying to write a film."
THE PLOT THICKENS
Paddington 2 continues and expands on the bear's previous screen success. "The first film was about bringing Paddington into the family whereas in this one he's more in the community," Hugh Bonneville, who plays Paddington's protector, Mr Brown, explains. "Paddington goes shopping for a present for his aunt Lucy and finds a rare pop-up book of London in Portobello Road. It contains instructions for finding secret treasure which villains are keen to get their hands on."
Paddington author Michael Bond appeared in a brief cameo in the first film but died, aged 91, shortly before this new release. "This film is a fitting tribute," says his daughter Karen Jankel. "He'd be very proud of what everybody's done. It's sad he didn't get to see the second film, but I know he would have been very happy with it. It's been very moving. The first time I saw an image of Paddington on the big screen I actually cried. I've grown up with him, he is a member of our family. He's so real to me."
A LITTLE BEAR IN A BIG WORLD
The success of the first film proves the kindly but careless Peruvian bear has captured the imagination of old and young across the globe. "The thing about Paddington is, he's a little bear in a big world, an innocent abroad trying to find his way through a strange environment," explains Bonneville. "There's a universal truth in that from our first day at school to our first job, we all know what it's like to be a little kid in a big, scary place. We have to pretend we know what we're doing and Paddington lets us know that it's all right. You'll make mistakes. But if you bring a kind attitude you'll meet kind people. The world could do with a few more Paddingtons, I think we can all agree."
BY STEPHEN ARMSTRONG