Savour world-class indulgence in the Oxfordshire countryside
Created by celebrated chef Raymond Blanc OBE, Le Manoir aux Quat'Saisons is one of the country's most cherished manor house hotels. We received two Michelin stars in 1984, the first year of our opening, and, remarkably, have held them ever since.
Surrounded by lawns, flower borders and orchards, our setting is postcard-perfect. But beyond the eye-catching displays are vegetable and herb gardens that provide the kitchen—and the acclaimed Raymond Blanc Cookery School—with ultra-fresh, organic produce. They guarantee our restaurant remains at the cutting edge of culinary excellence.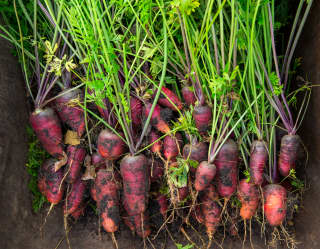 Sustainability at Le Manoir
From the moment you arrive at our countryside manor, you'll feel the spirit of our gardens and our core mindset of sustainability come to life. This approach is born out of our Chef Patron Raymond Blanc OBE's personal ethos, where seasonality, foraging and no waste are part and parcel of the holistic approach to dining and beyond.

Nurturing a potager kitchen garden, the menu is inspired only by what is fresh and what is locally grown. From this, we have earned a Green Michelin Star that joins our existing two Michelin stars for culinary excellence.

During your time at Le Manoir, discover some of the initiatives we have adopted to help drive us towards delivering a perfectly integrated eco-system.

Track our sustainability journey with Zellar
Explore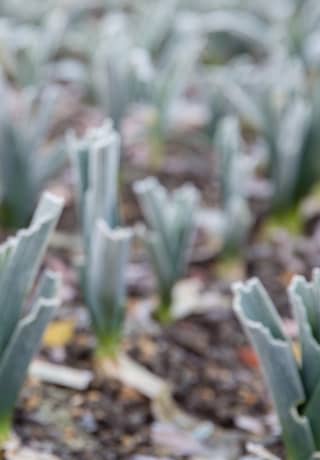 Explore
Every step brings a new discovery
The Raymond Blanc Cookery School
Michelin Star Masterclasses
Hone your culinary craft in our award-winning kitchens, offering different courses each day.
La Belle Époque
Grand Gatherings
This elegant, wood-panelled room provides a flexible space for events accommodating up to 50 guests.
L'Orangerie
A Zest for Life
This delightful conservatory is a wonderful place to dine for an added alfresco ambiance.
Garden Courtyard
Great British Grandeur
Feel closer to the great outdoors with a stroll through our enchanting gardens. You can also join us on one of our daily tours.
Lavender Path
An Aromatic Arrival
Twin pathways of lavender line the entry to our storied manor house.
Orchard
Branches in Bloom
Our heritage orchard is bursting with British fruit, including numerous types of apple and pear.
Herb Garden
For Every Season
Follow your nose to our herb garden, where we grow more than 70 varieties for use in our kitchens.
The Raymond Blanc Gardening School
Green Finger Guidance
Broaden your botanical knowledge and garden skills on a day course with our expert gardening team.
Potager
Crops for the Kitchen
Wander through our 2-acre potager and you will likely find one of our chefs harvesting crops for the hotel's kitchen.
Japanese Tea Garden
A Moment of Zen
Let the sound of a babbling brook guide you to our peaceful Tea Garden. Here you'll find a traditional Japanese teahouse.
Wildflower Meadow
Untamed Beauty
The abundant floral blooms in our natural wildflower meadow offer the perfect space to feel at one with nature.
Ponds
Wistful Waters
Local monks designed these ancient, natural spring ponds.They date back to the 16th century.
St Mary's Church
Pitch Perfect
With elements dating back to 1066, this historic church is a magical setting for carol concerts and music performances.
Oxford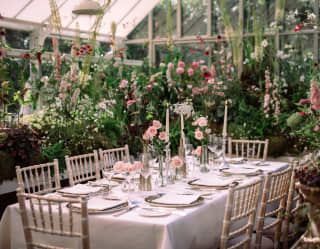 Occasions and Events
At Le Manoir aux Quat'Saisons, we have several options for small- to mid-size events ranging from 15 to 50 guests. From double Michelin-star dining in a private dining room to our airy conservatory overlooking the manicured gardens, explore our events options for the wedding, honeymoon, meeting or celebration of your dreams.
O
At a glance
ACCOMMODATION 32 rooms and suites
DINING Celebrated two Michelin-star restaurant by Raymond Blanc OBE
FEATURES Resplendent grounds with organic kitchen garden, Japanese garden, mushroom valley, orchard and more
ACTIVITIES The Raymond Blanc Cookery School and The Raymond Blanc Gardening School
EVENTS Private dining for up to 50 guests
LOCATION 8 miles from Oxford, 32 miles from London Heathrow Airport
Activities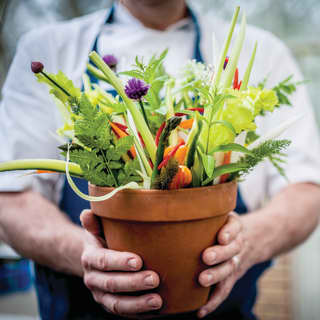 Activities
A stay with us is more than just an adventure for the tastebuds. From enchanting garden tours and cookery lessons to outdoor sports and retail therapy, you'll find an endless array of things to do at Le Manoir aux Quat'Saisons.
Find out more
Gardens
From the mushroom valley and orchards to the serene English water garden, a stroll through our verdant grounds is sure to be one of many highlights to your stay. Join us on one of our daily tours. You'll be treated to a rare insight into the many unique flowers, trees, fruits and vegetables we grow, and even pick up a few tips and secrets from our expert gardeners.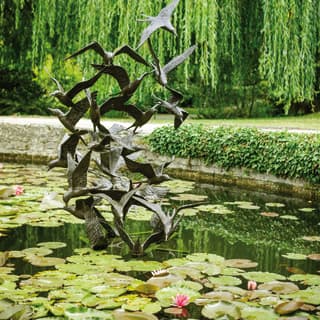 English Water Garden
Fed by natural springs, the gardens were originally dug by the monks who occupied the site in the 16th century. Now visitors can enjoy strolling round verdant ponds and water features, home to a variety of plants and fauna.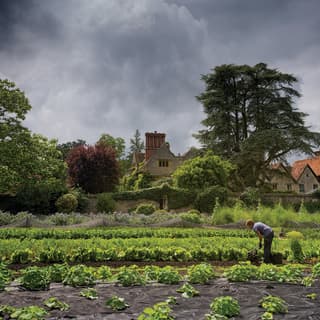 Vegetable Garden
The 100% organic garden is certified by the Soil Association. It supplies 90 types of fresh salads and vegetables to the restaurant during the late spring, summer and autumn. These include vegetable indigenous to South-East Asia to achieve Raymond's distinct, exotic flavours.
Two acres are overseen by a bronze scarecrow, modelled on Raymond Blanc himself.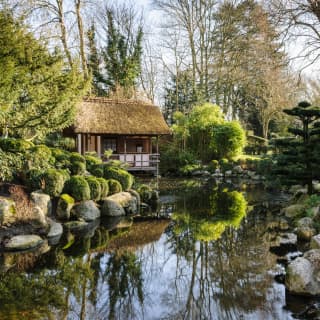 Fugetsu-An Tea House
Cross the oak bridge and find sanctuary at the Japanese Tea Garden. It perfectly blends Taoist, Buddhist and Shinto traditions. Stepping stone paths lead to a water basin where guests can clean their hands in ritual ablution.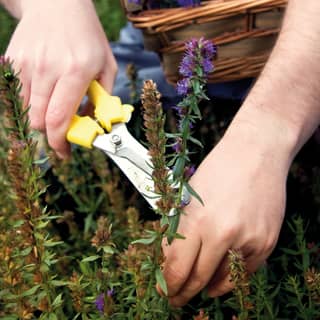 Herb Garden
The hotel's vast patchwork of herbs is particularly strong on micro-herbs. These are harvested still young and tender to obtain optimum flavour. Both the familiar and the exotic can be seen in the outside beds and greenhouses.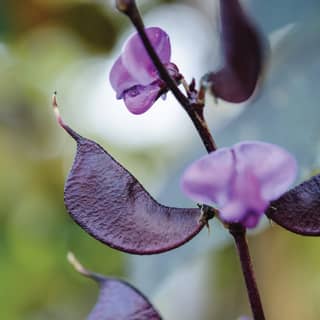 Cloche Tunnels
At Le Manoir, hundreds of courgettes are grown in cloche tunnels for their flowers. The variety grown is Milano di Nero, which produces abundant, large blooms. Just as well, as the kitchen can use up to 200 flowers a day throughout the summer.
Here you'll also find aubergines, peppers and watercress.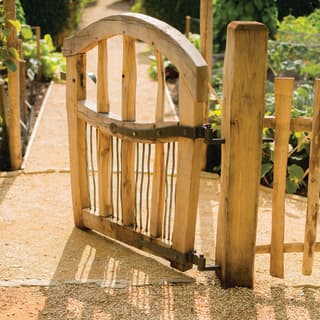 Mushroom Valley
Find delicious edible fungi, including shiitake, maitake and parasol, in an earthy ravine. The valley is also lined with silver birch and oak. Mushrooms are cultivated in a laboratory. It requires much time and patience to produce enough to satisfy the restaurant's menu.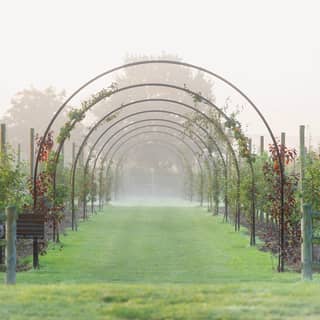 Orchard
For the last 20 years, Raymond has aimed to create orchards full of unusual British species of fruit. This project is now in full swing, with some 800 apple and pear trees being planted in 2011.
There is also a fruit hedge containing varieties of sloes and plums. The garden uses traditional British methods to maintain sustainability.