A wedding unlike any other. A special anniversary. A culinary and vinicultural tour of the endless local vineyards. An incentive reward for your hardworking team. At Castello di Casole, we'll bring any event or celebration to life with sensational flair.
Our venues range from intimate to grand, with both indoor and outdoor space. Our expert planners can see to every detail, from transfers and tailored menus to translation services. Whatever even you're imagining, we will help bring it to life.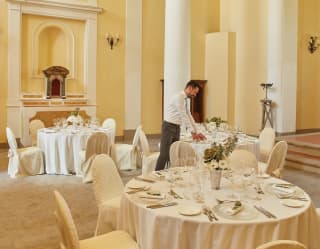 Weddings
When it comes to dream weddings in Tuscany, no venue is more enchanting than Castello di Casole. Renew your vows in the historic Chiesa S. Tommaso Church, fully restored to its original glory, for gatherings and celebrations of up to 30 guests.
For larger events or blessings, a picture-perfect ceremony among the vineyards will be truly unforgettable. For the ultimate event, hire the entirety of Castello di Casole for exclusive use and celebrate surrounded solely by your family and friends.
Contact our wedding experts
Weddings
Thank you for your interest in Belmond.
Prefer to talk? You can call us on +39 0577 961501
W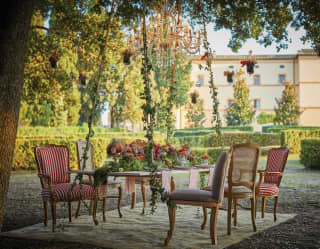 Celebrations & Honeymoons
Imagine languid days filled with long walks through vineyards, past ancient stone walls and along shady cypress-lined lanes. Cosy up in the lounge, or unwind beside the pool—this is a place that seduces all the senses.
Add some extra magic to your stay with a couple's spa experience or a dinner served in your suite. Private excursions into the countryside and nearby towns can be arranged especially for you.
Check availability
C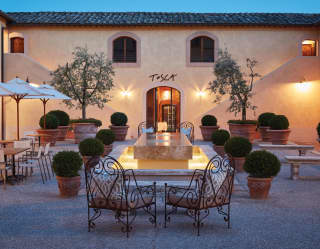 Meetings and Incentives
Castello di Casole is guaranteed to impress staff, clients or colleagues. Across the estate you'll find many enchanting event spaces. Soak up the scenery on the sprawling lawns and terraces, or host a presentation in the open-air amphitheatre.
The intimate church is a striking venue for private receptions and executive sessions. Dining in the restaurant or on the terrace can be arranged and themed for every event. Our expert bilingual staff and event planners will attend to every detail. Simply ask, and consider it done.
Contact us
Meetings and Incentives
Thank you for your interest in Belmond.
Prefer to talk? You can call us on +39 0577 961501
M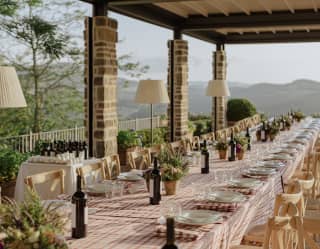 Venues
Whether looking for a dramatic space for a celebration dinner or unique wedding venues in Tuscany, we have a space for every occasion.
Host a lavish alfresco event on the beautiful Limonaia Terrace or in the stunning ancient amphitheatre. Keep things classic with a timeless feast in the atmospheric wine cellar. Or host an unforgettable meeting in the charming Casa del Prete. Wherever you pick, we'll ensure your event is a roaring success.
Contact us
Venues
Thank you for your interest in Belmond.
Prefer to talk? You can call us on +39 0577 961501
V
Packages & Tours
Combine your favourite destinations and plan the journey of your dreams.