Discover Castello di Casole
Enriched by 5,000 years of history
One of the most storied Tuscany resorts, Castello di Casole is alive with history. The site is deeply rooted in its agricultural past stretching back to the Bronze Age; artefacts from Etruscan farmers have been found across the grounds and are now on display at the hotel. The castle itself dates back to the 10th century. Throughout the years it has hosted royalty, film stars and political luminaries. Today the buildings have been lovingly restored, cherishing the storied past while offering every modern indulgence.
At a glance
ACCOMMODATION 39 rooms and suites
DINING Traditional restaurant with Tuscan dishes
FEATURES Pool, Essere Spa, vineyard and olive grove
ACTIVITIES Biking, horseback riding, golf, truffle hunting and more
EVENTS Indoor and outdoor venues including an ancient amphitheatre, wine cellar and chapel
LOCATION 67km from Florence Airport
Explore
Every step brings a new discovery
Entrance
Come On In
Make your way past statuesque cypress trees to arrive at the entrance. You'll find our team waiting here, ready with the warmest of welcomes.
San Tommaso Chapel
Unforgettable Occasions
Our own little piece of heaven, San Tommaso Chapel is a stunning, fully restored venue-- perfect for intimate ceremonies of up to 30 guests.
Swimming Pool
The Edge of the World
Take a relaxing dip in our heated infinity pool and enjoy the surrounding vistas. Nearby, you'll find the sauna and steam room for a little extra indulgence.
Amphitheatre
Your Stage is Set
The ancient Etruscan amphitheatre is one of the oldest structures on the estate. Host an open-air celebration here, surrounded by friends and loved ones.
Essere Spa
A Pampering Paradise
Our serene spa sits at the heart of our hilltop estate. Barrel-vaulted ceilings add a sense of drama while you enjoy a luscious treatment infused with local grapes and rosemary.
Limonaia Suites
Garden Grandeur
Once used to shelter lemon trees in the cooler months, these five exquisite suites are filled with natural light and feature a private garden terrace.
Oliveto Suites
Home Away From Home
These one-bedroom apartments feature an expansive outdoor terrace with incredible views. Indoors, you'll find an elegant blend of rustic charm and contemporary flair.
Rose Garden
Fragrant Florals
This magical spot is perfect for meandering, daydreaming and a romantic dinner under the stars. Look out for our very own cultivar, La Rosa Castello di Casole, created in partnership with Rose Barni. This special rose will be planted in anticipation of a dazzling show in 2022.
Tuscany
History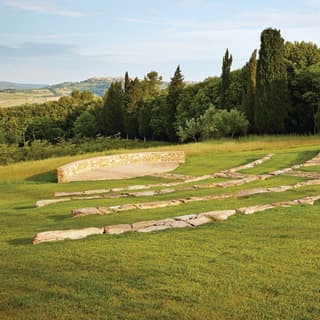 History
Castello di Casole is a grand retreat, steeped in legend. The original site dates back some 2,500 years, to the time of Etruscan civilisation – a period rich in trade, when concepts of enlightenment, equality and craftsmanship were first introduced, and commercial and agricultural civilisations flourished.
The medieval castle, which forms the centrepiece of Casole today, was built in 998. Its owners were drawn to this location for its high vantage point and endless views across the region. During the 1800s, the noble Bargagli family cultivated the lands and expanded the estate. Its grandeur and dramatic presence were once the backdrop to a distinguished way of life, which today can still be felt throughout Casole's abundant grounds.
History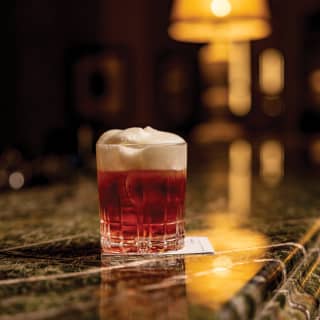 History
In the 20th century, Casole became a glamorous scene for the international elite, when it was resided over and rejuvenated by the famed film director Luchino Visconti and his brother. They introduced an alluring style and atmosphere to Casole, hosting legendary parties attended by Italian and Hollywood glitterati.
In honour of the glamorous and seductive lifestyle that Casole embodied during their time here, Bar Visconti is now an elegant, lively space where guests can enjoy intimate lounge performances alongside an impeccable menu of grappas, amaros, vintage wines and late-night cocktails.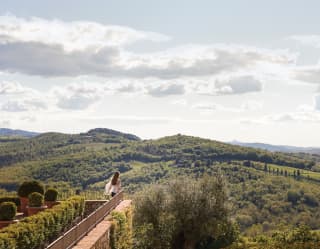 Vineyards & Groves
Meander through our vineyards and olive groves. Our estate boasts more than 25 acres of organic vineyards in 13 distinct plots, including Cabernet, Sangiovese, Merlot and Petit Verdot varietals. The grapes are used to produce our 'Sì di Sì' private-label signature wines.
Naturally, Tuscany is home to the world's finest olive groves, and our 30 acres may be the finest of all. Harvested each fall, the olives produce a private-label extra virgin olive oil unlike any other. Making just 2,500 bottles annually, it's used exclusively at the Castello di Casole estate with a dedicated allotment for owners and guests. What's more, we even make our own delicious honey on-site.
V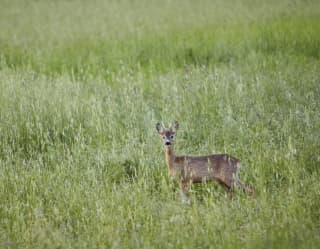 Model Game Reserve
Castello di Casole is recognised by Provincia di Siena as a Model Game Reserve. This is a testament to the remarkable work of farmers who tend the land, and gamekeepers who lead seasonal hunting expeditions.
The Reserve is perfect for exploration. Lose yourself among the many scenic footpaths and spot the abundance of hare, pheasant and deer.
M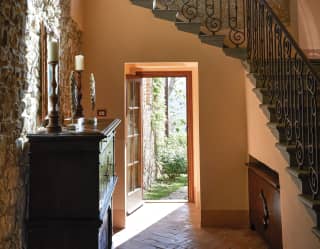 The Restoration
Preserving the history of Castello di Casole has been a dream project for our architects and artisans. They have been careful to honour the natural wonders of the hotel and its rich Tuscan heritage.
The restoration used traditional methods and reclaimed materials, including wood beams, ceramic tile and terracotta found throughout the estate. Trace the centuries across the stones of our walled courtyard and hand-set loggia.
T
Pool Terrace
Whether you want to swim, soak or splash, the pool terrace is the perfect place to relax while taking in the beautiful sights of Tuscany. The heated pool is ideal for morning laps or an afternoon dip, while nearby saunas and steam rooms are ideal spots to unwind after.
Even for those keeping dry, the terrace is the perfect place to while away the hours. Gather with friends and family, or curl up with a book under the Tuscan sun.
P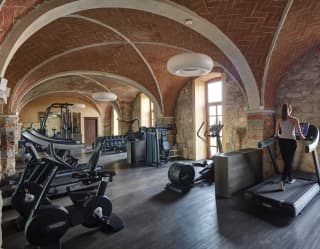 Fitness Centre
Keep fit and healthy during your dream Tuscan escape. The estate offers endless wellness opportunities, including beautiful walking trails, mountain and road bikes, and modern gym facilities.
There are steam rooms and pools, for a warm-up or cool-down, plus state-of-the-art exercise equipment from TechnoGym. Personal trainers can be arranged to help customise your workout, or join group classes in yoga, pilates and more.
If you prefer to workout in your room or outdoors, all our guests enjoy access to virtual coaching on the MyWellness App by Technogym. You can also request the Technogym training kit at reception.
Open daily, 9am to 7pm
Please note: a reservation is required prior to use
Fitness Centre
Thank you for your interest in Belmond.
Prefer to talk? You can call us on +39 0577 961501
F
Boutique
The boutique at Castello di Casole offers some of the most unique shopping in Tuscany.
Find designer apparel, paintings and sculptures from acclaimed local artists, plus artisanal treasures from the finest Italian houses. You can also pick up our estate-grown and produced wine and olive oil, plus signature products from Essere Spa.
B
Discover Tuscany
Journey between Villa San Michele in Florence and Castello di Casole for the ultimate Tuscan adventure.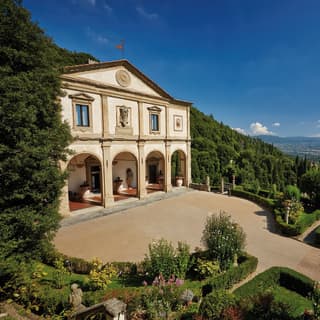 Florence, Italy
Villa San Michele
Nestled in the Fiesole hills, this former medieval monastery perfectly captures the romance of Florence
Learn more