Every meal an occasion, every occasion memorable
Experience a true taste of Siena, Italy. Restaurants at Castello di Casole offer something for everyone.
The focus is on simple, rustic food that blends Italian tradition with modern innovation. Whether you choose to dine in the elegant restaurant or on the terrace with gorgeous views, each moment is one to cherish.
Tosca
Tosca
Tosca mixes old world favourites with modern influences. The focus is purely Italian—homemade pasta, locally sourced meat, exceptional seafood and garden-fresh produce. Freshly baked bread pairs perfectly with our estate-grown extra virgin olive oil.
Opening times:
Lunch: noon – 3pm
Dinner: 7:00–10:00pm
Book a table
Emporio del Castello
Emporio del Castello
Visit our elegant Emporio, which combines the relaxed spirit of alfresco dining with the feel of a traditional village store. Shop for products from our own estate, from wine to honey and olive oil.
Savour our delicious specialities that pay tribute to the Tuscan countryside, or feast on pizza prepared in our wood-fired oven.
At our Emporio, why not join our Pizzaiolo in the Pizza Academy and learn how to master this classic yourself? Other cookery classes will teach you how to prepare perfect pasta and sensational homemade sauces.
Open daily 11am–6pm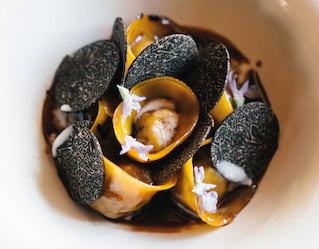 Mamma Margherita's tortelli with wild boar
Rich and indulgent, this Tuscan recipe brings back fond childhood memories for Chef Daniele Sera.
Learn how to make this delicious tortelli dish, finished with shaved truffle and Stracchino cheese.
Get the recipe
M
More to Savour
Peruse our options for every mood and appetite
Pool Bar
Indulge in delicious light bites including artisanal sandwiches, gelato, smoothies and milkshakes from our ice-cream cart. Our bar is just steps from the hotel's gorgeous infinity pool.
Chase-up a cooling dip with a sip of your favourite refreshment—there's no better way to soak-up panoramic views of Tuscany's wild side.
Opening times:
Daily, 10am–6pm
Food served noon–7pm
Pizza served noon–3pm
Wine Cellar
Allow our sommelier to introduce you to the region's grapes and guide you through a tantalizing tasting. The ideal spot for an exclusive dinner or private wine tasting session.
Wine tastings available daily, on request 4pm–6pm
Bar Visconti
Overlooking the serene pool area, it's one of the best lounge bars in Italy to enjoy the sunset over the hills.
Classic marble details, a frescoed wall and built-in banquette seating invite intimate conversation. Or take a seat outside for a drink beneath the stars.
Opening times:
Daily, 6pm–midnight
Private Hire
Let us help you plan an unforgettable event.
Celebrate With Us
Plan your event
Celebrate With Us
Thank you for your interest in Belmond.
Prefer to talk? You can call us on +39 0577 961501
Got a Special Request?
Contact us
Got a Special Request?
Thank you for your interest in Belmond.
Prefer to talk? You can call us on +39 0577 961501