Every meal an occasion, every occasion memorable
Experience a true taste of Siena, Italy. Restaurants at Castello di Casole offer something for everyone.
The focus is on simple, rustic food that blends Italian tradition with modern innovation. Whether you choose to dine in the elegant restaurant or on the terrace with gorgeous views, each moment is one to cherish.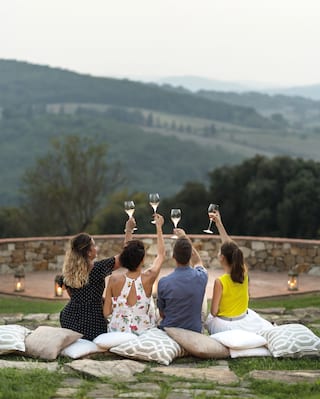 Come Together
There's nothing quite like an aperitivo to bring people together. In Italy, this enchanting hour is a time-honoured tradition. At Belmond, our bartenders and chefs use their creative spark to craft perfectly paired specialities.
From signature cocktails to a curated bar menu, our combinations celebrate authentic flavours and regional ingredients. Paired with stunning views and live music, aperitivo is our favourite time of day.
Contact us
Come Together
Thank you for your interest in Belmond.
Prefer to talk? You can call us on +39 0577 961501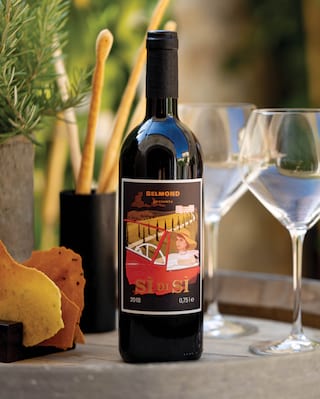 Drinks
Sì Di Sì wine
Sample our own estate wine, a delicious blend of the Sangiovese, Cabernet and Petit Verdot grapes. Sì Di Sì's label, in the style of a vintage movie poster, is a nod to director Luchino Visconti, whose brother once owned the castle. As only 6,000 bottles of this distinguished red are produced, it's available exclusively to our guests.
Negronida
Our innovative twist on the Negroni blends vodka with rosemary and ginger, vermouth, Campari and velvety Galliano.
Contact us
Drinks
Thank you for your interest in Belmond.
Prefer to talk? You can call us on +39 0577 961501
Finger Food
Donzelle, little puffs of fried bread, are a Tuscan speciality and dream aperitif pairing. From a live station, a chef will serve three different varieties of canapé, changing each day. One will be a donzelle filled with a different tasty topping and the others will include, pecorino, homemade jams and a sausage and truffle crostini.
Contact us
Finger Food
Thank you for your interest in Belmond.
Prefer to talk? You can call us on +39 0577 961501
Ristorante Tosca
Ristorante Tosca
Tosca mixes old world favourites with modern influences. The focus is purely Italian—homemade pasta, locally sourced meat, exceptional seafood and garden-fresh produce. Freshly baked bread pairs perfectly with our estate-grown extra virgin olive oil.
Opening times:
Lunch: noon – 3pm
Dinner: 7:00–10:00pm
Book a table
Emporio del Castello
Emporio del Castello
Visit our elegant Emporio, which combines the relaxed spirit of alfresco dining with the feel of a traditional village store. Shop for products from our own estate, from wine to honey and olive oil.
Savour our delicious specialities that pay tribute to the Tuscan countryside, or feast on pizza prepared in our wood-fired oven.
At our Emporio, why not join our Pizzaiolo in the Pizza Academy and learn how to master this classic yourself? Other cookery classes will teach you how to prepare perfect pasta and sensational homemade sauces.
Open daily 11am–6pm
Mamma Margherita's tortelli with wild boar
Rich and indulgent, this Tuscan recipe brings back fond childhood memories for Chef Daniele Sera.
Learn how to make this delicious tortelli dish, finished with shaved truffle and Stracchino cheese.
Get the recipe
M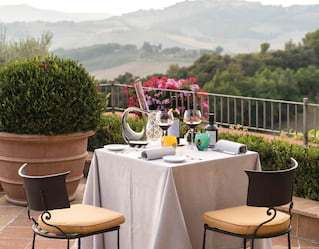 Sunday Lunch at Tosca
Sundays are for long lazy lunches—exquisite cuisine and equally inviting views. Join us on the terrace of Tosca to soak-up the enchanting scenery and tuck into an inspired Tuscan lunch. This is midday dining in style.
Priced at €70 per person
Available every Sunday, reservation required. Includes four delicious courses, our estate wine Sì di Sì and coffee. 
Book now
S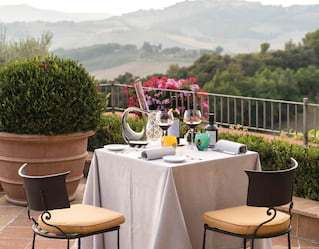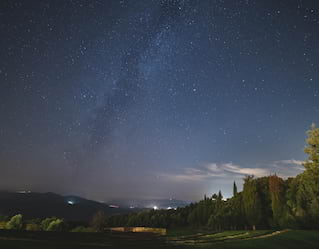 Under the Tuscan Stars
Spend an enchanting evening immersed in the cosmos at Castello di Casole. Begin with a delectable feast under the night sky. Then follow expert astronomer Fabrizio Marra to our amphitheatre for a unique stargazing experience. Learn the secrets of the universe and lose yourself among one of most breathtaking starry skies over Italy.
Available on:
25 June 2021
10 July 2021
2 August 2021
13 August 2021
20 September 2021
Contact us to book
Under the Tuscan Stars
Thank you for your interest in Belmond.
Prefer to talk? You can call us on 1 800 237 1236
U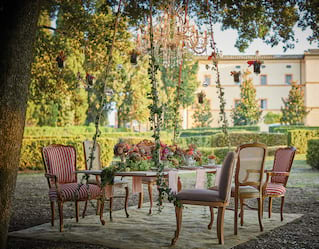 Aperitif At The Enchanted Table
Enter the world of fairytales with an enchanted picnic in the heart of our ancient forest. Our floating table awaits in a secluded glade, lit with a grand candelabra and hundreds of twinkling lights. Savour a delicious selection of canapés and aperitifs as the sun sets over the Tuscan hills.
This magical setting is ideal for romantic occasions or a special celebration with an intimate group of friends.
Afterwards, why not head to the Visconti terrace for a romantic private dinner for two? Alternatively, a family-friendly sumptuous afternoon tea can await.
Contact us
Aperitif At The Enchanted Table
Thank you for your interest in Belmond.
Prefer to talk? You can call us on +39 0577 961501
A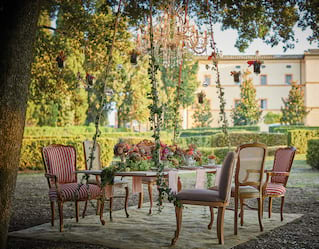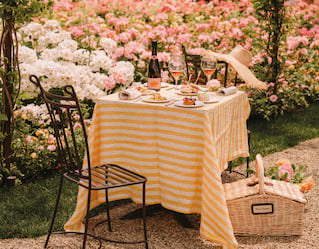 Your Pick of the Picnics
Our enchanting estate is home to many magical places, perfect for picnicking. Whether you enjoy a tranquil wander in our Visconti wood, a view of the vineyards or a romantic spot among the roses, there's somewhere to set your basket. Choose from the Tuscan picnic, served with our Si di Si wine, or the rose picnic served with chilled Veuve Clicquot champagne.
Y
More to Savour
Peruse our options for every mood and appetite
Pool Bar
Indulge in delicious light bites including artisanal sandwiches, gelato, smoothies and milkshakes from our ice-cream cart. Our bar is just steps from the hotel's gorgeous infinity pool.
Chase-up a cooling dip with a sip of your favourite refreshment—there's no better way to soak-up panoramic views of Tuscany's wild side.
Opening times:

Daily, 10am–6pm
Food served noon–7pm
Pizza served noon–3pm
Wine Cellar
Allow our sommelier to introduce you to the region's grapes and guide you through a tantalizing tasting. The ideal spot for an exclusive dinner or private wine tasting session.
Wine tastings available daily, on request 4pm–6pm
Bar Visconti
Overlooking the serene pool area, it's one of the best lounge bars in Italy to enjoy the sunset over the hills.
Classic marble details, a frescoed wall and built-in banquette seating invite intimate conversation. Or take a seat outside for a drink beneath the stars.
Opening times:
Daily, 6pm–midnight
Private Hire
Let us help you plan an unforgettable event.
Celebrate With Us
Plan your event
Celebrate With Us
Thank you for your interest in Belmond.
Prefer to talk? You can call us on +39 0577 961501
Got a Special Request?
Contact us
Got a Special Request?
Thank you for your interest in Belmond.
Prefer to talk? You can call us on +39 0577 961501