Heaven by the harbour
Tucked into the curve of Portofino harbour is the stylish Splendido Mare. Our charming guest-house takes pride of place on the town's main piazzetta, where you'll be perfectly poised for a dip into the local social scene. Portofino's glamorous village spirit flows through our doors. Inside, you'll discover an alluring haven, chic in design and playful in nature.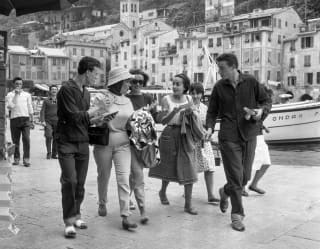 Our Storied Legacy
Portofino has been a glamorous holiday destination since the 1800s, but it was in the 1950s where it enjoyed its golden age. Royals, intellectuals and Hollywood icons flocked to the village during this celebrated era of design, architecture and urban development in Italy.

Splendido Mare proudly continues its legacy as the most important hotel in Portofino — a charming guest house where you arrive to welcoming simplicity. What started life as a haven for fishermen is now a vibrant hub for the global jet-set, at the heart of one of the most stylish marina villages in Italy.

Learn more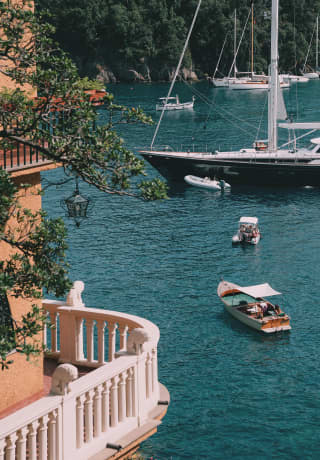 At a glance
ACCOMMODATION 14 rooms and suites
DINING Mediterranean restaurant, bar, ice cream parlour
FEATURES Complimentary shuttle and access to Bagni Fiore beach in Paraggi, piazzetta, access to facilities at Splendido
ACTIVITIES Boat excursions and watersports
LOCATION 46km from Genoa Airport
Dive into The Mare
Discover how we created our charming guesthouse
Explore
Every step brings a new discovery
DaV Mare
Splendido Mare
Fresh, local and delicious: DaV Mare combines authentic recipes, local ingredients and modern culinary flair for a truly unique dining experience. The ideal accompaniment to Portofino's picturesque harbour views
Gelateria San Giorgio
Splendido Mare
Sink into a sunny spot in the piazzetta as you indulge with a classic ice-cream cone or cooling Italian gelato.
Complimentary Boat Tours
Splendido Mare
Take to the waves by traditional gozzo for a leisurely sail beyond the harbour in classic style.
Ristorante la Terrazza
Splendido
Whether seated on the scenic terrace or in the elegant dining room, savour authentic Italian classics and Ligurian specialities.
Swimming Pool
Splendido
Hemmed by lush gardens, our glamorous heated saltwater pool commands sensational views of the coast.
Pool Grill Restaurant
Splendido
Unwind beside the pool and choose from the tempting buffet, or a perfectly crisped made-to-order pizza.
Wellness Centre
Splendido
Relax and unwind in our indulgent spa. We offer a full range of massages, body treatments and beauty services.
Tennis Court
Splendido
Our all-purpose courts boast a stunning hillside setting. Challenge your partner to a friendly game, or opt for a lesson with an English-speaking coach.
Portofino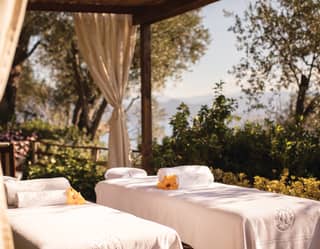 Wellness & Fitness Centre
Relax and unwind in the comfort of your room with a choice of soothing massages and facials using Comfort Zone spa products.
Anticipate the finest natural ingredients from Italy, blended with sustainability in mind.
You can also indulge at the sumptuous spa of our sister hotel, Splendido—it's within easy reach on foot or by our complimentary shuttle.
Please note: Splendido re-opens in June 2023
Wellness & Fitness Centre
Thank you for your interest in Belmond.
Prefer to talk? You can call us on 1 800 237 1236
W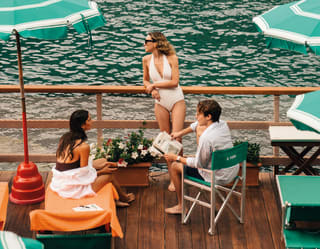 A Place For You in Paradise
A stay in Portofino calls for a day at the beach.
The secluded Bay of Paraggi is nestled into the coastline just a short drive from Splendido Mare in our courtesy shuttle. As our guest, you'll have your own private lounger waiting for you on the golden sands. Soak up the sun, take a refreshing dip in the emerald waters and make the most of your exclusive spot in this beautiful bay.
Complimentary to guests of Splendido Mare
Available during the summer months
A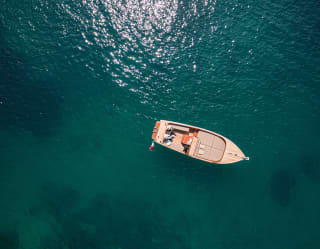 Set Sail in Traditional Style
Portofino's nautical heritage is best appreciated from the waves.
Take to the water for a complimentary excursion in our gorgeous wooden gozzo. These traditional fishing boats epitomise the golden-age charm of Portofino. Drift dreamily along the Italian Riviera, exploring the coves and bays that dot the coast. There's no finer way to savour the slow pleasures of local life.
Available during the summer months
Set Sail in Traditional Style
Thank you for your interest in Belmond.
Prefer to talk? You can call us on +39 0185 2678 02
S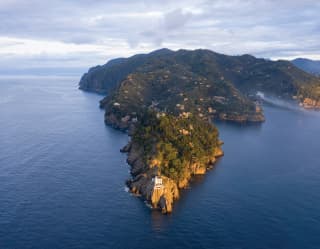 Motor boat
Portofino's nautical heritage lures you into the waves. If, like many before you, you can't resist then head out to explore. Our luxurious private motor boat, the Chris-Craft Corsair 36 is perfect for up to eight guests. Enjoy a leisurely cruise around the coast, or venture beyond the harbour to discover the stunning Gulf of Tigullio.
M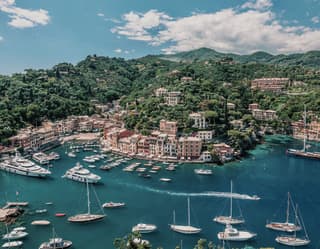 Complimentary Shuttle Service
Our guests enjoy access to the facilities of both hotels, from our harbourside haven to our hilltop retreat. So, whether you're staying at Splendido Mare or Splendido, our complimentary shuttle service is on hand to whisk you from one to the other.
C