Discover Portofino
SPLENDIDO MARE, A BELMOND HOTEL, PORTOFINOVia Roma 2, 16034 Portofino, Genoa, Italy
Portofino harbour exists within a paradisiacal fold of the Italian Riviera. It is a harbour in every sense of the word. The coastline curves in on itself, wrapping the lapping waves and lazily bobbing yachts in an embrace. Grand candy-coloured houses stand guard along the shore. Here in this little nook of the Italian Riviera, you're protected from the elements, shaded from the wide world, free to sink into the sweet life… and what a sweet life it is.

A bubbling energy swirls around the town's main piazza. You'll find Splendido Mare here, at the heart. This is a place to see and be seen. You could sit back and observe the glamorous lives of all who gather here, or you could dive-in and take part. At our luxuriously laidback boutique hotel, Portofino is the paradise you want it to be.
Splendido Mare
Via Roma 2, 16034 Portofino, Genoa, Italy
Splendido Mare is within easy reach. You'll find us...
a 4-minute walk from Portofino Marina
a 50-minute drive from Genoa International Airport (GOA)
a 15- to 20-minute drive from Santa Margherita Ligure or Rapallo Railway Station
Open in Google Maps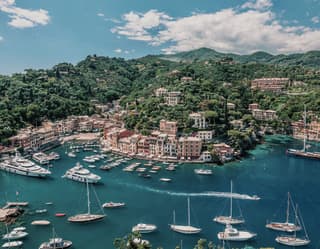 Courtesy Shuttle Bus
Our regular shuttle service will whisk you between Splendido Mare and Splendido in minutes. Catch our private minibus in both directions, or take the short 10-minute stroll if you prefer.
Timetable:
- From 9:05am to midnight, every 15 minutes (at 05, 20, 35 and 50 minutes past the hour)
Please note that a more limited service operates in early spring and late autumn.
C