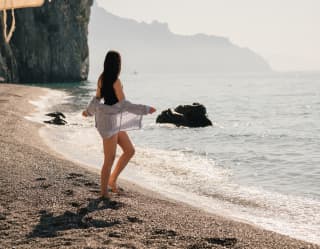 Amalfi Coast's Best Beach
A complimentary shuttle from Caruso leads you through sensorial flora and fauna down to our secluded paradise on Lido degli Artisti beach. Here, savour the tranquil pace of Amalfi living with butler service, boat tours and seafaring activities.
for more information and to make your reservation contact concierge.car@belmond.com.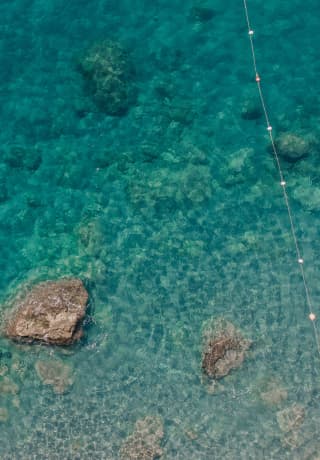 Your Lounger Awaits
Your Lounger Awaits
Make your way to our private deck on Lido degli Artisti, one of the best Amalfi Coast beaches, and stretch out on a comfortable lounger just a stone's throw from the crystal clear water.
Anticipate luxury beach amenities as you relax by the coast. If hunger or thirst strikes, our beach butler is on hand to attend to your every need. Here, you'll find a true taste of Mediterranean coastal living paired with exceptional Caruso service.
Opening June 2022
Ercole
Ercole
Caruso guests can embark on complimentary cruises aboard Ercole, our traditional wooden fishing boat.
Sail to stunning Conca dei Marini, with its tiny beach that was a favourite of Jackie Kennedy in 1962. Or depart further along to the magical Emerald Grotto, with its enchanting underwater nativity scene. Heading west, you may encounter the Fiordo di Furore, the only fjord in the Mediterranean. With daily roundtrip journeys to these magical destinations as well as Positano, Praiano and beyond, embrace the spirit of adventure on the waves.
Ercole is also available for private rentals. Why not treat your loved one to a romantic cruise at sunset?
Contact us
Ercole
Thank you for your interest in Belmond.
Prefer to talk? You can call us on +39 089 858 801
A New Voyage
A New Voyage
For a true taste of coastal glamour, charter our new private boat, which has been crafted in the traditional wooden gozzo style. The boat is built by the Aprea family, who are Sorrento-based artisans and master boat builders since the 19th century.
Embark on unique, tailor-made trips to Capri, Procida and beyond. Entirely unique and tailor-made to you, explore the beauty of the Amalfi coastline at ease and in stylish comfort.
Setting sail from August 2022
Contact us
A New Voyage
Thank you for your interest in Belmond.
Prefer to talk? You can call us on +39 089 858 801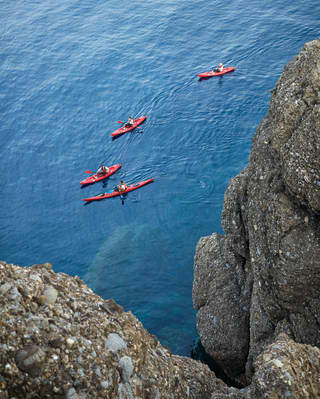 Activities
If lounging around isn't for you, opt for an adventure on the waves and work up an appetite for lunch.
Embark on a picturesque kayaking or windsurfing experience, admiring the coastal views from an entirely new angle.
Contact us
Activities
Thank you for your interest in Belmond.
Prefer to talk? You can call us on +39 089 858 801