Your gateway to the glamour of Amalfi
Be part of something special with a stay in this 11th-century hotel, built by a wealthy family who found sanctuary in Ravello while journeying to Constantinople.
Stroll through the century-old gardens, with rose bushes climbing skyward and crops of aromatic herbs found at every turn. Explore the frescoed salons and arched stone vaults, before arriving for a dip in the striking infinity pool. It's a swim you'll never forget.
At a glance
ACCOMMODATION 50 rooms and suites
DINING Fine dining restaurant with panoramic terrace, traditional restaurant, pool grill, cocktail bar
FEATURES Stunning heated infinity pool, private beach in Amalfi, spa, fitness center, boutique
ACTIVITIES Close to Pompeii, Capri, Amalfi, Procida and Positano; complimentary boat excursions and tailor-made tours
EVENTS Meeting and banqueting rooms
LOCATION 65km from Naples airport; courtesy shuttle to Amalfi
Swimming Pool
Befitting one of Italy's top luxury spa hotels, our spectacular infinity pool is an architectural masterpiece. Set at the highest point above the town of Ravello, it's seemingly suspended in the clouds. Drift along and soak up breathtaking views of the coastline below.

Our pool concierge can offer a selection of reading material, a fresh fruit appetizer or an Evian vaporizer—pure unadulterated indulgence.

If you're not a guest of the hotel you can still enjoy our pool facilities, for more information and to make your reservation contact concierge.car@belmond.com.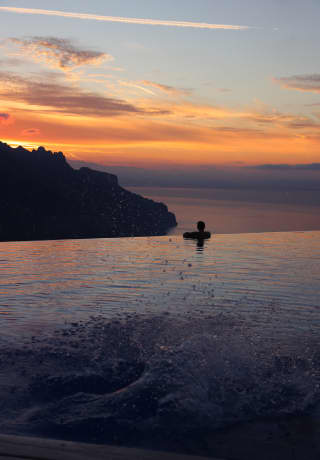 Explore
Every step brings a new discovery
Ristorante Belvedere
A Feast for the Senses
Dine on a selection of imaginative Italian dishes while sampling some of the best views of the Amalfi Coast.
Pool Grill
Poolside Dining
Join us for a relaxing lunch or dinner by the pool, savouring traditional Neapolitan pizza, pasta or a fresh salad. All against the idyllic backdrop of our infinity pool with the Amalfi Coast beyond.
Bar Caruso
Amalfi High Notes
Surrounded by 18th-century frescoes, our atmospheric bar is the perfect spot for early-evening cocktails or a late-night digestif.
Swimming Pool
Endless Blue
Our heated infinity pool is an architectural triumph and one of the most stunning in all of Italy.
Caruso Spa
Unwind in Amalfi
Visit us at the Caruso Spa, and experience botanical bliss with a range of treatments designed to nourish body, mind and soul.
Gardens
Beauty in Bloom
Lose yourself amongst the sprawling subtropical gardens, alive with rare flora. For an expert insight arrange a tour with our head gardener.
Villa Margherita
Perfectly Private
Retreat in a secluded private villa, boasting a memorable terrace with panoramic views of the coast.
Fitness Centre
Fighting Fit
Work out with a view in our panoramic fitness centre, featuring the latest Technogym equipment and extraordinary views of the coast.
Open-Air Massage
Al Fresco Bliss
Unwind in a secluded corner of our gardens surrounded by the perfumes of wisteria, roses and lemons with an open-air treatment.
Amalfi
Different. Better. Special.
Staying with us turns a trip to the Amalfi Coast into an unforgettably unique escape. Here are just some of the features that make us stand out from the crowd.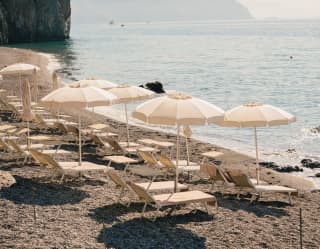 Your Beach, Booked
Let us whisk you away to live your best beach life on the Amalfi Coast.
Our complimentary shuttle will escort you to the harbour, from there sail to a secluded paradise by private boat.
Arrive on the pristine shores of a charming beach, where sun loungers and parasols await. Nothing is sweeter when life's a beach.
Open June to September
Y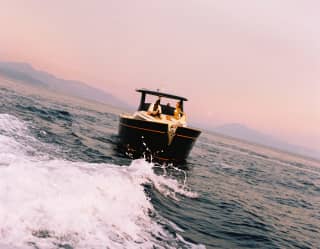 Complimentary daily boat tour
Embrace the spirit of adventure with our 'Coastline of Treasures' tour. Set off on our traditional wooden boat 'Ercole' for an exciting trip around the beautiful Amalfi Coast.
This exclusive trip launches daily and is complimentary for Caruso guests, including round-trip shuttle transfers from the hotel.
Complimentary daily boat tour
Thank you for your interest in Belmond.
Prefer to talk? You can call us on +39 089 858 801
C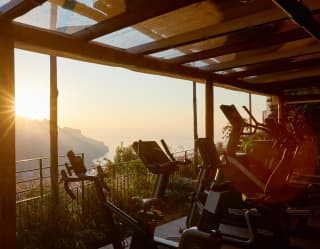 Fitness centre
Re-energise after a good night's sleep with a workout in our open-air gym.
The tranquil surroundings of the hotel's beautiful garden make it a picture perfect spot to stay active. There's a full range of cardio equipment and weight machines, all positioned in front of a panoramic window. For a more intensive workout, a qualified personal trainer can be arranged to help you meet new fitness goals.
If you prefer to workout in your room or outdoors, all our guests enjoy access to virtual coaching on the MyWellness App by Technogym. You can also request the Technogym training kit at reception.
Open daily, 8am-8pm
Available on request outside of opening hours
Contact us to book a personal trainer
Fitness centre
Thank you for your interest in Belmond.
Prefer to talk? You can call us on +39 089 858 801
F
Children Activities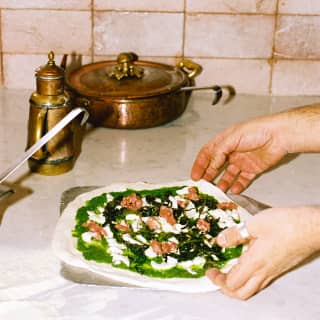 Family friendly features
Children Activities
Let us arrange an array of fun activities to keep your little ones entertained. Whether directing their own movie trailer or making pizza, children will have hundreds of stories to share.
Contact us
Children Activities
Thank you for your interest in Belmond.
Prefer to talk? You can call us on +39 089 858 801
Amenities for children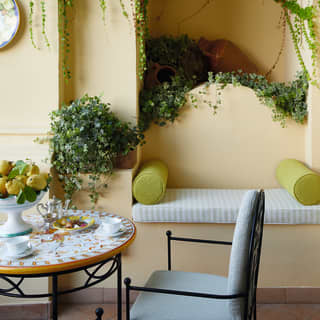 Family friendly features
Amenities for children
Our little guests are well catered for at Caruso. Cribs, high chairs, slippers, bathrobes and more are available in the rooms. Meanwhile, expect a dedicated children's menu at our restaurants, and treat your children and teens to special treatments at our spa.
From tennis lessons to sailing or babysitting, we have a variety of activities available on request.
Contact us
Amenities for children
Thank you for your interest in Belmond.
Prefer to talk? You can call us on +39 089 858 801