DINING
Savour the true flavours of Ravello. Restaurants at Belmond Hotel Caruso offer mouth-watering cuisine and exquisite cocktails, served in style.
Request a table

Belvedere Restaurant is not open for the sitting, time and date combination you have chosen.
Belvedere Restaurant

Famed for its superb selection of fresh, local Mediterranean dishes, Belmond Hotel Caruso's Belvedere Restaurant offers diners an unforgettable experience.
Chef Mimmo di Raffaele takes guests on a tantalising journey of discovery. Traditional Italian specialities inspire innovative dishes.
Dine in the elegant indoor dining room, the atmospheric outdoor terrace, or in the al fresco area close to the pool, surrounded by ancient rose bushes.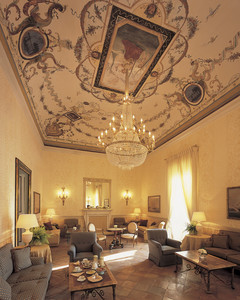 Cocktail and Piano Bar
Magnificent frescoes from the 18th century, awe-inspiring views of the Amalfi Coast… Where better to wind down after a busy day?
The Cocktail and Piano bar is a destination par excellence for Amalfi Coast nightlife. Atmospherically lit, it offers an extensive list of innovative cocktails. A wide range of wines, champagnes and the delicious local Prosecco are also served.
Open from 10am to midnight.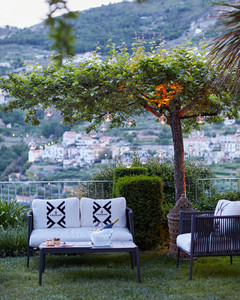 Bubbles Bar
Located in the hotel gardens, along the ancient colonnade that leads to the swimming pool, Bubbles Bar is the perfect place for an aperitif or a casual dinner.
Be tempted by our historic Italian cellar labels, accompanied by delicious canapés. Sip your drink in a beautiful, informal setting as relaxing music sets the scene.
Open 6:30 - 11:00pm
Pool Snack Bar

For the ultimate al fresco experience, the Pool Snack Bar is a must visit.
With the stunning infinity pool as the backdrop, the emphasis is on relaxation and fine food, characterised by the lavish salad bar and traditional wood-fired pizzas.
Drinks are available from 10:30am to 7pm, and light lunches from 1pm to 4pm.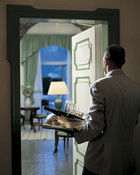 In Room Dining
Spoil yourself with breakfast in bed, or be waited on as you enjoy a lazy day luxuriating in the comfort of your own room.
Breakfast: from 7:00am to 11:30am
All-day dining: from 11:30am to midnight
Night menu: until 7:00am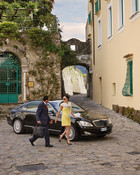 BELMOND GIFT CARDS
A sensational dining experience, an exclusive tour or a relaxing spa treatment...
Our gift cards may be used towards a variety of services at Belmond Hotel Caruso or across our iconic hotels, trains or river cruises worldwide.
Learn more
Request a table

Belvedere Restaurant is not open for the sitting, time and date combination you have chosen.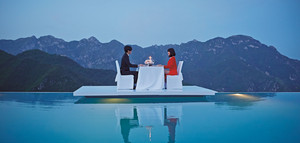 Go all-out on romance and enjoy a private candlelit dinner, served floating above the hotel's infinity pool.
This delightful experience includes a tailor-made menu, dedicated butler service and live music.
Booking is subject to availability and weather conditions.
Contact us
Infinity Dream Dinner