What's included
Cabin accommodation
Daily table d'hôte meals and all beverages, including alcoholic drinks
Entertainment
All excursions as shown in your itinerary
All applicable taxes
Prices do not include insurance, gratuities or souvenirs.
Check-in procedure
The train departs from Dublin Heuston Station. Check-in is at least 40 minutes prior to departure, after which our host and crewmembers will escort you and your luggage onto the train.
Luggage and storage on board
Cabins have limited space, therefore we recommend each guest travels with one suitcase and one carry-on bag.
What to wear
For daytime excursions and relaxing on board, we suggest casual, comfortable attire. In the evening, we recommend a jacket and tie for dinner.
Travel insurance
We recommend you arrange suitable insurance to cover personal belongings, cancellation/interruption, medical and luggage. Details of cancellation policies can be found in our booking conditions.
Passports and visas
You must have a valid passport that will remain valid beyond the duration of your journey. Depending on which country issues your passport, you may need a visa for entry into Ireland and Northern Ireland (UK). Please check with your travel agent or government agency before travelling.
Children and pets
Children are welcome to travel with us, however please contact reservations to discuss full details. For safety reasons, pets are not permitted on the train.
Wheelchair access
Belmond Grand Hibernian offers a wheelchair accessible cabin. However, those with restricted mobility are asked to contact us directly to discuss the suitability of the journey.
Specials diets and allergies
Special diets can be accommodated. Please be sure to tell us in advance of any allergies, food related or otherwise.
Health
Please advise the Belmond Grand Hibernian office or your travel agent of any health restrictions before travelling.
No specific vaccinations are required for entry into Eire or Northern Ireland (UK). It is advised, however, that you consult your doctor or physician for requirements based on your travel itinerary, or for any personal health recommendations relating to your journey.
Please note that there are no professional medical facilities aboard the Belmond Grand Hibernian.
Smoking policy
Smoking is not permitted on board.
Electricity
There are electrical outlets in all cabins. Electricity in the Eire/UK runs on 220/240 volts. You may wish to bring an adaptor for electrical appliances.
Recommended Hotels
We are pleased to recommend a selection of hotels for your stay before or after your journey. Please contact us to make a booking or the hotel directly.
Transportation After Your Journey
On the final night of your journey, our crew can reserve taxis/limousines for onward transfers to the airport or your hotel. Please speak to the Train Manager who will be happy to assist.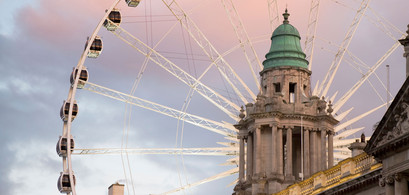 Celebrate with the perfect escape to the Emerald Isle. Indulge in a two night stay at Dublin's acclaimed Westbury Hotel and enjoy an exclusive tour of the city's greatest sites before being swept away on an unforgettable rail adventure aboard Belmond Grand Hibernian.
Book this indulgent journey and we'll take care of the details.
Discover more
Prefer to talk?

Call: 1 800 524 2420