The perfect excuse for an unforgettable French getaway
Set sail and discover the hidden gems of France. Vacation packages and exclusive offers provide everything you need to start planning your next adventure.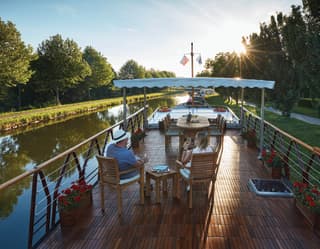 Your Spring Escape
Set sail for a one-of-the-kind adventure aboard unique luxury boats, and uncover the wonders of the Burgundy region as you glide along the rivers. With Amaryllis and Fleur De Lys, picturesque landscapes, exceptional fine dining experiences, and tailored activities await. This offer includes:
- 3 nights in our private charter (€30k for Amaryllis, €25k for Fleur De Lys)
- Additional nights available (€10k per night for Amaryllis, €8k per night for Fleur De Lys)
- Complimentary transfers from and to Paris
Please note, this offer is valid on specific dates: the Amaryllis offer runs on April 2, 16, and 23, while the Fleur De Lys offer runs on April 9, 16, and 23. This offer is not bookable online, please get in touch with our reservations offices to book.
Contact us to book
Your Spring Escape
Thank you for your interest in Belmond.
Prefer to talk? You can call us on 1 843 937 9066
Y
Subject to availability. Offers cannot be combined and are only valid for new bookings.
Single travellers please contact our reservations offices for availability.
Offers are not applicable for parties of 12 or more - please contact tcgroupsuk@belmond.com for group pricing.
The Belmond Gift Card
A Belmond Gift Card opens the door to an unforgettable escape. With no expiration date, look ahead to worry-free travel adventures with loved ones.
Our hotels, trains, boats and safaris span the world's most remarkable destinations. Be inspired by our selection of travel adventures, from exquisite fine-dining to an indulgent spa day or a captivating local experience.
Shop Belmond
T
Flexible Booking Policy
Flexible Booking Policy
With Belmond, train travel has been refined to a luxurious art. Take your seat and be transported to a world of timeless glamour, and indulgence.
Find out more
See more of Europe with Belmond
Embark on the ultimate adventure with our collection of celebrated hotels, trains and river cruises.
Train journeys in Scotland
Embark on a Grand Highland fling, step aboard and rekindle the romance of travel.
Royal Scotsman
Sicily, Italy
Enchanting guests since the 50s, a stay in our beach residence is like reuniting with long lost friends.
Villa Sant'Andrea