Article
A Guide to Bohemian Barranco
While Lima has a reputation for being mistily gray thanks to its unique clash of climates, there's one district that explodes into artistic, eclectic colors. Join us as we guide you through Barranco—the beating, bohemian heart of South America's only Pacific capital—with its charming architecture, intriguing street art and buzzing gastronomic scene…
In the past decade, Barranco has firmly established itself as the trendiest district in Lima—quite a feat, considering the capital has 43 districts (as well as 22 microclimates). It's a social hub especially among young people, where the continual pop-up of new bars has not gone unnoticed by fun-loving epicureans. But above all, Barranco is artistic, friendly and walkable. As people stroll along colorful streets, pausing for a mid-morning snack of Turrón at a pop-up market or a bite to eat at a buzzy new cantina, the creative spirit flows freely down streets lined with colonial-era history.
Street art is everywhere in Lima. You'd be hard pressed to stroll down one of its streets and not see large-scale art painted in kaleidoscopic colors across the walls. Limeño artists flocked to this neighborhood over the past decade, and rapidly made it a mecca for muralists world-over.
The walls of this city are ever-changing with new art continually popping up, creating something of a unique, living art gallery on the very structures of the city. This Barranco art creates an intriguing contrast with the district's high concentration of colonial architecture, where several of the buildings are old adapted mansions with 15th-century design cues. Stroll over to the Plaza de Armas and admire the ochre-yellow historic walls that shield the square, and then make your way over to the charming Puente de los Suspiros—a wooden bridge dating back to 1876, flanked by palm trees and vibrant walls.
When nestled within a city that is often called the gastronomic capital of South America, you need to offer something special to globe-trotting gastronomes. Luckily, much of the city's best eateries are nestled within Barranco. Perhaps you're after ceviche, the classic Peruvian dish where fresh raw fish is cured in tangy citrus? If so, head down to Canta Rana, which many say offers the best ceviche in Lima—with 17 varieties to boot. Or maybe you're keen to sample fresh seasonal produce from the city's markets, in which case La 73 de Barranco is a safe bet. Here, the restaurant also offers up chifa cuisine: a unique blend of Peruvian and Chinese cooking styles stemming from immigration in the late 19th century.
If you're willing to stand in line for one of the buzziest spots in town, Isolina offers up some of the best local staples in unfussy, contemporary surroundings. This beloved tavern serves up Peruvian classics like Causa, Chicharrón and Patita con Maní, served up amid tables buzzing with convivial conversations. For something a little special, perhaps La Cuadra del Salvador, with its sleek wood accents, is the best choice. Carnivores assemble: it's a veritable haven of meat-focused indulgence with steaks, tacos, sushi, carpaccio and more bracing the eclectic menu, plus indulgent sides from smoked marrow to truffle butter.
When it comes to nightlife, the atmospheric Ayahuasca is one of the best bars in Barranco. Here, it's all about the scenery: the watering hole is located within the Berninzon Mansion, a 19th-century palace with plenty of cozy corners to nurse a cocktail or two. Or head on down to chic DaDA, a restobar that bursts to life come sundown with creative tipples. It's an impeccably stylish spot, replete with stained glass, colorful ceramic tiling and a patio that's often packed with local hipsters and tastemakers.
Considering the amount of art lining the streets, it's unsurprising that Barranco also gathers culture vultures across several museums and galleries. At Museo Jade Rivera, dive into the eponymous artist's evocation of daily cultural life in Peru, filtered through a vibrant, urban sensibility.
Yet more modern treasures are housed in MAC, the Museum of Contemporary Art in Lima. Opened in 2013, it spotlights the talents of both emerging and established Peruvian artists, with a focus on education and diversity.
Traveling back in time, don't miss a visit to the ornate Pedro de Osma Museum, which presents fascinating colonial artwork a stone's throw away from manicured gardens and grounds. Across paintings, sculpture, furniture and textiles, the building itself echoes the old-world grandeur of the artwork itself.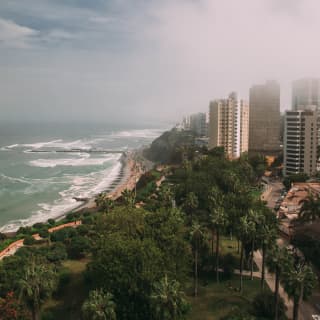 Miraflores Park
Step into our urban oasis and feel a sense of serenity descend. When you stay at Miraflores Park, our expert guides are on hand to create your tailored Barranco tour.
Book your stay