DINING
Our award-winning chefs deliver a tantalizing taste sensation.
Request a table

Charleston Grill

World-class jazz music meets mouth-watering cuisine. Chef Michelle Weaver takes local delicacies to innovative new heights with a heavenly mix of delightful dishes divided into four categories—Pure, Lush, Southern and Cosmopolitan—that sound so tempting they should be edible.
Creations include seared flounder with buttery grits and shrimp, sherry-country ham gravy, and tomato-basil salad or grilled peach salad with country ham and candied pecans. No wonder it boasts the prestigious AAA Four Diamond Award for food excellence.
Download our menus: Dinner Menu | Bar Menu | Dessert Menu | Wine Menu
Open: 5:30 – 10pm, Bar opens at 5pm
Visit the Charleston Grill Website to learn more about our specials, nightly jazz and the award-winning wine list.

Giant glass windows bring the outside inside in this dramatic garden-style setting. Dine al fresco in the lush courtyard, perfect for enjoying the Holy City's ideal weather.
The Palmetto Cafe combines the very best of American Lowcountry cuisine with the freshest ingredients, from breakfast through to a long, lazy lunch.
Download our menus: Breakfast | Lunch | Wine |
Breakfast: 6:30am – 10:30am
Lunch: 11:30am – 3pm
Saturday Brunch: 8am – 12n
Sunday Brunch: 8am – 1:30pm
To reserve a table call 843 722 4900. Or for parties of four or less, you can also book on Open Table here.
Thoroughbred Club
The Thoroughbred Club offers an extensive menu of beverages and a tempting selection of tapas, appetizers and desserts, all accompanied by the finest live music.
The Thoroughbred Club is open from 11am to midnight, seven days a week. Tapas and desserts are served starting at 4pm. Live entertainment runs from 4pm – 11pm Monday to Saturday, and 5pm – 10pm on Sunday.
Download our menus: Daytime Menu | Evening Menu | Cocktail Menu
Enjoy a properly brewed pot of tea with an assortment of five open-faced tea sandwiches, freshly baked scones, traditional crumpets with whipped cream, lemon curd homemade cakes, tarts and tea cookies. Afternoon tea during most of the year is only offered for parties of 10 or more and reservations are required. Please call 843 722 4900 or email us at tea.cph@belmond.com to set up your next tea party.

The Clocktower Terrace
The Clocktower Terrace overlooks historic King Street and downtown Charleston. The rooftop bar serves cocktails and elevated fare daily.
Download our
Pool Bar Menu
Meeting at Market

Meeting at Market, an upscale pub for sporting enthusiasts. With floor to ceiling windows overlooking the historic City Market, the pub offers a sophisticated yet relaxed viewing environment with multiple flat screen televisions, cozy banquettes and high top tables. Meeting at Market's menu includes 20 rotating craft beers complimented by elevated bar fare like Duck Confit Sliders and Truffle Chicken Salad.
Meeting at Market is open 4pm to 1am, Monday through Thursday, 12pm to 1am Friday, and 11am to 1am Saturday and Sunday. The pub will be open extended hours for special sporting events.
Download our menus: Pub Fare | Happy Hour | Beer Menu | Bourbon/Whiskey | Wine Menu
Guest Room Dining Amenities
Do you have a friend, relative or client staying at Belmond Charleston Place? Is your visit to celebrate a special occasion such as a birthday or anniversary? Choose from our list of in room amenities below or let our team of professionals customize an option for you.
Download our List of Amenities >
Download our Gift Basket Options >
Download our Guest Room Dining Menu >

Request a table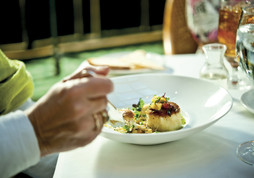 Revel in the warmth of our Southern Hospitality with a sumptuous dinner for two in the award-winning Charleston Grill.
Includes:
Luxury accommodation
One dinner for two in Charleston Grill per stay
Daily continental breakfast for two in Palmetto Cafe
Select dates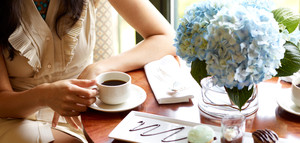 A sensational dining experience, an exclusive tour or a relaxing spa treatment...

Our gift cards may be used towards a variety of services at Belmond Charleston Place or across our iconic hotels, trains or river cruises worldwide.
Learn more