LUXURY TRAIN CABINS
The Venice Simplon-Orient-Express luxury train is quite unlike anything you will ever experience....

From the 1920s to the '30s the carriages of the Venice Simplon-Orient-Express train played a significant role in the golden age of travel.
Today, every carriage has been lovingly restored to its former glory, recreating one of the finest luxury experiences the world has ever known.
Aboard the Venice Simplon-Orient-Express, travel has been refined to an elegant art. Relax in an opulent cabin while a dedicated steward attends to your every need.
GRAND SUITES
Launching in 2018, our three new suites add a new level of luxury to the world's most famous train.
Each boasts a double/twin bedroom, a living area with space for private dining and a sofa which can be converted into an additional bed in the evening. A private en-suite bathroom includes shower, washbasin and toilet, plus bespoke amenities and complimentary designer bathrobes. Our celebrated cabin service is complemented by free-flowing champagne in your suite.
Historical art-deco interior designs are inspired by the culture of the world's most romantic cities. For the ultimate private journey, the entire carriage of suites can be reserved.
Grand Suite - Paris
Light and classic, this chic suite draws on the French capital's grand architecture with flourishes of haute couture.
Grand Suite - Venice
Silk, woven fabrics, glass lamps and Venetian furniture reflect grand Italian Baroque and renaissance design.
Grand Suite - Istanbul
Opulence and romance abound, with hand-carved timber, embossed leather and exaggerated metal details. Embroidered pillows and rugs echo of the Grand Bazaar.
Includes:
Exclusive car or boat transfers between station and city centre accommodation (or vice versa) at the start and end of your train journey
Check-in at your hotel/curb-side meet and greet as appropriate
Guaranteed table of 2 at guest's preferred sitting time and dining car, or the choice to dine privately in the suite
Complimentary alternative "A la Carte" menu during lunch or dinner
Private dining for lunch or dinner in guests suite if preferred
Complimentary "A la Carte" celebration breakfast in the suite (to be pre-ordered the day before)
Complimentary Caviar on arrival and free-flow champagne served throughout in the suite
Bespoke amenities and complimentary designer bathrobes
Those travelling on the Belmond British Pullman will enjoy a private coupe
Single Cabins, Twin Cabins & Cabin Suites
Our Twin Cabins feature upper and lower berths while Single Cabins have one lower berth. During the day, the berths are transformed to offer comfortable banquette seating from which to admire the views. Crisp damask sheets and fine blankets contribute to a cosy and restful atmosphere at night.
For additional comfort and extra space, reserve a Cabin Suite formed of two interconnecting Twin Cabins. By day, stretch out and relax with two lounges, while at night a choice of bed configurations are available.
Inside your cabin, draw back the oak panels to reveal a washbasin. Luxury, mosaic-tiled lavatories are available at each end of the carriage.
Floor Plan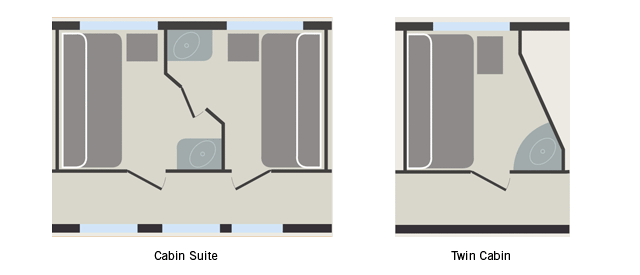 Plan your Journey