Gather your clan for a bonny celebration
Host an unforgettable celebration aboard one of the most unique venues Edinburgh has to offer. Feast on fine Scottish delicacies as you take in the awe-inspiring scenery, or gather your group for a tour of a boutique whisky distillery. From private castle visits to onboard bagpipes and storytellers, we'll leave your whole party spellbound.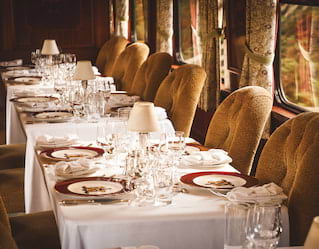 Groups & Charters
A special anniversary. A stylish reunion. A deserving team of delegates. Whatever the occasion, Belmond Royal Scotsman provides a luxurious base for unforgettable gatherings of up to 40 guests. Charter our train for one-, two-, three- or four-night voyages and tailor each moment to your liking. Head out for clay pigeon shooting, or coincide your route with a local festival. Our Highland hospitality knows no bounds.
Find out more
G
A Day to Remember
A magical start to the rest of your life together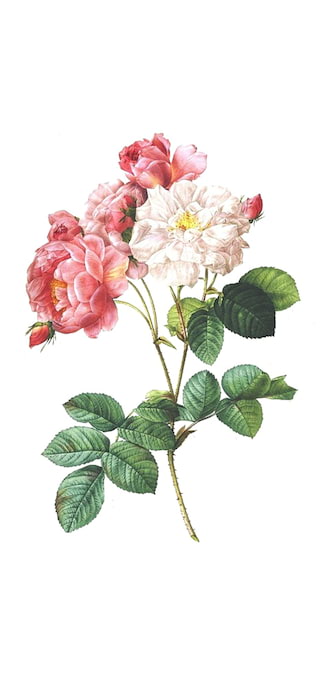 Tying the knot here was like a dream come true.
For a truly unique way to say "I do", Belmond Royal Scotsman is pleased to host weddings and civil ceremonies on board. Our dedicated events team will finesse every detail, from the floral arrangements to your chosen band. Simply gather your party on the platform and let the fun begin.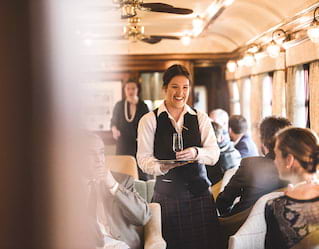 Leisure Groups
The Highlands never fail to impress. Discover the region's secrets together aboard Belmond Royal Scotsman, where striking scenes follow one after another. Accommodating up to 40, mingle over rare whiskies and fresh oysters in the Observation Car, or saddle up for a group horseback ride through steep glens. Come nightfall, local delicacies and live music provide a fitting finale to your day.
Contact us
Leisure Groups
Thank you for your interest in Belmond.
Prefer to talk? You can call us on +44 845 077 2222
L