Welcome to
Belmond Savute Elephant Lodge
A captivating colonial retreat
A prime place to feel Botswana's pulse, the lodge sits beside the mysterious Savute Channel in Chobe National Park
Our lodge brims with unmistakable African allure. An elevated deck pool sports views of the thriving riverbed. Outdoor showers in each tented room bring you closer to nature. Take morning coffee on our observation deck and let the safari come to you. Or reserve a spot at our evening Boma, where local delicacies and native rhythms are relished under the stars. 

One of three unforgettable adventures
Belmond Safaris' three luxury lodges each offer a unique way to experience Botswana. Travel between them and see the land in unrivalled depth.
A New Chapter
Renovation
A New Chapter
Anticipate a new adventure in Botswana. Belmond Savute Elephant Lodge will reopen on 1 June 2018, following a complete rebuild, as the ultimate way to experience the beauty of Savute.
For information, email safaris@belmond.com
Get in touch
Accommodation
All Inclusive
Accommodation
Raised on wooden platforms, each tented room affords breathtaking vistas across the shifting ecosystem. An outdoor lounge offers post-safari relaxation as giant bullfrogs croak within earshot. Or recline deck-side on your lounger; big game frequently mingle in full view at the adjacent watering hole.
Inside, luxurious interiors feature a netted four-poster bed and lavish bathroom. A fully-stocked minibar and discreet air conditioning refresh and revive.
Explore
Africa with Alexander McCall Smith
Exclusive
Africa with Alexander McCall Smith
Accompany celebrated author Alexander McCall Smith on an unforgettable six-night trip in Botswana.
Combine sensational Belmond Safari adventures with the opportunity to spend time with Smith, as he shares tales of the country that captured his heart.
Find out more
The History
When David Livingstone explored the area in 1851 he described the Savute as a marsh. Since then, the Channel alternates between flowing free and drying up. This part of the National Park has been prohibited for humans for decades—save for the area around our lodge. The position is unrivalled; nature's drama played out on your own private stage.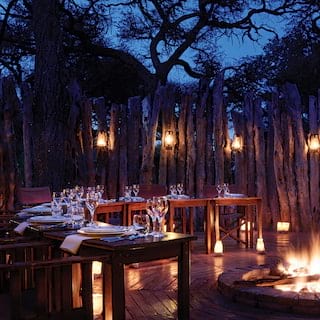 The Savute Boma
Let the stars guide your way into the bush. Recline around the campfire at our own enchanting Boma, a unique dining experience that combines African delicacies with soulful rhythms—all played out under an inky night sky.
Learn more
Packages & Tours
Visit all three of our safari lodges for an in depth look at this magical land.