A fascinating savannah fit for any explorer
Situated in a remote corner of the Chobe Desert, various animal clans congregate at the Savute. Safari lovers are enamoured by the region's geology, along with the high concentrations of majestic elephants and lions in the area. It's here where you will find Savute Elephant Lodge, our eco-conscious and ideally located oasis.
At A Glance
ACCOMMODATION 12 luxury tented rooms, lodge capacity of 24 guests
DINING All-inclusive breakfast, lunch and dinner, including Boma rituals and campfire dining, as well as an open air lounge, dining area and bar
FEATURES Spa treatments, curio shop, TV lounge, reference library, lookout hide and swimming pool
ACTIVITIES Game drives, star gazing, birdwatching, spa treatments
LOCATION Savute Channels, Chobe National Park
Cocktail o'Clock
Bar and Lounge
Settle in and relax with a cocktail in hand and absorb the views from our chic and airy bar.
Sublime Dining
Restaurant
Whether feasting al fresco or sheltered by a canopy, enjoy signature African specialities in our savannah restaurant.
Splash with a View
Swimming Pool
Ever wanted to swim a stone's throw from elephants? Cool off in our serene pool with views over the plains for a dip like no other.
Front-Row Seats
Lookout Hide
For fabulous wildlife sightings on your doorstep, head to our lookout hide for the chance to see elephants, hyenas and cheetahs in their element.
Captivating Chobe
Savute Channel
Our lodge is ideally located to explore the wonders of the mysterious Savute channel, as well as the wider Chobe National Park.
African Botanicals
Spa Tent
Spoil yourself to a soothing spa treatment surrounded by the sights and sounds of nature.
Come On In
Reception
From the moment you step inside our award-winning lodge, the spirit of safari comes to life. Welcome to the wonderful world of Belmond.
Authentically African
Mothupi's Boma
In this unique dining experience, savour tender barbecued meats and other delicacies as we transport you to a land that time forgot.
Getting Around
Belmond Safaris will arrange everything for you. As soon as you land in Maun or Kasane, leave it to us to take care of all your inter-camp transfers.
From Maun to Savute Elephant Lodge: 50 minutes
From Savute Elephant Lodge to Eagle Island Lodge: 45 minutes
From Savute Elephant Lodge to Khwai River Lodge: 45 minutes
From Savute Elephant Lodge to Kasane: 40 minutes
From Kasane to Livingstone: 24 minutes
From Maun to Kasane: 1 hour 5 minutes
Different. Better. Special.
Endless exploration awaits in the Savute Channel. Here are just some of the features that make us stand out from the crowd.
Bush Concierge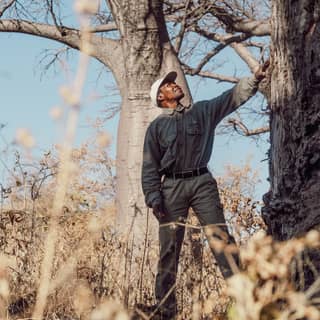 Bush Concierge
Our bush concierge is on hand to tailor your safari adventure to you. Venture into an ancient grove of baobab trees, a stone's throw from centuries-old Bushmen paintings. Spot elephants splashing at the watering hole at our unique, eye-level viewing hide. Or head out to spot a pack of magnificent Savute lions. Whichever you choose, unparalleled adventure awaits.
View activities
Wildlife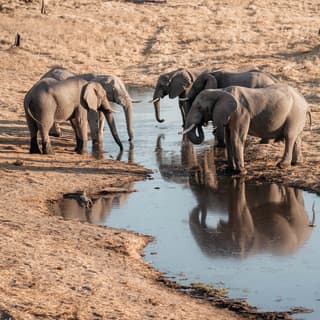 Wildlife
Often referred to as the elephant capital of the world, Savute's wildlife is best described by filmmaker Brad Bestelink, whose National Geographic Wild documentary 'Savage Kingdom' was filmed in the Savute area. "The remote African savannah," he said, "is home to the competing animal clans who push natural law to its limits."
Wildlife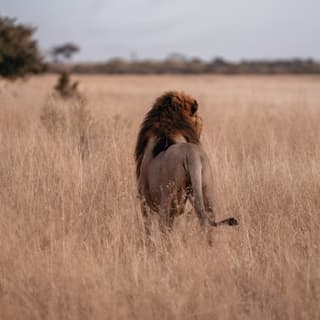 Wildlife
The Marsh Pride and the Northern Pride are the dominant lion prides in the area, who are extremely territorial and are known to grow as big as forty strong. In the Savute, you also stand a good chance of spotting rare animals such as honey badgers and the sable and roan antelopes. Savute has its own migration; when the rains fall in summer, the natural pans fill up with rain water and attract a great variety of storks which feast on termites. They also take advantage of the frogs that come out to eat the termites. Eagles too enjoy these delicious termite titbits.
Wildlife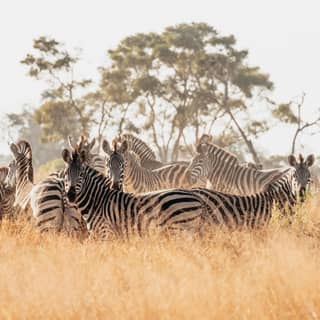 Wildlife
Around December, the second biggest migration of zebra in the world occurs from the Linyanti through Savute and on to the Mababe Depression. The dazzling zebra herds remain in the Savute area for several weeks, giving birth to their young and feeding on the sweet new grasses before moving further on south to Mababe. These same zebra herds reappear in Savute again around March and April as they make their way back to their dry season range along the Chobe and Linyanti Rivers. Many predators and scavengers will follow the zebras to take advantage of the some 25,000 zebras in the area, providing a fine feast for hungry hunters.