DINING
Dining is always a highlight, with sumptuous meals served throughout your journey.
Served in our mahogany-panelled Dining Cars, Belmond Royal Scotsman offers one of the world's most unique dining experiences. Enjoy your meal in groups of fours, or on larger tables of six or eight.
A range of fine wines, liqueurs and malt whiskies is available from our extensive cellar.
Cuisine

With game-rich glens, Aberdeen Angus beef, a wealth of seafood and rivers of wild salmon, our chefs use the best local produce. All are served with regional specialities.
Enjoy a hearty Highland breakfast or start the day continental style. Lunch may be a bowl of steamed mussels overlooking a romantic harbour or seared salmon served on the train.
As evening falls, take your seat in the Dining Car. Expect sensational dishes, like warm pigeon salad accompanied by blackcurrant dressing, spiced roast halibut, and sumptuous apple mousse.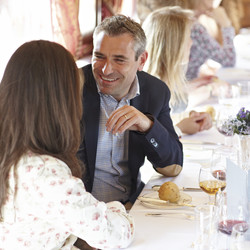 Dress Code
There are formal and informal dinners aboard the Belmond Royal Scotsman, usually on alternate nights.
For formal dinners, we encourage a tuxedo or kilt for gentlemen and a cocktail dress or similar for ladies.
For informal dinners, a jacket and tie is recommended.
If you choose to hire a kilt, we recommend Kinloch Anderson >
Plan your Journey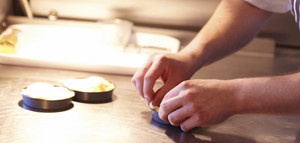 Discover a taste of Belmond Royal Scotsman in your own kitchen.
Find out more