Slip into the rhythm of Peruvian life
Built to resemble a rural Peruvian village, Rio Sagrado is one of the most unique luxury hotels in Peru. A stay here lets you experience the majesty of life in the mountains.
Situated at a lower altitude than nearby Cusco, the hotel provides the perfect environment in which to acclimatize, and is an ideal base to explore the Sacred Valley and Machu Picchu. Savor sensational cuisine in the restaurant, enjoy a local Sacred Valley massage or spend a few soothing minutes feeding the hotel's baby alpacas.
At a glance
ACCOMMODATION 11 suites, 10 rooms and 2 villas
DINING Restaurant and bar with panoramic views, riverside restaurant
FEATURES Mayu Willka Spa and swimming pool
ACTIVITIES Wide range of cultural and sporting activities, including shaman ceremony, horse riding and rafting
LOCATION On the edge of Urubamba town, 46km from Cusco and an excellent base for visiting Machu Picchu
Explore
Every step brings a new discovery
Reception
Adventure Awaits
Hugged by refreshing valley winds, an enchanting haven of natural beauty greets you. Join us for a relaxing stay in the Sacred Valley before your ascent to Machu Picchu.
El Huerto Restaurant
Best-Kept Culinary Secrets
Sound-tracked to the rushing river below, this is a dining experience like no other. Lovingly crafted dishes, from Trout Tartar to Quinoa Risotto, grace the eclectic menu.
El Huerto Bar
Raise a Glass
Unwind from a day exploring the local verdant grasslands with a sharp Pisco Sour. Or, treat yourself to our signature cocktail, humo sagrado.
El Jardin Restaurant
Riverside Bites
Eat like a Peruvian at our tree-lined eatery, where succulent meats sizzle over hot stones. Just a stone's throw from the picturesque Urubamba River.
Swimming Pool
Pure Paradise
Framed by lush botany, treat yourself to a refreshing dip in our climatized pool as mountains stand proud in the distance.
Spa Mayu Willka
A Homage to Healing
Mirror the soothing essence of Sacred Valley with a gentle yoga class. Meet with a shaman for an enchanting ceremony. Here, mindfulness is served with a dash of authenticity.
Peru
Different. Better. Special.
Staying with us turns a trip to the Sacred Valley into an unforgettably unique escape. Here are just some of the features that make us stand out from the crowd.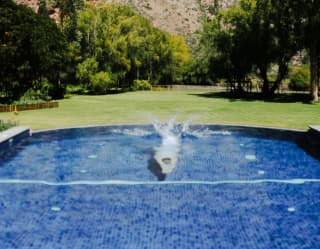 Swimming Pool
Enjoy a refreshing dip in our climatized pool. Or simply relax and soak up the views of the river while you lounge on the comfortable sunbeds. It's the perfect place to while away the hours after a day filled with adventure in the valley.
Our team of pool assistants will cater to your every request, from fresh towels to cool drinks and light dishes.
Pool service hours: 10am to 5pm
S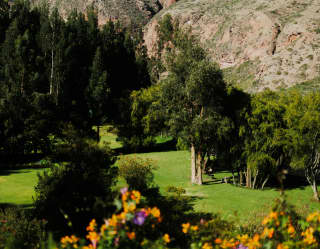 Garden
Set beside the rumbling Urubamba River, the gardens of Rio Sagrado are a beautiful, tranquil place for guests to explore. Wander at your leisure, or arrange a tour with our head gardener, an expert on indigenous botany. Learn about the flora and fauna that make this space so unique.
G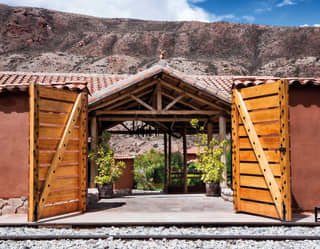 Train Station
Our private train station makes us the perfect start or end point to your Machu Picchu adventure.
From January to April the fabled Hiram Bingham, A Belmond Train stops at our station, letting you travel in peerless style.
T
Children's Accommodation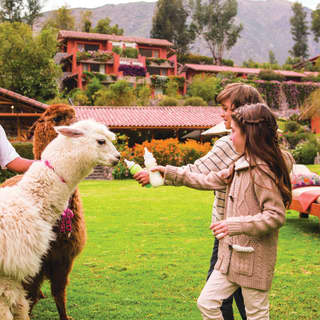 Family Travel
Children's Accommodation
A stay at Rio Sagrado promises memories for the whole family. If you are travelling with children, please let us know in advance.
Children aged 7 or younger can be accommodated free of charge, if sharing with parents.
Children 8-12 require an extra bed at the price of US$70.
Children older than 12 are considered adults and an additional room must be reserved.
Contact our reservations team
Children's Accommodation
Thank you for your interest in Belmond.
Prefer to talk? You can call us on 1 800 237 1236
Visitors to Peru are exempt from the country's 18% sales tax on charges for their room and food upon presentation at check in with a valid passport and/or Peruvian immigration card. The hotel invoice must be made out to the guest's name and not to a company name.