Discover Cusco
MONASTERIO, A BELMOND HOTEL, CUSCO
Calle Plazoleta Nazarenas 337, Cusco, Perú
Cusco is one of the most fascinating places to visit in Peru. Once the country's capital and a holy site, it is now the oldest inhabited city of the Americas. The architecture today is a diverse cocktail of styles, reflecting the many cultural influences across the years.

The city sits 3,300 metres (10,500 feet) above sea level. The main square features an array of colourful stalls, framed by charming stone walkways. Delve deeper and you will uncover beautiful arcades with craft boutiques. You'll also find some world class restaurants and bars. The surrounding countryside is also stunning. Much of the land is sculpted by agricultural terraces, once watered by complex irrigation systems.

Close by Cusco's lively central square is Monasterio, a restored 16th-century monastery and important national monument. When you stay with Belmond, Cusco is yours to explore.
Monasterio
Calle Plazoleta Nazarenas 337, Cusco, Perú
Monasterio is within easy reach. You'll find us...
a 15-minute drive from Alejandro Velasco Astete Airport (CUZ)
a 25-minute drive from Poroy Train Station
a 5-minute walk from the Plaza de Armas
Open in Google Maps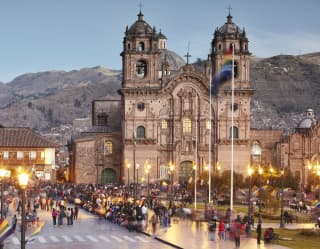 Destination Guide: Unlock Cusco
One of the best things about arriving in Cusco is the gentle pause you'll need to adjust to the altitude. Take time to rest, sip coca tea and relax. The next day is your chance to explore. After a day of rest, you'll be totally present and ready to soak-up the richness of this vibrant city. The first step is finding out where to start...
D
Concierge Recommendations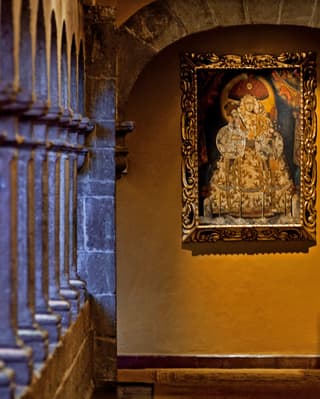 Take an Art Tour
Belmond Hotel Monasterio houses one of Cusco's best independent art collections. An expert will guide you through, explaining the symbolic meaning and mythical interpretations of each work. Finish at the glittering chapel, home to many rarely-seen pieces.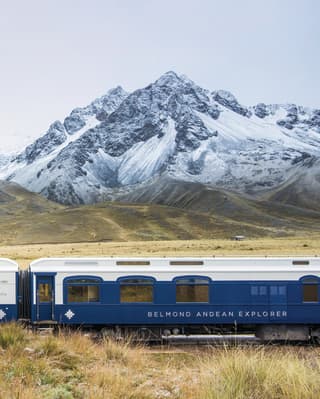 Take a Train Journey
Travel to Machu Picchu in style aboard Hiram Bingham, a Belmond train, enjoying breathtaking scenery and fine dining en-route. Or enjoy one- or two-night journeys across the Andes aboard Andean Explorer, a Belmond train.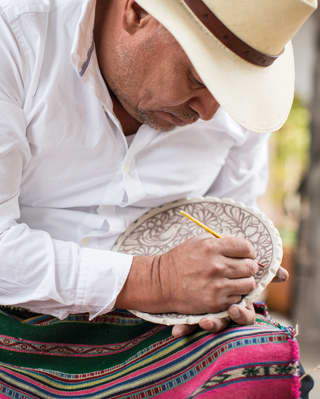 Discover Historic Ceramics
Admire the colorful glazed pottery of Tater Vera Ceramics. This award-winning ceramicist keeps ancient techniques alive, many that were first developed when the Spanish arrived in the 15th century. No two pieces are alike.