Rainforest thrills meet timeless luxury
Restored to its original 1950s charm, the hotel's hacienda-style exterior is matched by its warm, inviting interior design.
Step outside and explore the sprawling, sculpted grounds. Spot a kaleidoscopic array of tropical flowers as howler monkeys call in the distance. Nestled in the center is an elegantly designed pool. Flanked by orchids, it's the perfect spot for a refreshing dip after a day full of adventure.
At a glance
ACCOMMODATION 187 rooms and suites
DINING Fine dining restaurant with outdoor terrace, poolside grill and bar
FEATURES Large heated swimming pool, children's pool, Cataratas Spa, tennis courts and gym
ACTIVITIES Rainforest tours with eco guide, adventure sports
EVENTS Meeting room and conference facilities
LOCATION 15km from Foz do Iguassu International Airport and 40km from Cataratas del Iguazú International Airport
Explore
Every step brings a new discovery
Lobby
Traditional, Timeless, Romantic
The only hotel within Brazil's Iguassu National Park, just look out for the rose-pink arches that form our serene hacienda.
Itaipu Restaurant
Cutting-Edge Cuisine
We're fringed by lush gardens and accompanied by the soothing sound of the nearby falls. This is where daring combinations come together with dizzying effect.
Ipe Restaurant
Barbecued Bliss
Tender meats are smoked over coals. Zingy seasonal salads use locally sourced produce. The mouth-watering aromas of authentic churrascaria populate our grill.
Bar Tarobá
Bottoms Up
If the call for a cocktail is as loud as the call of the wild, you know where to find us. There's nothing quite like enjoying a Devil's Throat cocktail—a sweet and spicy concoction inspired by the falls.
Swimming Pool
Dive In
Heart-warmingly heated in the winter months, the beating blue heart of the hotel lives here. A separate children's pool ensures safe splashing for your young ones.
Pool Bar
In the Swim of Things
Nestled among a kaleidoscopic array of tropical flowers, our pool bar will keep your refreshed after a morning of blissful bathing.
Wine Cellar
Divine Wine
Rich oak and claret are the colors that form our authentic cellar. Our sommelier is on-hand to reveal the best-kept secrets of Brazil's finest bottles.
Cataratas Spa
Otherworldly Calm
Nestled between jungle and crashing falls, our treatments draw upon the power of the rainforest to revitalize body and soul.
Tennis Court
Game Face
Tropical birds swoop above our jungle-framed courts. Truly the most stunning way to practice your serve.
Gym
Fighting Fit
Panoramic windows frame the stunning verdant view, while fresh water, fruit and towels await to refresh. The more active-inclined will be spoilt for choice in our well-equipped gym.
Boutique
Brazilian Browsing
Local wines. Artisanal beauty products. Luxurious jewelry. Our on-site boutique contains cherry-picked items for you to peruse.
Tower
High and Mighty
A colonial tower protrudes proudly among the forest-green trees. Let it guide you through the dense jungle towards our welcoming pink façade.
BRAZIL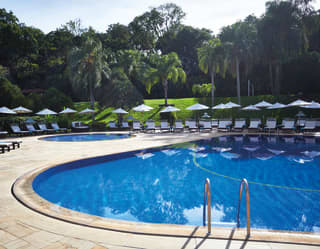 Swimming Pool
At the heart of the hotel is our beautifully designed swimming pool. Heated throughout the winter months (mid May to mid August), it provides year-round enjoyment. Nearby, our children's pool provides a safe environment for our young guests to splash in.
Open daily from 9am–7pm
Pool Bar open daily from 11am–5pm | Pool bar menu
S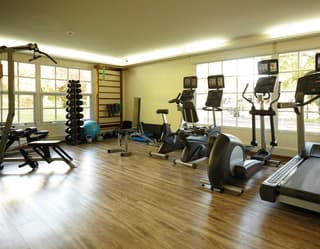 Fitness center
Feel fit, active and invigorated with a workout in our air-conditioned gym.
Gaze out across the pool from the panoramic windows as you make use of a selection of cardio equipment, free weights and multi-gym facility. Fresh water, fruit, towels and a Bose iPod station are also available for your use.
Open 24hrs daily
F
Tennis
Our tennis court is set within the hotel's extensive gardens and is available free of charge to guests. We can provide equipment and recommend reserving ahead to guarantee availability.
Ipê is located alongside the court for a thirst-quenching, post-match drink.
Book your court time
Tennis
Thank you for your interest in Belmond.
Prefer to talk? You can call us on +55 (45) 2102-7000
Please note park fees are not included in the daily rate, are subject to change, and can be purchased from the reception.
Brazilian: R$78.00
Mercosur: R$78.00
Other nationalities: R$86.00
Children (aged 6 and under): Exempt
Get in touch
Park Fees
Thank you for your interest in Belmond.
Prefer to talk? You can call us on 1 800 237 1236