Discover Iguassu
HOTEL DAS CATARATAS, A BELMOND HOTEL, IGUASSU FALLS
Rodovia Br 469, Km 32, Iguassu National Park, Foz do Iguaçu 85855-750, Brazil
Iguassu Falls, Brazil is one of the world's Seven Natural Wonders. On the Brazil-Argentina border a three kilometer stretch of riverbed vanishes into a fracture in the earth. Vast and unstoppable, the Iguassu river thunders over the precipice. 275 individual waterfalls form in its place. To experience one of nature's most powerful displays is unforgettable at any time. To have this sight to yourself is something else entirely.

You'll find us on the very edge of this UNESCO World Heritage Site. As the only hotel in Iguassu Falls National Park, your stay at Hotel das Cataratas takes you right to the heart of adventure. Enjoy exclusive access while the park is closed to the public and venture out at dawn to capture the sunrise over the falls.
Hotel das Cataratas
Rodovia Br 469, Km 32
Iguassu National Park
Foz do Iguaçu 85855-750, Brazil
Hotel das Cataratas is within easy reach. You'll find us...
a 25-minute drive from Foz do Iguaçu International Airport (IGU)
a 45-minute drive from Foz do Iguaçu
a 1-hour drive from Aeropuerto Internacional Cataratas del Iguazú (IGR) (Argentinian side)
a 2-hour flight from São Paulo International Airport (GRU)
a 2-hour flight from Rio de Janeiro International Airport (GIG)
Open in Google maps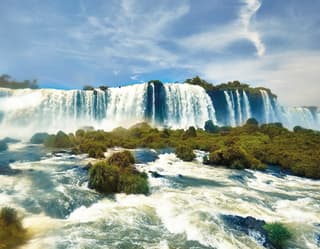 Destination Guide: Unlock Iguassu
Thundering waterfalls, rare wildlife and breathtaking views—Iguassu Falls, Brazil is a land of endless treasures. The planet's most impressive natural display has ignited legends since humans first arrived here. You'll never forget the feeling of basking in the shimmering mists at sunrise.
D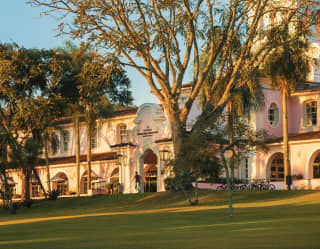 Getting Around Iguassu National Park
Vehicle access is restricted in the park to help protect the ecosystem. The hotel and Visitor Centre provide the only licensed transport nearby.
If you arrive by private vehicle or rental car, you'll find a spot to park near the site's entrance. Our shuttle service runs every 30/40 minutes from the hotel to pick you up. Alternatively, the hotel's fleet of executive cars are at your service if you prefer to arrange a transfer directly from your flight. Let us know your flight details 72 hours before you arrive by calling + 55 45 2102 7105 or emailing us at tours.ie@belmond.com.
G
Concierge Recommendations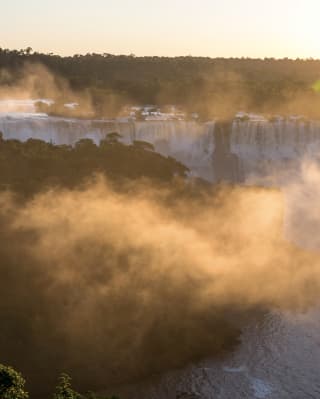 Falls at First Light
Rise at dawn to see Iguassu Falls at first light. The park is closed to all but our guests, so you'll have the wildlife and views to yourself. Pick-up a pair of Leica binoculars and set-off to explore, or let us lead you to the best views on a private tour.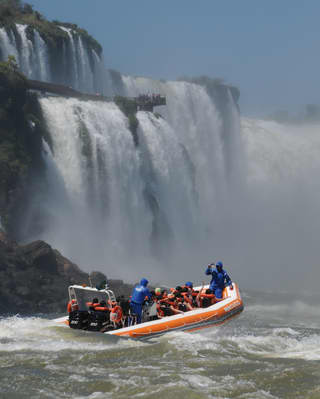 Macuco Safari
Begin your adventure with a jeep ride through the deep jungle. After a short walk, board a waiting bi-motor boat and journey upstream. You'll be so close to the cascades, you could reach out and touch them. You may get drenched but the thrill is worth every moment.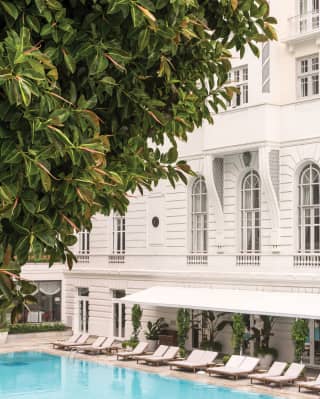 Best of Brazil
Combine your Iguassu Falls adventure with an unforgettable stay in buzzing Rio de Janeiro on our Grand Tour of Brazil. Stay in one of the most celebrated luxury hotels near Brazil tourist attractions, Copacabana Palace. This art-deco icon towers over the world-famous Copacabana Beach making it the perfect base for your visit.