Seasoned with Madeira magic
Showcasing local, seasonal cuisine, Reid's Palace boasts some of the best restaurants in Funchal. Go all out at Michelin-starred William; enjoy a casual moonlit dinner on the terrace of Ristorante Villa Cipriani; or join us for cocktails in our glitzy bar. There's a dining experience to suit every occasion.William   |   Villa Cipriani   |   Pool Terrace   |   Afternoon Tea   |   Gastrobar  
William Restaurant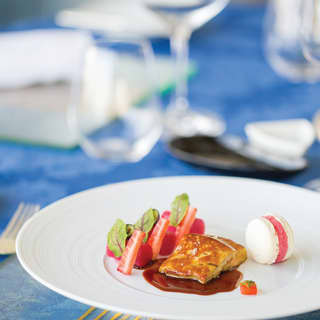 William Restaurant
At Michelin-starred William Restaurant, Madeira's finest seasonal ingredients are brought to life with inventive, contemporary flair.
Dishes can be enjoyed in a sophisticated setting, against a backdrop of spectacular panoramic views.
Open Wednesday to Saturday, 7.30-11pm (last orders 9.30pm)
Find out more
Ristorante Villa Cipriani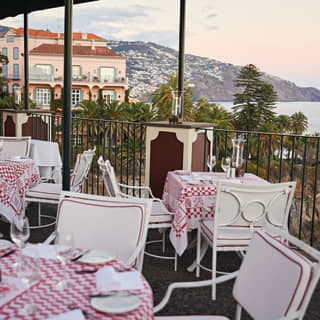 Ristorante Villa Cipriani
Treat yourself to a slice of Italian life on the edge of the Atlantic Ocean, in our restaurant in Funchal.
Whether beneath cobalt blue skies or amid a vivid sunset, our alfresco terrace is the perfect place to settle back with a glass of wine and soak in the view. Influenced by Tuscan chef Daniele Sera, our Chef Marcelino Fernandes creates timeless Italian classics with a modern touch.
Open daily, 7pm-midnight (last orders 10.30pm)
Contact us to book
Ristorante Villa Cipriani
Thank you for your interest in Belmond.
Prefer to talk? You can call us on +351 291 71 71 71
Pool Terrace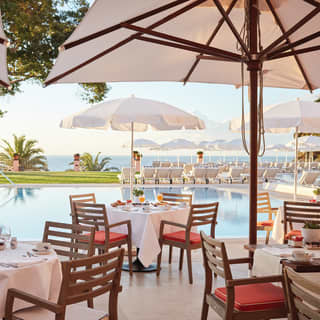 Pool Terrace
Indulge in breakfast with freshly-squeezed juices and sparkling wine, served daily from 7:30am–10:30am.
An all-day menu is available from 11am–7pm (food service until 6pm).
Contact us to book
Pool Terrace
Thank you for your interest in Belmond.
Prefer to talk? You can call us on +351 291 71 71 71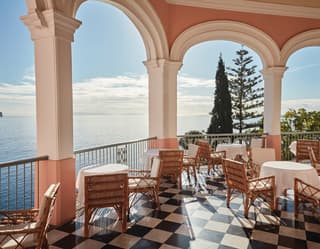 Afternoon Tea
Anticipate a truly timeless affair.
Choose from delicate finger sandwiches, freshly baked scones and homemade pastries, all accompanied by your choice from a selection of 24 teas or an indulgent glass of champagne. This elegant afternoon tradition is something Reid's Palace is proud to continue.
Available every day at 3pm and 4.30 pm.
Dress code: Smart casual (to maintain the elegance of this timeless experience, we kindly ask you to avoid wearing any sportswear, including t-shirts, flip flops or similar footwear)
A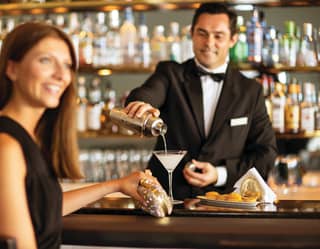 GastroBar
Explore our delectable cocktail menu in the glitzy surrounds of the bar. Our Head Barman Lui­s has been at the helm for decades. Try one of his signature cocktails like the Fine Poncha—an homage to this zesty traditional Madeiran drink. Or sip a Bago made with Sercial, one of the rarest and lightest grapes used in Madeira wine.
Take your seat on a balmy evening to enjoy live music, an irresistible beverage and a snack or light evening meal.
Opening times: Open daily, from 3pm-midnight (last orders at 10.30pm).
G