Live the high life in the Italian sun
Grand Hotel Timeo offers everything you need for unforgettable holidays in Italy. Dive into our cooling panoramic pool, surrounded by lush terraced gardens, or keep active in our well-equipped fitness centre.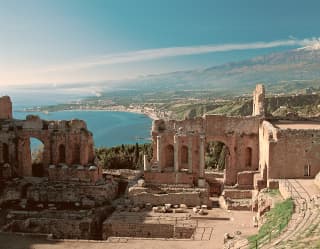 On Our Doorstep
Built in the third century BC, the neighboring Greek Theatre is a historical marvel that has played host to centuries of cultural activity. Today, it enchants in the early morning sunlight and, come evening, plays host to open-air music performances and enchanting operatic stagings.
This wonderfully preserved amphitheatre, with Mount Etna as its backdrop, is every bit as captivating as the performances staged there. Grand Hotel Timeo was the first hotel in Taormina, built just a stone's throw from fascinating ancient architecture. Harnessing the same mythic energy and historical significance of Taormina itself, ours is a place where history evolves with our storied surroundings.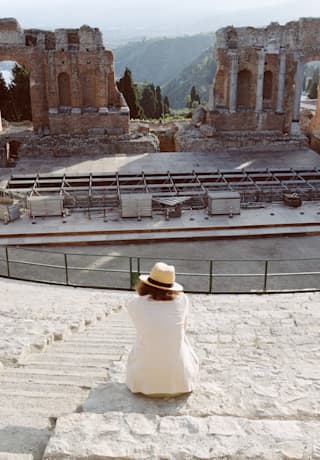 Explore
Every step brings a new discovery
Otto Geleng
Artistic Tastes
Named for the 19th-century artist who put Taormina on the map, this Michelin-starred restaurant offers dishes bursting with creativity.
Ristorante Timeo
Scenic Sicilian
Showstopping views meet scene-stealing cuisine as our Chef serves up Sicilian dishes against a canvas of sea, sky and mountain.
Timeo Grill
Deeply Delicious
Live cooking, organic dishes and stunning views await under the shaded pergola of our poolside eatery.
Pool Bar
Cool Cocktails
Take a seat beside the sun-splashed pool for a refreshing spritz or traditional cocktails.
Swimming Pool
A Garden Oasis
Nestled in our lush gardens, the heated panoramic pool is the perfect place to relax and unwind.
Fitness Centre
Stay Active
Work out with a view. Maintain your fitness regimen at our Fitness Centre with free weights and cardio machines.
Bar Timeo
A View to Inspire
Take a seat on the terrace and, cocktail in hand, soak up the stunning view of the coast and Mount Etna beyond.
Wellness Centre
Bodily Bliss
Relax and unwind in our indulgent spa. We offer a full range of massages, body treatments and beauty services.
Villa Flora
Decadence Next Door
Found beside the main building, elegant Villa Flora offers a stunning selection of rooms and suites.
Greek Theatre
Icon of the Island
A historical gem, the Greek Theatre is still a phenomenal venue for live music performances.
Taormina
Gardens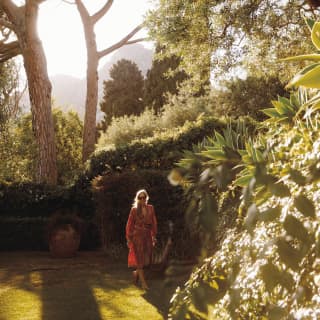 Gardens
Our gardens were born before the hotel itself. They hold a storied legacy handed down by Lady Florence Trevelyan, an Englishwoman exiled to Taormina at the end of the 19th century following a scandal at the court of Queen Victoria.
After falling in love with a Sicilian doctor, the couple was gifted the gardens you see today. At the dawn of the twentieth century, they were purchased by the Florestra family, who wanted to expand the grounds of the Timeo.
The expansive six-acre gardens are now a guest favourite. Spend a relaxing afternoon strolling among blooming bougainvillaea, orange blossom and geraniums.
Follow The Art Path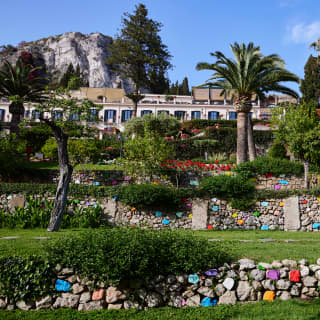 At a glance
ACCOMMODATION 70 rooms and suites
DINING Michelin-star Otto Geleng, Ristorante Timeo, Timeo Grill, Bar Timeo
FEATURES Outdoor swimming pool, Wellness Centre and gym
ACTIVITIES Tour of Taormina and Mount Etna; complimentary boat excursions during the summer
EVENTS Conference centre and banqueting rooms
LOCATION 60km from Catania airport, private shuttle to Belmond Villa Sant'Andrea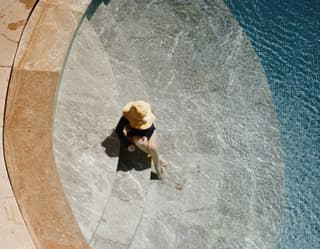 Swimming Pool
The heated, panoramic swimming pool is surrounded by beautiful terraced gardens. It's the perfect place to sit back and relax after exploring the streets of Taormina.
Our Poolside Bar serves drinks, cocktails and snacks through summer.
Please note: the pool is now closed for the winter
S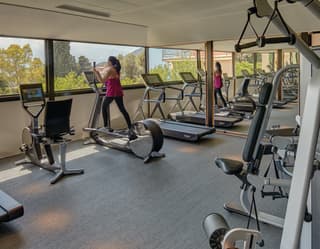 Fitness Centre
Stay active in the Fitness Centre at our hotel or at Villa Sant'Andrea, our sister hotel. Both are fitted with new Technogym equipment and a variety of exercise machines to help you maintain your exercise regime.
If you prefer to workout in your room or outdoors, all our guests enjoy access to virtual coaching on the MyWellness App by Technogym. You can also request the Technogym training kit at reception.
Please note: a reservation is required prior to use
F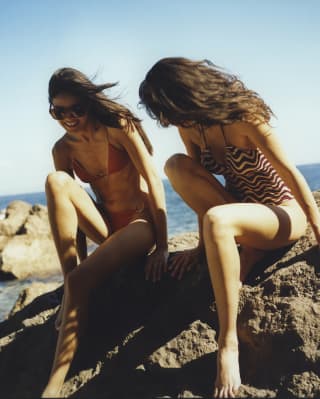 Private Beach
Savour the warm, gentle waters of the Sicilian sea from the private beach of our sister hotel in Taormina, Villa Sant'Andrea. Nestled into the Bay of Mazzarò, it's the perfect spot to soak up the sound of the waves.
Arrive using our complimentary shuttle service between the two hotels, then settle into your chosen sun lounger. A beach bar is open during the summer months to keep you refreshed.
Private Beach
Thank you for your interest in Belmond.
Prefer to talk? You can call us on +39 0942 6270 200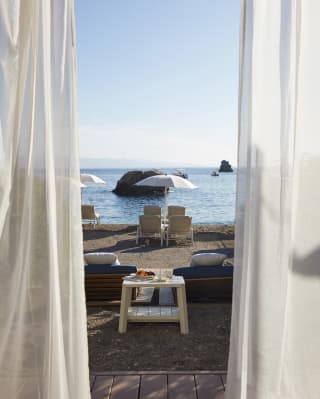 Beach Cabanas
Don't forget to reserve a private cabana for a touch of extra indulgence. Perfect for up to four guests, each is equipped with a comfortable sofa, table, minibar and loungers.
Contact us to book
Beach Cabanas
Thank you for your interest in Belmond.
Prefer to talk? You can call us on +39 0942 6270 200
Families and Pets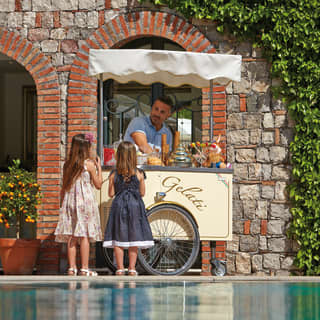 Families and Pets
Smile Club
Keep little ones entertained with the Smile Club at Villa Sant'Andrea. From sand castle contests and fun games on the beach to cannoli-filling lessons, children will have hundreds of stories to share with their friends.
Available from May through October.
Pets
Small pets are welcome and can share your accommodation. We'll provide a pet bed and water bowl for your room. For the comfort of all guests, we ask that pets do not enter the pool, lobby, bar, restaurant or beach areas and are kept on a leash in public spaces. Let us know in advance if you plan to travel with pets.
Contact us
Families and Pets
Thank you for your interest in Belmond.
Prefer to talk? You can call us on +39 0942 6270 200
Facilities and Amenities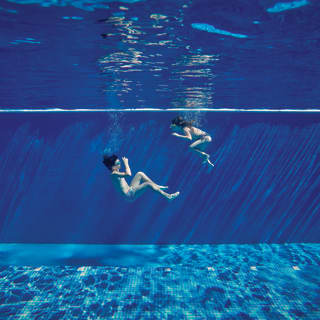 Family friendly features
Facilities and Amenities
- Cribs and disposable bottles
- Children's welcome kit with slippers and bathrobes
- Family friendly restaurant with high chairs and children's menu
- Supervised kids' club six days a week during summer months
- Buckets, spades, snorkels and fins available on the private beach
- Special children and teens spa treatments
- Professional babysitting on request