Discover Jimbaran Bay
JIMBARAN PURI, A BELMOND HOTEL, BALI
Jalan Uluwatu, Yoga Perkanthi Lane, Jimbaran - South Kuta - Badung Regency, Bali, 80361
Bali is the jewel in a string of islands draped across the Indonesian Archipelago. The island sits in the emerald belt of the tropics, enjoying a warm and heady climate. Inland, the landscape rises to form vast volcanoes, including the grand caldera of Mount Batur. Dense jungle coats the mountainous earth providing a lush haven for Bali's remarkable wildlife. 

Communities gravitate towards Bali's shores, where the beaches are beautiful and life is vibrant and relaxed in equal measure. By far the best beach is at Jimbaran Bay where pristine sands stretch into calm, clear waters. You'll find Jimbaran Puri facing west in a secluded spot in the heart of the bay. Paddle to the edge of our infinity pool at sunset and you'll capture one of the most spectacular views in the world.
Jimbaran Puri
Jalan Uluwatu, Yoga Perkanthi Lane, Jimbaran
South Kuta - Badung Regency, Bali, 80361
Our luxury resort in Bali, Indonesia is within easy reach. You'll find us...
a 15-minute drive from Ngurah Rai International Airport (DPS)
a 20-minute drive from Nusa Dua
a 25-minute drive from Seminyak
a 30-minute drive from Denpasar
a 1-hour drive from Ubud
Open in Google Maps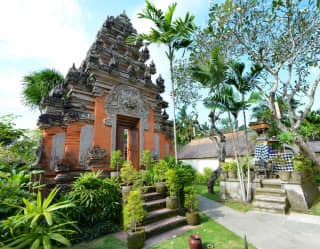 Destination Guide: Unlock Bali
To experience the extraordinary beauty and peace of Jimbaran Bay is to discover a whole new paradigm of paradise. The sand is unbelievably soft, the water feels like warm silk and the palm trees are lush and green. On these shores you'll find the finest resorts in Bali. Indonesia is renowned worldwide for its stunning sunsets, but nothing quite prepares you for the sight of our evening sky.
D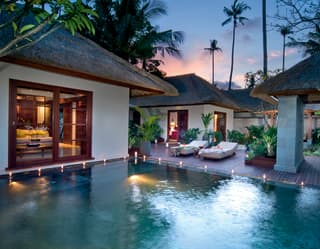 Getting here
Flights from the USA, Europe, Australia and Asia arrive daily into Ngurah Rai International Airport. Most airlines make a stop at Singapore. From there, it's a short two-and-a-half hour flight to Bali. You'll find taxis readily available at the airport. Alternatively, you can add a transfer when you book online, and we'll be ready to whisk you away to Jimbaran Bay when you land.
G
Concierge Recommendations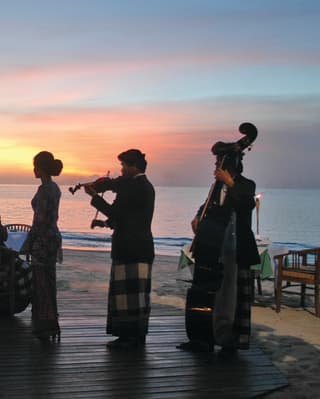 Temple Theatre
Catch a performance of the Kecak Fire Dance at Uluwatu Temple. You'll be treated to one of Bali's most iconic legends, told at sunset with stunning live vocals. If you're looking for something even more daring, book a seat for the Devdan Show. Acrobats, dancers puppeteers and dazzling special effects add up to a marvel that shouldn't be missed.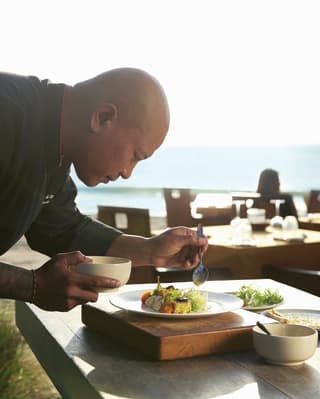 Balinese Cooking Class
Balinese cooking is an art form that you can master during your stay. Spend a morning with our chef at the fish market, before practicing a selection of regional recipes to devour at lunch. Or, if you prefer, skip the cooking and watch our talented team at work. You'll still get to sample the delights when they're done.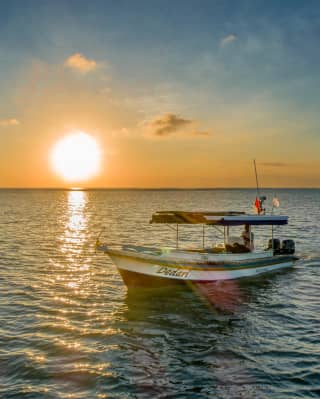 Uluwatu at Sunset
Uluwatu Temple is one of Bali's most important religious sites. Perched high on the island's southern cliffs, the temple is best viewed from the sea. Set sail into the sunset aboard our Sea Angel boat, Dedari. At sundown our captain hosts a traditional Balinese blessing with enchanting views.