Afternoon Tea at Mount Nelson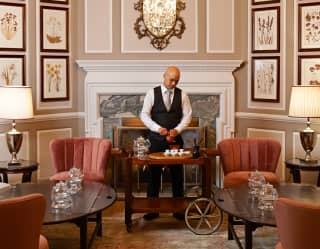 Cape Town's Most Iconic Afternoon Tea
Make sure your trip to the Mother City is complete with the best afternoon tea Cape Town has to offer.

Our historic Afternoon Tea, which takes place within the Lounge at Mount Nelson, promises an indulgent feast. While you dine on sumptuous cakes, pastries and sandwiches stacked in tiers, live piano music sets the scene.

R550 per adult, R350 per child under 12
Wednesday to Sunday at 12pm or 3pm

Book your table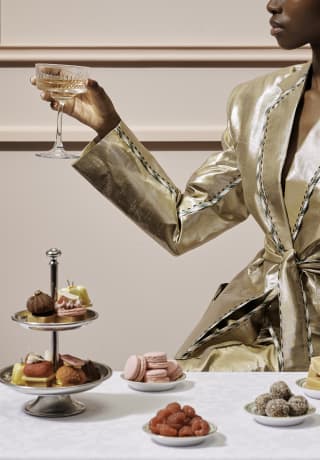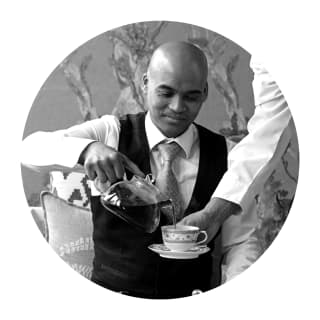 Our Tea Sommelier
Craig Cupido
Craig Cupido, South Africa's first expertly-trained tea sommelier, is on hand to guide you through our 60 different tea varieties. For a deeply brewed insight, you can also join him for tasting sessions, food pairings, masterclasses or traditional tea ceremonies.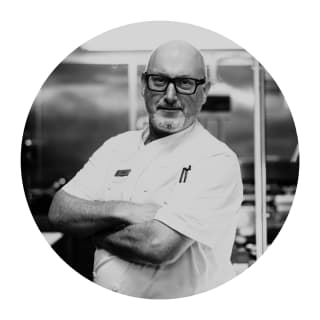 OUR EXECUTIVE CHEF
GEORGE JARDINE
Responsible for the savoury section of our Afternoon Tea, Mount Nelson's Executive Chef is passionate about South African provenance and seasonal fine dining. From duck liver and truffle parfait to spinach tarts with whipped feta, Chef George's bite-sized concoctions are an indulgent treat.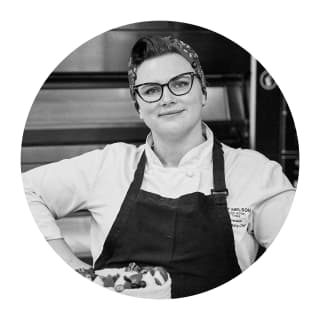 Our Pastry Chef
Vicky Gurovich
Anticipate irresistible pastry concoctions by acclaimed pastry chef Vicky Gurovich. Arrayed on elegant stands and brimming with fruits and mousses, they are temptation itself. Her heavenly sweet treats include baked milk tarts, dark chocolate mud cakes and fluffy scones.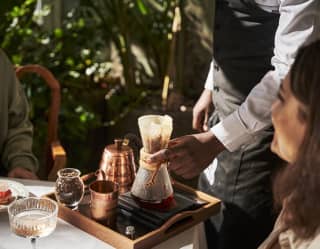 Teas, Coffees and Tipples
Tea connoisseurs can choose from over 60 premium loose-leaf and flowering teas, as well as local infusions such as buchu, rooibos and honeybush. Can't decide? Opt for our signature Mount Nelson Tea, a sublime blend of Darjeeling, Kenya, Assam, Keemun, Yunnan and Ceylon with a touch of pink rose petals, giving the tea a beautiful blush colour that complements the hotel's iconic pink walls.
Coffee lovers are also superbly catered for. Our barista guarantees an impeccable brew from the finest single-origin beans that have been sustainably sourced from Ethiopia and Rwanda. Fancy something stronger? Don't forget to ask about our menu offering premium whiskies, cognacs and liqueurs.
Classic menu | Vegan menu | Gluten-free menu
T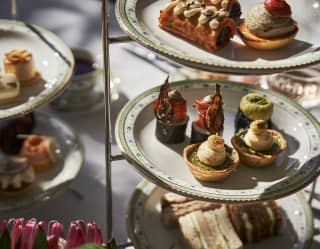 Delectable Savoury Treats
Sourced from local producers and farmers, the savoury specialities within our Afternoon Tea are world-renowned. In the seasonally-changing menu, feast upon mushroom tartlets, salmon on seed loaf, elevated bobotie sausage rolls, roast beef sandwiches and much more, all helmed under the careful expertise of Mount Nelson's Executive Chef, George Jardine.
Classic menu | Vegan menu | Gluten-free menu
D
A Legendary Tradition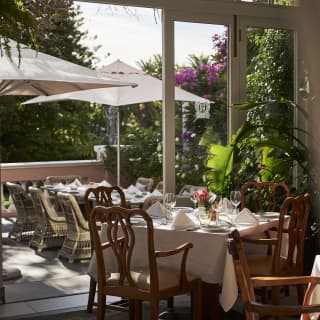 A Legendary Tradition
In 1840, the 7th Duchess of Bedford asked that a tray of tea, bread, butter and cake be brought to her room at 4pm, as dinner was served so late. She began inviting friends, and soon the ritual become a fashionable way to entertain.
Afternoon Tea was introduced at The Nellie in 1989, and served in the Lounge from the majestic Windsor Table. Since then, "tea at the Nellie" has become a much loved Cape Town tradition.
Nellie, our hotel house cat, is one of our permanent guests during the Afternoon Tea service. He assumed occupation a few years ago and has been elegantly basking in the sun or haughtily stalking through his domain ever since. He adores smoked salmon and expects to be served a weekly treat of clotted cream.