Fine laissez-faire on the French waterways
Slip along the tree-lined Canal du Midi from Carcassonne to Béziers aboard intimate Alouette
Wake in luxury each day. Meander mysterious medieval fortresses. Drop by sun-drenched vineyards to sample the vintages. At bustling markets, pick out fresh ingredients for dinner alongside your private chef. If you're looking for cosy intimacy and complete relaxation, this is the river cruise for you.
The Cabins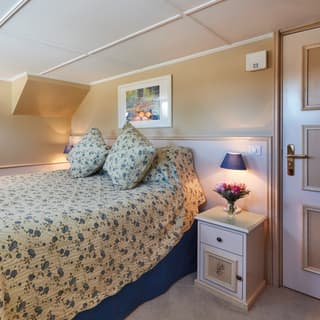 The Cabins
Bedding down aboard Alouette is a thoroughly special affair. Cabins are exquisitely cocooned in soft pastel fabrics and furnished with elegant hand-picked pieces.
Ensuite showers are spacious, and oversized picture windows bring the romance of the Canal du Midi in.
Find out more
The Experience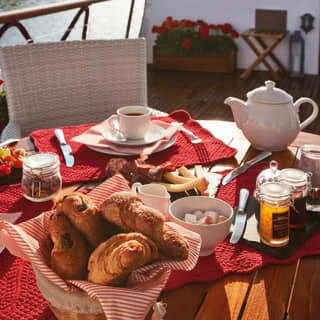 The Experience
Grab a crisp glass of wine and pad out onto the sun-spotted deck to enjoy the 360˚ view. Listen to the sounds of the riverbank while you laze on a lounger or shelter under a parasol.
Lunches of local delicacies stretch out long into the afternoon. At night, moonlight fractures the water around you. Cosy up on deck with a nightcap to swap stories under the stars.
Adventures off the Beaten Track
The stories of our onboard crew will leave you spellbound
We can't wait to share the local traditions of Burgundy with you.
Let us enrich your journey with insights into each area's top vineyards and architectural treasures. Enticing activities compete for your attention. Try boules, golf or hot-air ballooning—or pedal off into the countryside on a bicycle.
PICNIC IN THE OLIVE GROVES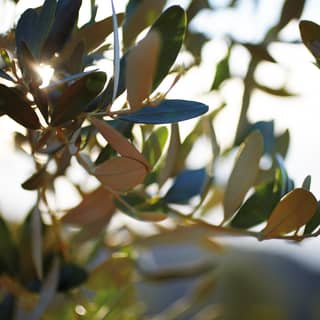 Activities
PICNIC IN THE OLIVE GROVES
Bask in the beautiful grounds of the Château Canet as you relax in the shade of an ancient olive grove. Enjoy a tasting of succulent olives in the place they were grown, and sample the delectable oil they produce. Then, revel in your surroundings over a tranquil alfresco picnic lunch freshly prepared by your chef.
All Inclusive
Wining and Dining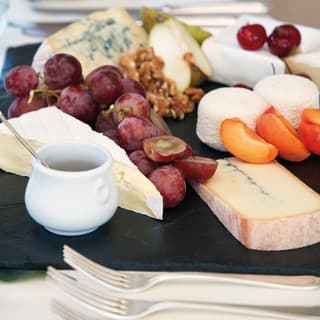 Tailored to your Tastes
Consult personally with the chef to pick from regional specialities and original recipes.
Learn more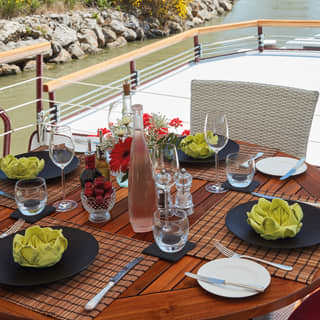 Celebrate the South of France
Welcome in your adventure with champagne, and look forward to many more fine wines.
Learn more