Luminary Jubilee Afternoon Tea
Your Journey
Join us to celebrate Her Majesty The Queen's Platinum Jubilee in style as you relax into the sumptuous surroundings of the iconic British Pullman's art deco carriages.
Her Majesty is the first British Monarch to have served seventy years on the throne, and we are excited to be celebrating this significant milestone on the iconic British Pullman. Your sensational afternoon tea, created by legendary pastry chef Claire Clark MBE in partnership with Luminary Bakery, is paired with the rare opportunity to sample Windsor Great Park sparkling wine from the Queen's own estate. Your journey begins at London Victoria Station, where you join the immaculate art deco train. Your steward will escort you to your table set with crisp white linen and bespoke china. Settle into your plush seat and absorb the stunning details of your vintage surroundings, from polished marquetry and brass luggage racks to lavish textiles. Each carriage is unique and has a fascinating story to tell. As the train begins its journey through Greater London and into Surrey, you'll be served an exquisite array of savoury delicacies and irresistible pastries, together with refreshing tea and a bottle of Windsor Great Park sparkling wine per couple. Soak up the changing views through your picture window as you relax into the convivial ambience on board. After your round trip, arrive back at London Victoria and alight with sweet memories to treasure. As a memento of your journey, we are delighted to offer every guest a bespoke copy of Luminary Bakery's Rising Hope cookbook. Please note, passengers do not disembark from the train during this trip. British Pullman operates within the constraints of the railway network. As such, timings, routes and associated itineraries are subject to change.
Includes
Round-trip travel aboard the British Pullman luxury train
Sumptuous afternoon tea created by Luminary bakery with half a bottle of Windsor Great Park wine per person, in partnership with legendary pastry chef Claire Clark MBE
A bespoke copy of Luminary Bakery's Rising Hope cookbook
Luminary Bakery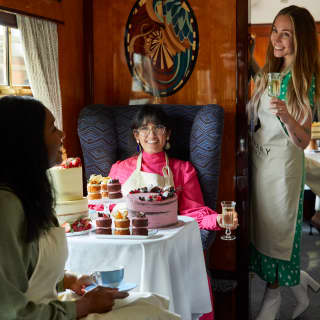 About
Luminary Bakery
Luminary is a social enterprise bakery founded by women for women. The goal is to pass on valuable life skills, while nurturing community and creativity among those under its wing.
They provide a safe and professional environment where women can embark on a journey to employability and entrepreneurship, equipping them with transferable skills for the working world. They offer courses, work experience and paid employment within their bakery, empowering women to build their career.
Combined with the talents of Claire Clark and her team at Pretty Sweet, this partnership is a recipe for delightful fine-dining.
Claire Clark MBE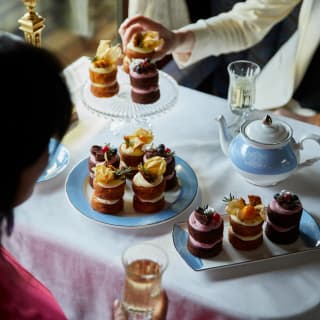 About
Claire Clark MBE
Claire Clark perfected her craft in celebrated restaurants such as The Ritz, Claridge's and The Wolseley before moving to California to take up her position as Head Pastry Chef at the three Michelin starred restaurant, The French Laundry.
Recognised in the Queen's birthday honours list in 2011, she is also the only female recipient of "Meilleur Ouvrier de la Grande Bretagne" (MOGB) or Best Crafts Worker of Britain. She now actively passes on her knowledge and skills to other budding pastry chefs at The Claire Clark Academy.
All aboard
Let us know how many people will be travelling, and how many cabins you'll need.
Continue