Your Journey
Embark on a journey into nostalgia and opulence aboard British Pullman. Visit Highclere Castle, the real-life Downton Abbey, and discover a magnificent country estate brimming with storied treasures, much like our lovingly restored train. Enjoy a fascinating tour and time to explore, together with exquisite fine dining and service on board.
Set in 5,000 acres of rolling Hampshire parkland, Highclere Castle is the country seat of the Earls of Carnarvon. Fans of Downton Abbey will know it as the grand location for the television series and films. The earliest references to the estate date back to 749 when it was granted to the Bishops of Winchester, but today's splendid castle was the work of Sir Charles Barry, who also designed the Houses of Parliament. The castle was transformed into a hospital for wounded soldiers in the First World War and housed evacuated children in the Second World War. As well as an array of elegant state rooms and bedrooms, visitors can explore an Egyptian exhibition celebrating the 5th Earl of Carnarvon's discovery of Tutankhamun's tomb. Your day begins as you board our art deco train at London Victoria Station. Note your steward's iconic uniform and the exquisite craftsmanship of your authentic 1920s carriage. Each carriage is different and boasts a fascinating history as well as lavish individual décor. A comfortable armchair awaits you at a pristine table with a view. Sip a sparkling Bellini cocktail and savour a delicious brunch as the train makes its way out of London towards Newbury. On arrival at Newbury Station, board a private coach to Highclere Castle, which is open exclusively for British Pullman guests on this occasion. Enjoy a private guided tour of the impressive country house, as well as time at leisure to explore the Egyptian exhibition. Stroll around the enchanting gardens and gift shops and pause for a relaxing break in the Coach House Tea Rooms. At the end of your visit, return by coach to Andover Station, where you rejoin the train. A glass of chilled champagne is served as you settle into your seat. Share your thoughts on the splendour of the castle as you anticipate a delectable three-course dinner. It's accompanied by our sommelier's choice of wine and rounded off with coffee before the train arrives back at London Victoria. Please note, taking photographs is not permitted inside Highclere Castle. Image: © Highclere Castle LLP
Includes
Round-trip travel aboard the British Pullman luxury train
Welcome sparkling Bellini
Delicious three-course brunch on the outward journey
Enjoy a private guided tour of Highclere Castle, open exclusively for British Pullman guests on this occasion
Time at leisure to explore the Egyptian Exhibition, enchanting gardens and gift shop
A three-course dinner on your journey home, including our sommelier's choice of wine
Coffee, tea and petits fours
Highclere Castle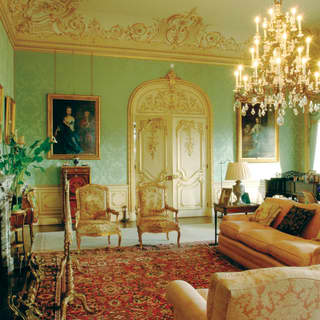 Highclere Castle
Dating as far back as 749 AD when the estate was granted to the Bishops of Winchester by an Anglo-Saxon King, the magnificent Highclere Castle has a rich and complex history.
Since 1679 it has been owned by the earls of Carnarvon, and in 1838 Sir Charles Barry—best known for his role in the rebuilding of the Palace of Westminster— was commissioned to transform the Castle into what it is today.
The castle has opened its doors to several film and television productions, including Stanley Kubrick's Eyes Wide Shut (1999), and most recently the series Downton Abbey.
All aboard
Let us know how many people will be travelling, and how many cabins you'll need.
Continue