Your Journey
Prepare for horseracing thrills and high-stakes fashion at one of the most glamorous sporting events in the social calendar. Dress to impress for a unique and utterly engaging celebratory experience combining the iconic British Pullman and Glorious Goodwood.
Today's adventure takes you to the magnificent 12,000-acre Goodwood estate, set in beautiful rolling Sussex countryside, where top-class horseracing and a glamorous social scene have made Glorious Goodwood one of the must-do highlights of the season. Dressed to impress, board our art deco train at London Victoria Station. Note your steward's iconic uniform and the exquisite craftsmanship of your authentic 1920s carriage. Each carriage is different and boasts a fascinating history as well as lavish individual décor. A comfortable armchair awaits you at a pristine table with a view. Sip a sparkling Bellini cocktail and savour a delicious brunch as the train makes its way towards Chichester.

On arrival at Chichester Station, board the private coach to Goodwood Racecourse, where there is a 10-minute walk to the entrance. You will already have been given your ticket to the Richmond Enclosure. The premier enclosure at Goodwood, it offers the best vantage points of the parade ring and racecourse, as well as stylish bars and a glamorous buzz. Once inside, soak up the atmosphere and enjoy the afternoon's racing at your leisure.

After the final race of the day, make your way back to the coach for the ride back to Chichester Station, where British Pullman is waiting. A glass of chilled champagne is served as you settle into your seat. Share your thoughts on the day's excitements as you anticipate a delectable three-course dinner accompanied by our sommelier's choice of wine, and rounded off with coffee. Now that your Glorious Goodwood journey comes to an end, we bid you farewell ─ but we hope to see you soon aboard the British Pullman. Please dress appropriately for the weather conditions and in accordance with the Richmond Enclosure dress code. Bear in mind that you will be outside for much of the day and some areas of the course are on grass and gravel.
Includes
Morning tea and coffee
Welcome sparkling Bellini
Round-trip travel aboard the British Pullman luxury train
Delicious three-course brunch on the outward journey
An afternoon at the races, including coach transfers and admission to the Richmond Enclosure
Champagne reception back on board
Sumptuous three-course dinner
A selection of wine curated by our sommelier to accompany the seasonal menu
Coffee, tea and petits fours
Glorious Goodwood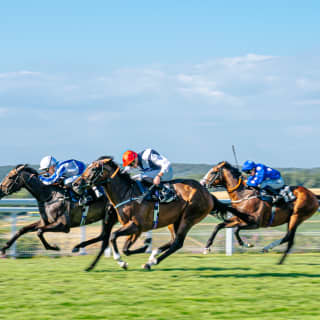 About
Glorious Goodwood
In the Richmond Enclosure, enjoy access to the Parade Ring, where you can observe the horses close-up before the race and decide who to back. Both standing viewing from the March Grandstand and covered seating within the Sussex Stand are available.
Spacious bars, a restaurant and casual dining options can be enjoyed before strolling through the relaxed Lennox Enclosure.
Please note that gentlemen are requested to wear a jacket and tie. For women, an elegant garden party outfit, cocktail dress or similar attire is recommended.
All aboard
Let us know how many people will be travelling, and how many cabins you'll need.
Continue