Departs at 10:55
Fri, 13 Oct 2023 from London Victoria
Arrives at 16:10
Fri, 13 Oct 2023 to London Victoria
Price from $
£540 per passenger
Currency converter
Some commonly used currencies are listed, and more are available in the dropdown menu below.
Which currency are you looking to convert to?
Your Journey
Embark on a journey aboard a timeless treasure to sample the irresistible flavours of Kent. Surrounded by the exquisite décor and craftsmanship of the train's art deco carriages, glide past orchards, vineyards and verdant farmland to discover why this lush county is known as the 'Garden of England'.
The moment you step aboard British Pullman, your celebration of the Golden Age of rail travel begins. Here, in the only set of authentic 1920s Pullman carriages in the UK, prepare for first-class service, unparalleled comfort and exceptional fine dining. Today's journey will take you past farms, fields and orchards where some of Kent's most famous specialities are produced. As you travel, you'll be tasting an array of these specialities on Head Chef Jon Freeman's imaginative seasonal menu. But first, to toast the start of the adventure: a half-bottle per person of English sparkling wine. The chalky Kent soil is very similar to that of the Champagne terroir. In fact, we'll let you into a secret: even famous champagne houses in France are starting to plant vineyards in Kent. So, your flute of British Fizz will be exceptional. Before long, your smartly uniformed steward will serve a bespoke five-course lunch, prepared by the expert onboard team. The entire menu is inspired by Kent's finest quality produce and you'll be able to visualise where each delicacy was grown, farmed or harvested as you circle through the county. From tasty asparagus, cherries and apples to Romney Marsh lamb and Whitstable oysters, this is a truly exciting farm-to-plate adventure. Provenance is key and Chef has handpicked each supplier, farmer and artisan producer for their passion and devotion to quality. The curated menu will change with the seasons, so you'll always sample the most coveted delicacies. They're accompanied by our sommelier's selection of wines. As the train wends its way through the countryside, admire the ever-changing landscape. The route takes you past rolling hills, forests, towns, villages and the sea, giving you a rich smorgasbord of vistas. Take the opportunity to slow down, reconnect, and enjoy convivial conversations with your companions and other guests. Coffee is served before you arrive back into London Victoria station, your journey's end.
Includes
Round-trip travel aboard the British Pullman luxury train
Sparkling reception on board
Sumptuous five-course lunch
English wine specially selected by our sommelier to accompany the seasonal menu
Coffee, tea and petits fours
Kent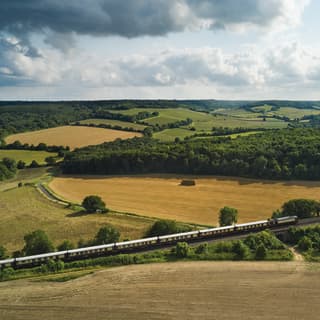 About
Kent
Your journey today takes you through Kent, known for centuries as the 'Garden of England' thanks to its bounty of orchard fruits, vegetables and hops. According to legend, it was King Henry VIII who coined the name. Back then, the county supplied food and drink to London and the royal courts. Henry, who was known for his vast appetite and lavish banquets, developed a passion for Kentish cherries, strawberries and artichokes and gave Kent its prestigious title. Look out for oasts, the original hop-drying buildings distinguishable by their conical roofs. Today, many have been converted into splendid rustic homes.
All aboard
Let us know how many people will be travelling, and how many cabins you'll need.
Continue