Dom Pérignon & Chef Nieves Barragán Mohacho
Your Journey
Chef Nieves Barragán Mohacho joins forces with Dom Pérignon Vintage 2013, offering a five-course dining experience unlike any other and a sparkling evening to remember
On 20 October 2023, board our timeless carriages at London Victoria Station and find yourself instantly transported back to the Art Deco era. Once escorted to your table, cosy up into plush upholstered armchairs and marvel at the vintage details around you. In the British Pullman train, each carriage has its own story to tell. Tonight, your host is Nieves Barragán Mohacho, Michelin-starred chef of the Spanish restaurant Sabor, in London's Mayfair. Growing up in a small village outside Bilbao, Nieves was strongly influenced by her mother's cooking, her house constantly full of delicious smells of rabbit stews and homemade sausages — typical flavours of the Basque region. She arrived in London in 1998 and learnt her trade in the kitchen of Chez Nico before joining the Harts Group of restaurants in 2003. Four years later, she became the group's Executive Chef and was awarded a Michelin star for Barrafina restaurant in 2014. Opening Sabor, in 2017, Chef Nieves Barragán Mohacho's vision was to offer Spanish diners specialities from Galician seafood to rice from Valencia and tapas from Andalucía. In 2018, Sabor gained a Michelin star. At your dinner table, enjoy a bottle of Dom Pérignon Vintage 2013 while the British Pullman travels through Kent, and indulge in a five-course tasting menu prepared by our expert team on board. Learn more about the celebrated champagne as well as Chef Nieves's delicious dishes throughout the journey. Coffee and petits fours are served before you travel back to London Victoria, your head full of new, legendary culinary stories.
Includes
Round-trip travel aboard the British Pullman luxury train
A seasonal, five-course tasting menu by Chef Nieves Barragán Mohacho
A bottle of Dom Pérignon Vintage 2013 per couple
Wines matched to main course and dessert
Coffee, tea and petits fours
Nieves Barragán Mohacho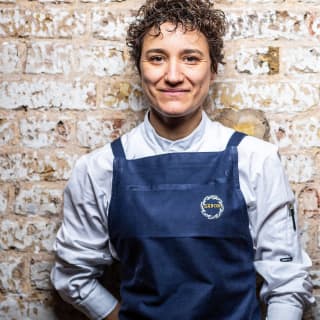 About
Nieves Barragán Mohacho
Nieves, who grew up in Spain's Basque region, came to London in 1998 and worked at Simply Nico before becoming the group's executive chef for Fino and Barrafina. During her tenure, she oversaw the launch of three Barrafina restaurants and earned a Michelin star for Barrafina Frith Street in 2014.
Nieves opened her own restaurant, Sabor, in February 2018 and was awarded a Michelin star just eight months later. The restaurant offers a journey through Spain's tapas bars, asadors, and seafood restaurants.
Please note that gentlemen are requested to wear black ties. For women, a cocktail dress or similar attire is recommended.
All aboard
Let us know how many people will be travelling, and how many cabins you'll need.
Continue