Article
The Desertas Islands
Set off on an adventure that will enchant the whole family. Take a boat ride to Madeira's Desertas Islands, where Zarco, Belmond Reid's Palace's much-loved mascot and his monk seal friends hide in the caverns and grottos.
You may have already fallen in love with Zarco; he's the cuddly monk seal mascot of Reid's Palace, A Belmond Hotel, Madeira. Now the hotel has adopted a real monk seal, whose home is in the remote Desertas Islands. He is named after João Gonçalves Zarco, who discovered the Madeira Archipelago. Set off on an exciting private cruise to see where he lives and learn all about these remarkable, uninhabited islands.
Part of the Madeiran archipelago, the Desertas are three rocky slivers located about 26km southeast of Madeira. The biggest, Deserta Grande, is 12km long. It's characterised by towering red and grey cliffs clad in scrubby vegetation. Together with the flat Ilhéu Chão and hump-backed Bugio, the volcanic trio is sometimes referred to as the Galapagos of Europe. It's a haven for rare and endangered wildlife.
Most marvellous are the Mediterranean monk seals, which can reach up to 3 metres in length and 300kg in weight. The islands are an important refuge for the seals. There are only a few hundred left in the world, and a colony of around 25—a number that has quadrupled since 1988—find sanctuary here.
The seals are not the only special inhabitants of the islands. Intriguing sea life includes the barred hogfish, Mediterranean slipper lobster and several species of turtles. In the skies, rich birdlife ranges from kestrels, canaries and buzzards to possibly the largest colony of Bulwer's petrel in the Atlantic.
But first you have to get there. Step aboard a beautiful Princess V50 yacht, seating up to eight people, for the adventure. Choose from two itineraries departing from Belmond Reid's Palace.
In the first, you'll be taken to the marina at Caniçal, a 30-minute drive away by limousine, where you board the yacht for a 45-minute sail to the islands. In the second, you leave from Funchal Marina with the outward voyage taking 90 minutes.
Your private butler will serve champagne and delicious fruits as you sail across the Atlantic Ocean. On reaching the islands, take a dip in the crystalline ocean before enjoying lunch on board—perhaps sushi or barbecued specialities. Then alight to explore Deserta Grande with an expert guide. If you're in luck, Zarco will be at home—though he and his friends can be elusive. Spot other wildlife and learn about the incredible natural history of the island. After a fascinating hour, set sail homewards, with the opportunity to spot dolphins or pilot whales along the way.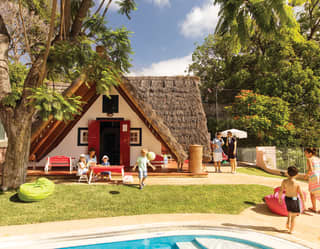 Take Zarco to Tea
Zarco has a special place in our hearts at Reid's Palace. As a welcome gift, young guests will be givena Zarco cuddly toy, together with themed colouring pencils, a canvas bag and other treats. He's welcome to join them on fun activities, perhaps as a plus one to the General Manager's mocktail party at the Kids' Club, or a glamorous children's afternoon tea.
By supporting Zarco, you are helping towards the recovery of the monk seal population. Reid's Palace gives an annual donation to the conservation charity. In addition, we'll donate 20% from any Zarco-themed gifts you buy in the Boutique.
T