Pull up a chair and discover the magic that goes into a gourmet menu. Chef's Table options are unique dining experiences that pull back the curtain on our kitchen's secret tips and tricks. We speak to three of our chefs to find out what makes this a dinner to remember.
FOR THOSE SEEKING to escape the standard restaurant experience, the Chef's Table lets you get up-close-and-personal with each dish. Sit beside the chef as he creates a menu from the day's best produce, explaining the culinary and cultural importance of every ingredient.
WHAT'S COOKING IN CAPE TOWN
In the culinary heart of Cape Town sits Belmond Mount Nelson Hotel, one of the city's most iconic retreats. Though famed for its star-studded Planet Restaurant and unmissable Afternoon Tea, this grand dame also offers an unconventional dining experience within the kitchen itself.
You'll be invited to your seat in an alcove, complete with an oversize mirror affording a complete view of the culinary action. You can chat to the chefs as they work, asking them about the inspiration for each recipe. "You see, hear and smell the experience before you taste it," enthuses Executive Chef Rudi Liebenberg.
"When we first started, it was daunting to have eyes watching your every move," he explains, "but as the experience evolved each personality in the kitchen began to shine as they told their individual stories. It sparked a sense of pride, and gave everyone ownership of the dishes they were presenting.
"Nothing we do is rehearsed. When a guest sits down, they can look forward to a true, raw, organic experience. We are cooking food that is close to our heart and soul. We experiment and we play."
MAYAN MAGIC, SERVED FRESH
From the traditional thatched roof of each building to the hammock swaying lazily outside every room, Belmond Maroma Resort & Spa is true to the Mayan spirit. This authenticity spreads through to the cuisine on offer. Whether the tortillas that Tia makes from scratch every morning for the breakfast quesadillas or the mezcal cocktails Freddy concocts at his beachside bar, every mouthful is a true taste of Mexico. The latest addition to the culinary roster, the Chef's Table, is no exception.
Depending on the number of participants, guests are invited to dine at El Sol Restaurante or within the resort's atmospheric wine cellar. Executive Chef Gabriel Kolofon, in a unique twist, will create a stunning six-course menu where each dish features one key ingredient. This adds a sense of narrative to the gastronomic evening.
"It is an exciting and unique experience, one of the best options we offer," Chef Kolofon tells us. "It's a challenge to create unique flavours and techniques, while always using the best products and traditions of Mexican cuisine. We also always pair every creation with the best Mexican wines. There's a sense of responsibility behind every dish, the idea that there is a piece of history still to be told."
THE SIZZLE OF RIO
A shining gem on Rio's most famous beach, Belmond Copacabana Palace has long been a beacon for those seeking an unforgettable dining experience. The award-winning Hotel Cipriani Restaurant always leaves a lasting impression, combining the best Brazilian ingredients to create spectacular Northern Italian cuisine. Set in an alcove in the kitchen, the Chef's Table lets you get behind-the-scenes on this culinary icon.
Take a seat, and anticipate a true taste adventure through the flavours of Rio. The menu is an ever-changing creation, drawing inspiration from the local ingredients that are best each day. Each dish is also paired with carefully selected wines.
"For lovers of gastronomy, it definitely is a must-do experience," Chef Nello Cassese says. "Our guests love to see the interactions that happen in the kitchen, how the dish is setup, and to take home some insider tips from the chefs themselves. They get to discuss the recipes and hear what inspired the flavour combinations. Guests are already expecting a lot, but we relish the chance to exceed their expectations."
by Daniel Hayden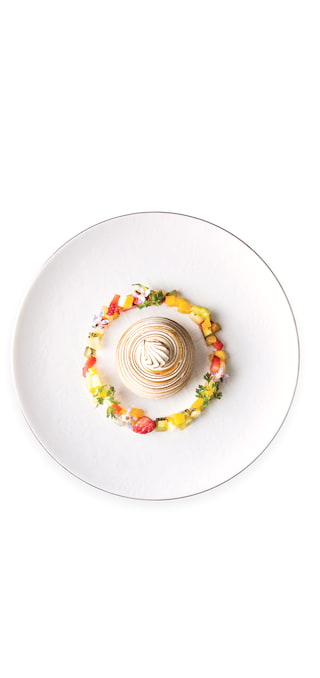 There's a sense of responsibility behind every dish, the idea that there is a piece of history still to be told