The best seat in an oh-so stylish part of town
Set in one of Lima's most fashionable areas, Miraflores Park takes you straight to the heart of all that's best about this great capital city.
This luxury hotel combines personalized service, exceptional dining and indulgent facilities to create the perfect base from which to explore. Colonial architecture, superb museums with Inca gold and Pre-Columbian antiquities, and glamorous shops, bars and restaurants are all just moments from the hotel.
At a glance
ACCOMMODATION 89 suites
DINING Tragaluz, Observatory and Belo Bar
FEATURES Rooftop heated pool, Zest Spa and gym
EVENTS Five meeting rooms for events and conferences
LOCATION 45 minutes from Lima International Airport
Explore
Every step brings a new discovery
Reception
High Life
Welcome to our urban sanctuary of bliss in Peru's thriving capital. A city hotel that can cite a string of palm trees as its closest neighbor.
Tragaluz Restaurant
Haute Gastronomy
Verdant, buzzing and stylish, Tragaluz is a melting pot of culinary theater, mixology and art. There's a reason why our Peruvian-fusion cuisine has worldwide acclaim.
Belo Bar
Understated Elegance
Innovation is the word at this creative cocktail joint. Share stories with Lima's trendsetters over a refreshing beverage.
Zest Spa
Indigenous Ingredients
Using elements from the Peruvian Amazon, our invigorating treatments are unlike any other. Allow our experts to customize a bespoke ritual just for you.
Gym
Modern Movement
Stay in shape during your stay with our state-of-the-art equipment. The gym features elliptical and classic treadmills, and Cybex training machines.
The Observatory
Room with a View
True to its title, this eatery avows spectacular panoramic views of Lima and the Pacific Ocean. The perfect accompaniment to an alfresco breakfast.
Pool
The Big Blue
Ascend to the rooftop for the most scenic swimming pool in town. Sunrise or sunset, views just don't get more glittering than this.
Turtle Pond
Shell-ebration
Don't leave without paying a visit to our adorable turtles, who splash around happily under the Peruvian sun.
LIMA
Take a closer look at the hotel and its beautiful surroundings.
Different. Better. Special.
Staying with us turns a trip to Lima into an unforgettably unique escape. Here are just some of the features that make us stand out from the crowd.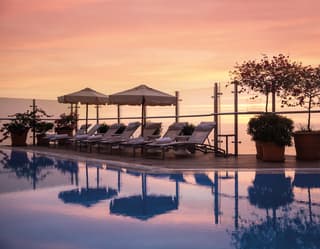 Swimming Pool
Enjoy a refreshing swim in our rooftop pool, with breathtaking views of Lima and the Pacific Ocean. Perfect for both adults and children, the pool measures 17x5m (55x16ft). It is 1.6m (5ft) deep at its shallowest and 2.2m (7ft) at the deep end. Open from 7am–7pm. During the winter months, May - January, the pool is heated.
Please note: our pool will be closed for refurbishment on 30 & 31 October 2023
S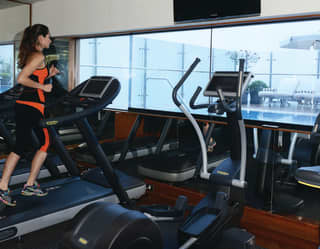 Fitness Center
Miraflores Park offers a modern gym, ideal for those who wish to keep fit during their stay.
The center is equipped with two treadmills, one rowing machine, one elliptical, one bicycle machine, yoga mats and a range of weight-lifting accessories. If you're interested in muscle toning, we also have Cybex training equipment.
F
Visitors to Peru are exempt from the country's 18% sales tax on charges for their room and food upon presentation at check in with a valid passport and/or Peruvian immigration card. The hotel invoice must be made out to the guest's name and not to a company name.