Get ready for beachside bliss
Experience the ultimate St. Martin luxury resort. It's a place where dazzling white buildings pop against an azure sky, and a platinum stretch of sandy beach is dotted with cabanas.
Constantly ranked among the region's top ten hotels, La Samanna is a garden paradise in which to enjoy an alfresco massage, or lie in a hammock, lulled by the waves. Take a day cruise around the island or savor a sumptuous private dinner by the shore. There's always a touch of romance in the air.
At a glance
ACCOMMODATION 83 rooms and suites, 8 three- and four-bedroom villas
DINING Two restaurants, bar and beach bar, wine cellar
FEATURES The Spa, Fitness Center, tennis courts and swimming pools
ACTIVITIES Watersports, beach cabanas, private boat
EVENTS The Rendezvous Pavilion for events
LOCATION 5km from Marigot and Juliana airport
Explore
Every step brings a new discovery
Lobby & Swimming Pool
Arrival in Paradise
Our spacious lobby is framed by the Caribbean sea, signalling a magical start to your stay with us.
Laplaj Bar & Restaurant
A Side of Seaview
Enjoy panoramic sea views at Laplaj, our light bites eatery. With bold flavours and tropical cocktails, feel the spirit of the island come alive.
L'Oursin and La Cave
Dinner With A View
Soundtracked to the gentle lull of waves, L'Oursin boasts delicious French specialities in an open-air setting. La Cave, our 15,000-bottle cellar, is a must for wine connoisseurs.
Fitness Centre
Fighting Fit
Stay in shape during your stay with us at our fully equipped fitness centre.
Tennis Courts
Game, Set, Match
Retreat to one of our three professional tennis courts and ace your serve under the Caribbean sun.
Corail
Breakfast Perfected
Start your day right with a freshly brewed coffee and delectable treats at Corail. Sunny skies and buttery croissants await.
Infinity Pool
To Infinity
Gaze into the horizon at our freeform infinity pool. Adjacent to the beach bar and restaurant, we're on hand to keep you refreshed.
Business Centre
Seal The Deal
Our business centre is on hand for any professional needs during your stay. At our vibrant Caribbean paradise, any meeting is an affair to remember.
Rendez-Vous Pavillion
Scenic Space
Our Rendez-Vous Pavillon is the perfect spot for yoga, art classes and air-conditioned meetings. Or, simply stroll over to view exclusive paintings by Sir Roland Richardson, our resident artist.
Spa
Relax And Revive
Unwind in our candlelit Caribbean spa where treatment rooms open out onto lush tropical gardens.
Villas
Privacy And Exclusivity
With wraparound terraces, infinity pools, 24-hour host service and bespoke amenities, our three- and four-bedroom villas are a coveted cloud nine.
The Cabanas
Rise And Recline
Situated on a coveted position on the powder-soft beach, our beach cabanas are the ultimate way to live in luxury.
L'Idylle
Say I Do
Our beachfront wedding arch is one of the most romantic places in St. Martin to tie the knot.
Organic Garden
Deep Breaths
Our stunning gardens are filled with sweet-smelling flowers and verdant plants.
Shopping Gallery
Retail Therapy
Browse through our Caribbean wares in this on-site store. From beachwear to fine jewelry and more, there's something for everyone.
Baie Longue Bar
Sip In Style
Relax with a tropical cocktail while admiring the turquoise horizon at our chic bar.
St Martin
Different. Better. Special.
Staying with us turns a trip to St. Martin into an unforgettably unique escape. Here are just some of the features that make us stand out from the crowd.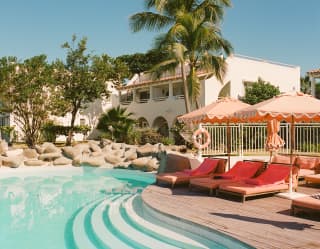 Swimming Pool
Our main pool, 5ft deep and 30ft long, is open daily from 9am to 5pm. It's the perfect place to lay back and soak up the island ambience.
A second freeform infinity pool is 5ft deep and 15ft long. Adjacent to the beach bar and restaurant, it is also open daily from 9:30am to sunset.
Both pools offer beverage service, so you can stay refreshed.
S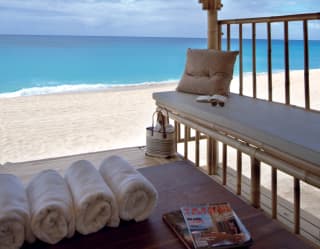 Beach Cabanas
Reserve a beach cabana for the day and enjoy a complimentary bottle of champagne, white wine or rosé. Cabana amenities include wireless internet, beach towels, shower, a large bottle of flat or sparkling water and Bluetooth speakers to enjoy your own personal soundtrack.
White washed with tent tops and billowing curtains, each of the four exclusive cabanas measure 15ft by 15ft and offer total shade and weather protection. Sun lovers can also make use of private beach loungers and umbrellas.
Lunch and bar service are available throughout the day.
Beach Cabanas
Thank you for your interest in Belmond.
Prefer to talk? You can call us on +590 590 87 64 00
B
Tennis
Our three professional tennis courts are open daily until 9pm, with nighttime play possible on well-lit courts. Complimentary tennis racquets are available.
Book your court time
Tennis
Thank you for your interest in Belmond.
Prefer to talk? You can call us on +590 590 87 64 00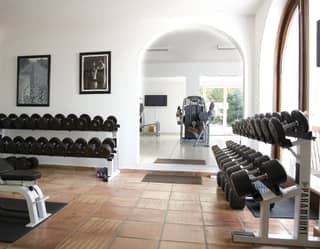 Fitness center
Our fitness center is equipped with a full range of cardio equipment, circuit machines, free weights, flat-screen televisions and headphones at each exercise station. Private training is also available by appointment.
Open from 7am–7pm
F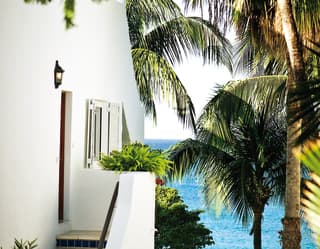 Business center
At La Samanna, you may feel like a world away from your everyday concerns. However we are still here to ensure you stay connected. Our business center is open 24 hours a day, with three iMac computers, wireless internet and a color printer.
Wireless internet is also available throughout most of the resort.
B