Celebrate under the Sicilian stars in a secluded beachside hideaway
Nestling comfortably on the tranquil shores of Mazzarò Bay, Villa Sant'Andrea perfectly blends spectacular scenery with modern amenities to create a once-in-a-lifetime experience. Whether it's a beach-facing champagne reception, grand Sicilian banquet or upscale conference, our reputation for remarkable Taormina events is beyond compare.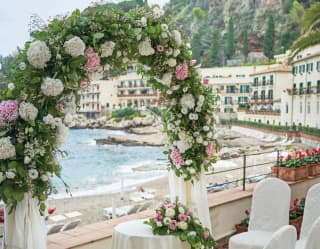 Weddings
Between striking cliff tops and sparkling waters, our 19th-century residence makes for a superb Sicilian wedding destination. Nestling discreetly in Mazzarò Bay, sub-tropical gardens dotted with pink bougainvillea provide the perfect backdrop to your party. Take your vows alfresco and let our dedicated team tailor every detail to your liking. Seafood banquets, local musicians, sunset sails—Villa Sant'Andrea sets the scene for your contemporary Italian fairytale.
Find out more
W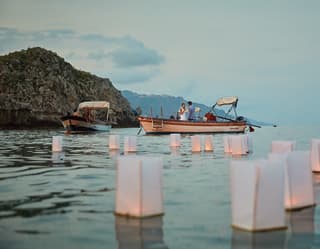 Honeymoons
Teetering on Sicily's rugged eastern coastline, Taormina offers every ingredient for an unforgettable honeymoon. Get lost together in cobbled streets, soak up Sicilian life in the city's cafes, or reserve exclusive seats at the legendary Greek Theatre. Our enviable location on Mazzarò Bay begs for lazy seaside days.
Check availability
H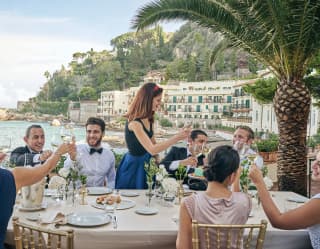 Celebrations
Host a party where nature plays a starring role. Floor-to-ceiling windows flood our grand dining rooms with natural light and frame the scenic bay. Here, up to 200 people can feast on fine Sicilian fare. Private dining can also be arranged for intimate groups featuring delicious delicacies from land and sea. Personalised flower arranging, and access to the best musicians on the island, let us add the finishing touches for an affair to remember.
Contact us
Celebrations
Thank you for your interest in Belmond.
Prefer to talk? You can call us on +39 0942 6271 200
C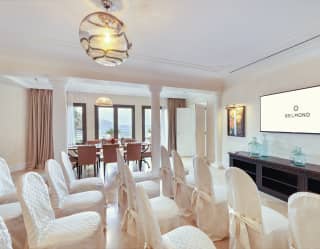 Business Meetings
Host a professional event with a distinct Sicilian edge. Choose from two terraces by the edge of the bay, or three rooms with sweeping views. Our dedicated team will work with you to create a bespoke programme that balances professional objectives with signature Belmond flair. Cutting-edge communication, AV technology and reception facilities all ensure a seamless experience. Guests can also use the facilities at our sister property, Belmond Grand Hotel Timeo.
Contact us
Business Meetings
Thank you for your interest in Belmond.
Prefer to talk? You can call us on +39 0942 6271 200
B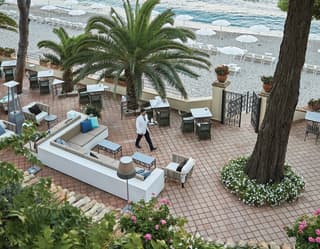 Incentives
Whisk your team away to Taormina for a unique team-building experience. The perfect place to coordinate a series of action-packed activities, Villa Sant'Andrea provides a refined base for groups.
Retrace the steps of The Godfather in vintage Fiat 500s, and discover the spots that inspired Francis Ford Coppola himself. Alternatively, cruise the legendary Cyclops Coast while enjoying gourmet refreshments on your own chartered boat.
Contact us
Incentives
Thank you for your interest in Belmond.
Prefer to talk? You can call us on +39 0942 6271 200
I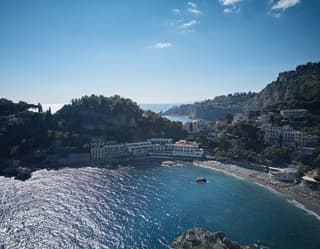 Ultimate Takeover
For the most magnificent celebration of all, hire the entire hotel. You and your guests will enjoy complete seclusion, total freedom and dedicated service. In close collaboration with our event organisers, customise every last detail of your experience. From chartered yacht cruises to beach-facing banquets, we will help you to create a true Sicilian extravaganza.
Contact us
Ultimate Takeover
Thank you for your interest in Belmond.
Prefer to talk? You can call us on +39 0942 6271 200
U
Packages & Tours
Combine your favourite destinations and plan the journey of your dreams.