Celebrate the best of the Mediterranean
Of all the Taormina restaurants, many critics believe Ristorante Oliviero has the edge. Resting on its own exclusive shoreline, the venue serves up the very best from land and sea beside a bay shimmering with stars.
For something more informal, the Bar's sea-facing location satisfies every sense. Lunch on freshly grilled fish and delicate homemade pasta, or enjoy a Sicilian Mojito here at sunset.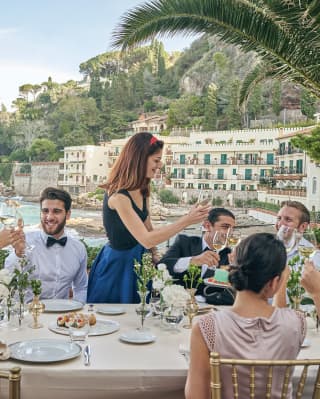 Come Together
There's nothing quite like an aperitivo to bring people together. In Italy, this enchanting hour is a time-honoured tradition. At Belmond, our bartenders and chefs use their creative spark to craft perfectly paired specialities.
From signature cocktails to a curated bar menu, our combinations celebrate authentic flavours and regional ingredients. Paired with stunning views and live music, aperitivo is our favourite time of day.
Contact us
Come Together
Thank you for your interest in Belmond.
Prefer to talk? You can call us on +39 0942 6271 200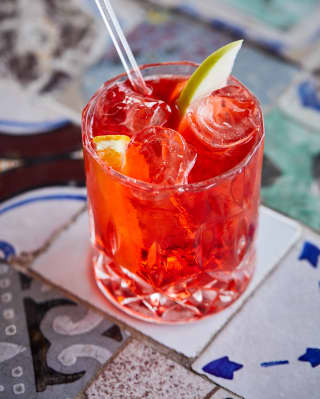 Cocktails
Compare Camillo
Our twist on a classic was invented in 2019 to celebrate the centenary of both Villa Sant'Andrea and the Negroni cocktail. This dignified drink blends Vecchio Samperi Marsala—a traditional fortified wine used in place of vermouth—with Belvedere vodka, and Barbieri and celery bitters.
Sir Manley Spritz
Paying homage to the man who founded Villa Sant'Andrea in 1919, this aromatic spritz celebrated the Sicilian wild fennel liqueur, Giardini d'Amore. This is complemented with lemon juice, celery bitters and a pop of champagne.
Contact us
Cocktails
Thank you for your interest in Belmond.
Prefer to talk? You can call us on +39 0942 6271 200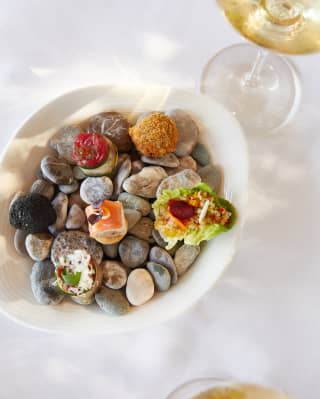 Finger Food
Feast on a selection from our live cooking station, inspired by the colourful buzz of Catania fish market. Choose fresh raw and cooked seafood alongside much-loved Sicilian specialities, such as couscous tabbouleh, foccacina with swordfish and pane e panelle (chickpea fritters). Rounding off the selection are mini arancini and beccafico sardines, a traditional dish with raisins, pine nuts and breadcrumbs.
Contact us
Finger Food
Thank you for your interest in Belmond.
Prefer to talk? You can call us on +39 0942 6271 200
Ristorante Oliviero
Ristorante Oliviero
One of the most revered Taormina restaurants, Ristorante Oliviero champions fresh produce and seasonal cooking—with a menu guaranteed to impress.
With Sicily's striking cliffs as a backdrop, indulge in delicate homemade risotto, or go light with colourful salads and just-caught frutti di mare. For the sweet-toothed, a decadent dessert menu will steal your gaze from the dazzling sea below.
Opening times:
Lunch: 1–3:00pm
Dinner: 7:30–10:30pm
Reserve
The Bar
The Bar
Pull up a seat for a crisp glass of wine by the bay, or order a Napoli-style pizza and some fresh seafood from our enticing menu.
Whatever your mood, the bar's informal ambiance attracts guests and non-residents alike for scenic sundowners. Our late-night indoor bar lets you end the evening in style.
Opening times:
Daily, 10am–1am
Snacks served from noon to midnight
Traditional Trapani fish couscous
A Sicilian speciality, this dish dates back hundreds of years to when Tunisian and Trapani fishermen shared gastronomy secrets.
With its fragrant fish broth, Chef D'Angelo's recipe is authentic and delicious.
Get the recipe
T
More to Savour
Peruse our options for every mood and appetite
Picnic on the Go
Whether your day out includes a sail on the high seas or a stroll around town, take a tailor-made basket full of treats prepared by our chef. Choose from our à la carte menu of salads, sandwiches, pizzas and specialities, all served with wine or Veuve Clicquot champagne.
Download menu
Contact us to book
Picnic on the Go
Thank you for your interest in Belmond.
Prefer to talk? You can call us on +39 0942 6271 200
Candlelit Dinner on the Beach
Make your way to the shoreline, hand in hand with your amore. At the water's edge you'll find a candlelit table, just for the two of you. 
Tuck into a delectable four-course menu of Sicilian specialties as you soak-up the romantic setting. There's no sweeter serenade than the gentle lull of bobbing boats and lapping waves. It's the perfect scene for a love story you'll never forget.
Contact us to book
Candlelit Dinner on the Beach
Thank you for your interest in Belmond.
Prefer to talk? You can call us on +39 0942 6271 200
Pool Bar
Located by the hotel's generous infinity pool, our Pool Bar boasts unbeatable panoramic views that span Sicily's coastal contours. Select some classic refreshments from the menu—perhaps a zesty lemonade or traditional Italian gelato. Then surrender to the dream-like, balmy ocean ambience.
Open: 10am–7pm
Beach Bar
Enjoy unparalleled views of the Bay of Naxos as you claim a spot on Sicily's most coveted beach. In the shade of one of our cabanas, savour a tempting selection of blended juices and cocktails, Italian ice cream or fresh seasonal fruit. Have a special request? Just ask our beach butlers; they'll be happy to help.
Open: 10am–6:30pm
Private Hire
Let us help you plan an unforgettable event.
Got a Special Request?
Contact us
Got a Special Request?
Thank you for your interest in Belmond.
Prefer to talk? You can call us on +39 0942 6271 200