Discover Taormina
VILLA SANT'ANDREA, A BELMOND HOTEL, TAORMINA MARE
Via Nazionale 137, 98039 Taormina Mare, Sicily, Italy
Taormina is a timeless jewel on the shores of the Ionian Sea. This heavenly spot appears polished and orderly at first sight. But make no mistake, the landscape rules here, wild and untamed. The imposing presence of moody Mt Etna instills a sense of grandeur, unsurpassed by any man-made endeavour. But, the town itself is a charming attempt to keep pace. Elegant residences cling to the slopes of Mount Tauro, spilling down to the bay at Giardini Naxos. Grecian ruins stand proudly, unphased by the passing of centuries.

Villa Sant'Andrea holds prime position among any hotel in Taormina. Sicily is renowned for its pretty bays and you'll find us curved around the cove of Mazzarò. Remote, sheltered and stunningly beautiful, our very own slice of Sicily is yours to enjoy. With Belmond, Taormina is a portal to a more elegant age—a world of glittering indulgence that never has to end.
Villa Sant'Andrea
Via Nazionale 137
98039 Taormina Mare
Sicily
Italy
Villa Sant'Andrea is within easy reach. You'll find us...
a 3-minute cable car from central Taormina
a 5-minute drive from Taormina-Giardini Railway Station
a 50-minute drive from Catania Airport Fontanarossa (CTA)

a 3.5-hour drive from Palermo Airport Falcone-Borsellino (PMO)
Open in Google Maps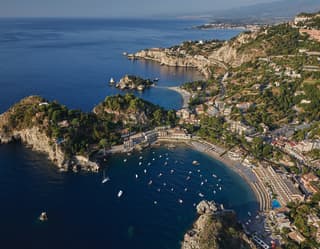 Destination Guide: Unlock Taormina
With its rustic charm, magical views and Etna's magnetic forces permeating the air, this is one of the most enchanting places on earth. From cable car to Ape Calessino, there's many ways to explore, but where will you begin?
D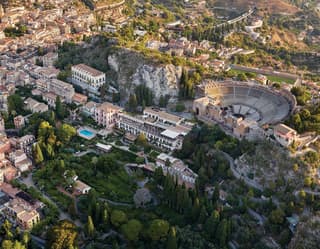 Getting around
Complimentary Shuttle Make the most of our two Taormina hotels with our complimentary shuttle bus. Find our service schedule at the front desk and zip between Grand Hotel Timeo and Villa Sant'Andrea with ease.
G
Concierge Recommendations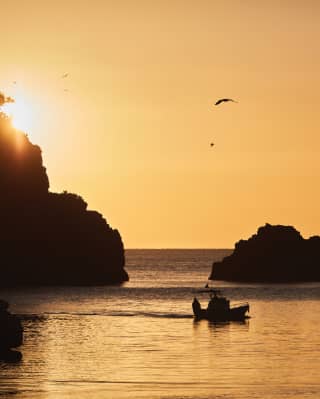 A Taste of Sicily by Sea
The art of boat building is in the bones of the seafaring Sicilians. Sail to Acitrezza to meet the Rodolico family––the last of the master boat builders. From there, continue sailing to Catania for a traditional Sicilian lunch.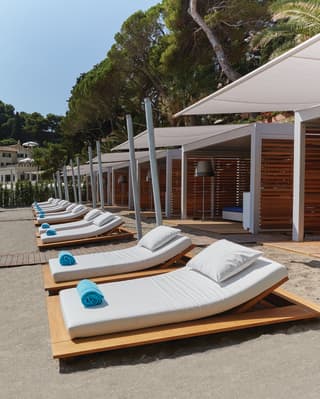 Beach Cabanas
A day on the beach is best enjoyed in the comfort of our exclusive beach cabanas. Unwind in your own sanctuary beside the sea, with plush furnishings, a tented veranda, minibar, Evian water spray and WiFi. Our dedicated waiter is also on hand to serve fresh fruit and refreshments, you'll never want to leave.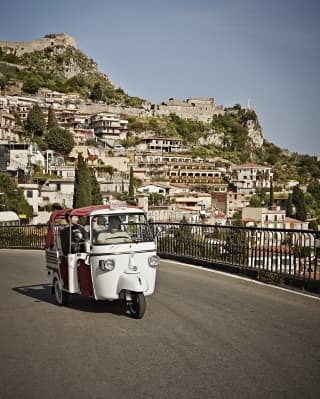 Ape Tour of Taormina
The three-wheeled Ape Calessino car is an irresistible Italian icon. So much so, that it was the chariot of choice for visiting Hollywood stars of the golden age. Head out with our driver to explore Taormina in style on a Dolce Vita Tour.